This afternoon's weather "is the warmest we'll see for quite a while." (NWS).
Thursday
The RAP shows the rain-changing-to-snow approaching tonight, Midnight to 6 AM: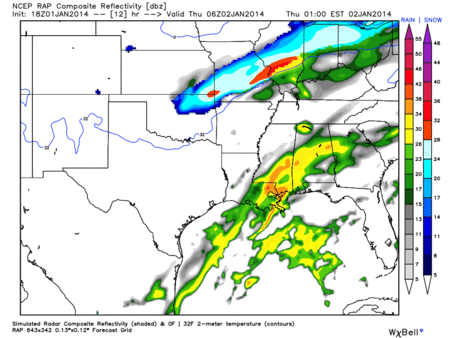 Most of the rain will fall before the freezing line pushes through:
We'll probably see flakes tomorrow morning before we reach freezing, but nothing should stick until the freezing line arrives. Right now, we don't think we'll drop to 32 until after lunch.
The result – a dusting:
Our NWS has trimmed accumulations back even more. Now little/no snow accumulation is expected:
Use this to cope:
Winds will dramatically increase with the front's arrival. Winds at 8 mph at 6 AM will double by 9 AM.  By 6 PM, winds will be pushing 20 mph. Wind chills will be in the teens by 3 PM, and in the single digits overnight.
Sunday/Sunday Night
Similar to what we'll see tomorrow, another front arrives Sunday. Uncertainty again surrounds our snow chances — the Euro slows the system down, while the GFS brings it in quickly. Because timing is everything in snow forecasting, we just don't know whether, or how much, snow to expect.
Arctic air appears likely, "the coldest of the season thus far, with single digit readings possible early next week, and sub-zero wind chills at times."
New update coming tonight around 9 PM.
Questions? We're on Twitter @NashSevereWx.