Latest Official Hourly Observation:
Tonight  – Chilly Rain – Midnight Temp 41
HAPPY NEW YEAR EVERYONE! 
Rain is starting to move into Middle TN tonight. It's too warm for it to fall as snow.
HRRR model 9 pm tonight – 4 am Thursday:
Thursday – Rain/Snow & Wind – Morning Low 38 / High 40
6a 41 . 9a 39 . 12p 35 . 3p 32 . 6p 28 . 9p 25

Temps. Our high temperature will occur in the morning hours. Temps will drop all day.
Winds will increase with the arrival of the cold front. Winds could gust as high as 30 mph by the afternoon.
Precip. As mentioned above, rain will be around in the morning. It could begin to change over to snow as early as 7 AM, but it's unlikely to stick until noon, when most of the rain has passed.
Keep in mind it can snow even if it's not 32F at the surface. Freezing temps above the ground create snow. Flakes won't have time to melt as they fall into the slightly-above-freezing temps at the surface.
We expect little or no accumulation; however, north of downtown may see a dusting. Not a single weather model shows more than a half inch of snow.
Official forecast from our NWS last updated early this afternoon:
GFS model Thursday 12 am – Friday 12 am:
Update: 8:50 PM Discussion re all of Middle TN from our NWS (WAA = warm air advection; CWA = county warning area/Middle TN; WWA = Winter Weather Advisory).
Friday – COLD & Sunny – Morning Low 18 / Afternoon High 30
6a 19 . 9a 20 . 12p 25 . 3p 30 . 6p 27 . 9p 21

Wake-Up wind chills will be in the single digits.  The highest wind chill all day will be 23.
Extended Official NWS forecast:
Sunday
This snow storm is looking more promising (for snow lovers) than Thursday.
GFS model Sunday 12 am – Monday 12 am: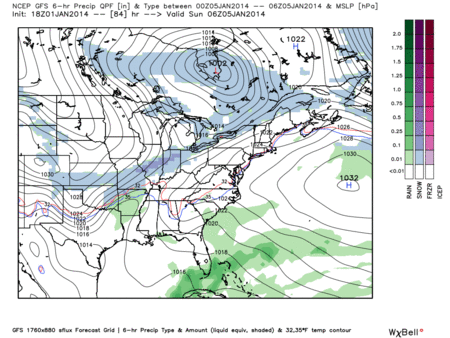 It's impossible to say how much snow. The models still don't agree on the timing, which is everything when it comes to snow forecasting.
Questions? We're on Twitter @NashSevereWx.