Latest Official Hourly Observation:
Tonight  – Cold & Clear
6p 38 . 9p 33 . 12a 31 . 3a 29 

Cold, but not too bad.
New Year's Day – Mostly Sunny, Warmer, Rain Very Late – Morning Low 24 / Afternoon High 51
6a 25 . 9a 34 . 12p 46 . 3p 51 . 6p 45 . 9p 41

A beautiful day until late Wednesday night, when south winds push clouds in. Rain won't be far behind.
Hi-Res NAM model Wednesday 11 pm – Thursday 6 am: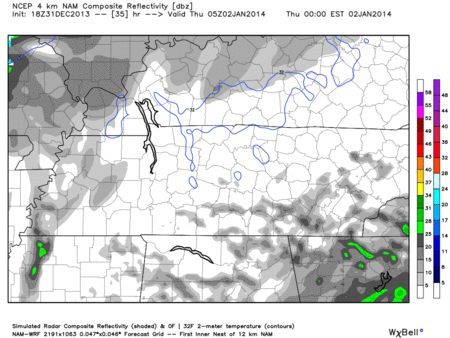 Thursday – Light Snow/Rain Showers & Cold – Morning Low 24 / Afternoon High 51
6a 34 . 9a 34 . 12p 32 . 3p 30 . 6p 27 . 9p 24

Models, NWS, and I (The Intern!) are honing in on this possible snow forecast. We think it's going to snow. Euro, American/GFS (below), and Canadian are all showing a dusting of snow accumulating no more than .5″.
Any snow should be around for awhile because temps will drop into the teens behind the front.
GFS (American) model Thursday 12 am – 6 pm: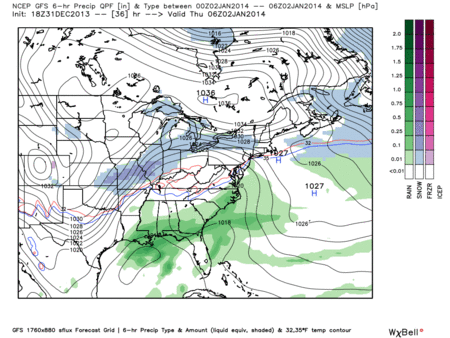 If you're hoping the snowfall will exceed 1″, you'll probably be disappointed. So as not to be accused of party-pooping, here's the encouraging WPC probability chart we'll get more than a dusting:
Also wanted to share this LOL I saw referenced by fellow weather nerds at tennesseewx.com:
Eight inches of rain or snow? Both are funny.
Extended Official NWS forecast:
Another snow event could be in the making Sunday evening into Monday. Numerous discrepancies remain about temps and precip.
Our NWS (National Weather Service) has this to say:
Earlier today, we mentioned the cracked-out Euro model with its minus 15s and 8+" of snow Tuesday morning. Whatever was broken with that model has now been fixed. The latest run of the Euro now has low temps in the 20s, with 1″ to 2″ of snow for Monday/Tuesday. Will that happen? We really don't know, but at least the Euro sobered up and is being a bit more reasonable.
Finally, for no good reason: The most popular names for girls since 1960!
Questions? We're on Twitter @NashSevereWx.