Latest Official Hourly Observation:
Today – Rain Ends;  Mostly Cloudy –  Afternoon High 50 / Midnight Temp 34
9a 43 . 12p 48 . 3p 49 . 6p 42 . 9p 37
Yesterday's rain is gone.
We may see a few patches of sun today.
A cold front arrives this evening. A few very unimpressive snowflakes may accompany the front.
The only model that was consistently advertising snowflakes – the Hi-Res NAM — is not even picking up on the flakes anymore.
The Titans game will be rain-free.
Here is the temperature map as the front passes Sunday 3 pm – Monday 12 am. The pinks/reds are freezing/below freezing.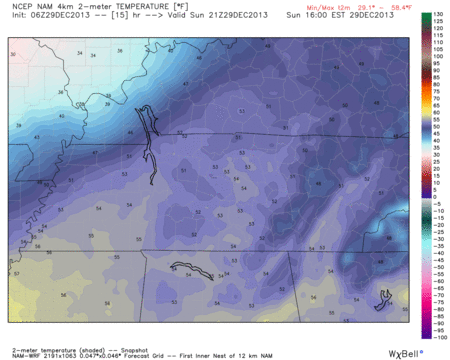 Monday – Colder; Chance of Flurries? –  Morning Low 27 / Afternoon High 38
6a 29 . 9a 32 . 12p 36 . 3p 37 . 6p 33 . 9p 30
Wind Chills will be in the 20s all morning.
There's a 20% there will be enough moisture to be wrung out of the atmosphere to produce a few flying flakes Monday morning, but I would not even think about it. Remember: a watched pot never boils.
Hi-Res NAM model (Monday 6 am – Monday 9 pm), below, shows the blue freezing line lifting north (putting us on the "warm" side) just as the light amount of moisture arrives: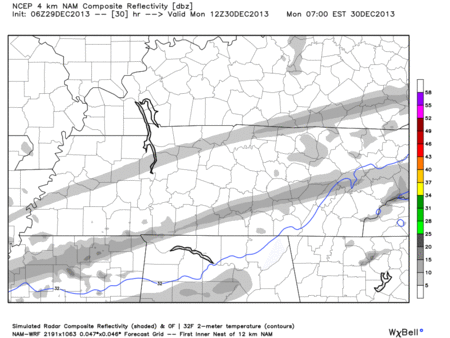 Tailgating my be a little drizzly (but probably not). The game will be cold: mid/upper 30s, with wind chills in the low 30s. We aren't expecting any rain/snow.
Tuesday – Sunny & Chilly – Morning Low 24 / Afternoon High 44
6a 25 . 9a 31 . 12p 40 . 3p 43 . 6p 38 . 9p 34
Extended Official NWS forecast:
Questions? We're on Twitter @NashSevereWx.