Latest Official Hourly Observation:
Tonight – Mostly Clear & Chilly –  Midnight Temp 37
Saturday  – Increasing Clouds; Rainy Evening   –  Morning Low 30 / Afternoon High 55
6a 31 . 9a 39 . 12p 50 . 3p 54 . 6p 50 . 9p 46
It's going to rain Saturday night into the overnight hours.
The Hi-Res NAM model provides a good illustration, Saturday 6 pm – Sunday 6 am: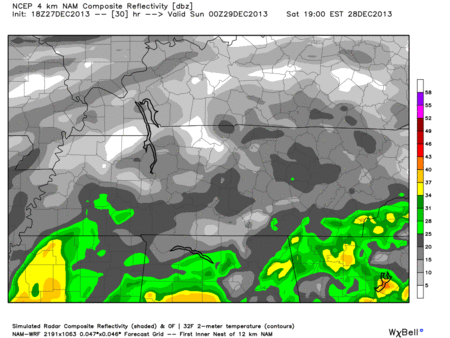 Sunday –  Rain Early; Cloudy; Colder; Flurries Late? – Morning Low 40 / Afternoon High 53
6a 41 . 9a 45 . 12p 50 . 3p 52 . 6p 44 . 9p 38
The rain from overnight Saturday will still be here in the morning, but on its way out. We are expecting all the rain to move out by mid-morning, if not sooner.
We think the Titans game will be rain-free.
After the rain leaves, a cold front will arrive from the west, causing temps to fall once again Sunday night.
There is a chance (just a chance, @PanicCatfish) of a few snowflakes/sprinkles that could arrive with the cold front. The Hi-Res NAM weather model below illustrates all of this for us. (Sunday 6 am – Monday 12 am (blue line indicates freezing)):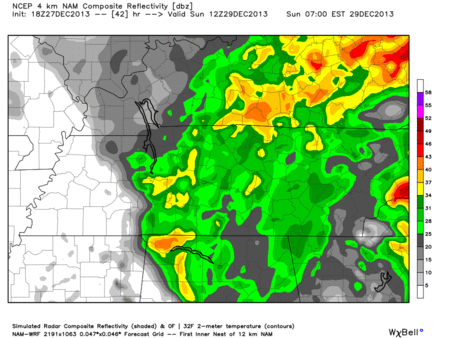 The GFS and ECMWF models are equally unimpressed with the snow/flurry chances Sunday night and Monday morning. GFS:
Official NWS forecast:
Things are going to be very cold to ring in the New Year. The Music City Bowl looks cloudy, dry, with temps in the mid-30s. Winds are — thankfully — forecast to be light.
Questions? We're on Twitter @NashSevereWx.