We're concerned about severe weather later this afternoon and tonight. Ironically, today is the first day of winter.
The SPC (Storm Prediction Center) has now put us under a Moderate Risk of severe weather due to our damaging wind chances:
The label "Moderate Risk" is more wx-nerd speak than anything else. Generally speaking, "moderate" isn't a big deal; however, on the SPC scale, it is a big deal. The SPC uses 5 storm categories: no thunderstorms, general thunderstorms, Slight Risk, Moderate Risk, and High Risk. The Moderate Risk is a 4 out of 5, and requires your attention today.
Here's what Moderate Risk means for us:
Tornadoes. There is a 10% probability of a tornado happening within 25 miles of you. In addition, there's a 10% or higher chance of a tornado being strong — EF2 or greater — indicated by the black hatched area:
Damaging Winds. Our greatest severe weather threat today is damaging winds. There is a 45% chance of damaging winds happening within 25 miles of you, and a 10% or higher chance of 75+ mph winds (as indicated by the black hatched area). 74+ mph wind gusts, if sustained, would qualify as Category 1 hurricane strength. Go ahead and secure all your outdoor stuff.
Hail is not expected.
Today, cheer for the sun to stay behind the clouds. A few hours of sunlight will help charge the atmosphere for severe weather tonight.
Timing:  We are not expecting any thunderstorms until late this afternoon, early evening.
Hi-Res NAM model Saturday 10 am – 7 pm keeps us mostly rain free: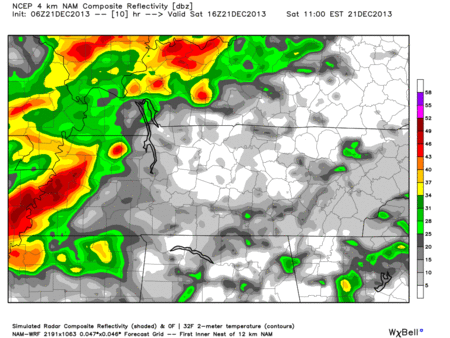 Hi-Res NAM model Saturday 8 pm – Sunday 5 am is when all the action will be: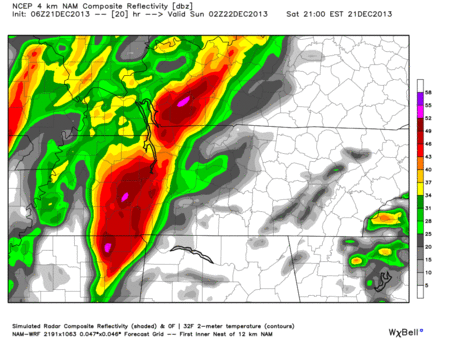 The timing of these models may change. Do not rely on them. The storms could arrive before, or after, what is shown above.
Make sure you have a plan in place today in case a Tornado Warning is issued for your area
Remember, a Watch means conditions are favorable for severe weather. You should very closely monitor multiple reliable weather sources.
A Warning means severe weather is occurring or imminent. You should immediately react by moving into a safe location. Move to the lowest level of your home, and put as many walls between you and the outside as you can. Mobile homes and cars are not safe locations. Wear shoes. I put helmets on my kids (I don't care how goofy that is).
Since 1950, there have been 13 December tornadoes in Middle TN. The last fatality was on Christmas Eve, 1998, in Franklin.
Before the storms arrive, the winds will still be strong. Winds will get stronger as we head through out the day. Gusts as high as 50+ mph are possible!
Charge your phones in case power goes out.
Do not rely solely on this website for severe weather information. Updated information can be found on Twitter @NashSevereWx. Monitor TV and radio as well.
A Few Twitter Reminders
1.  Safely report all wind damage, funnel clouds, wall clouds, etc., to the NWS by tweeting your report with the hashtag #tSpotter. During severe weather, I can't thank you individually for your report – so I'm thanking you now. Each report is a community service.
2.  Please send us all your questions. Your questions help us know what information gaps we need to fill in. Even if we can't individually reply (especially when we get very busy), we try to respond publicly. Many times, your question is answered if you scroll backwards in your time line.
3.  If we are put in Twitter jail, we'll post all updates to this web site.
4.  We can only cover Davidson & Williamson Counties. We don't have the time or resources to expand the scope of coverage without degrading the information we provide.
The NWS has scheduled a special conference call for 1 PM today. We'll update this blog after then.