Summary: Damaging Winds are the main concern tonight. There is a smaller — but certainly a real — chance of a tornado or two tonight.
Current Radar:
Special Weather Statement for Middle TN from our NWS
Damaging Winds and Isolated Tornadoes Looking More Likely in Middle Tennessee
Here's the "overview" page from the Storm Prediction Center:
The red box that appears at the end of the loop is the first Tornado Watch issued today.
Notice that while the overall storm system is moving slowly east, the storms "inside" the system are moving NNE. The storms we see tonight will be moving from the south and southwest.
Our ETA of the main squall line has been pushed back a few hours. NWS expects the main storm line to arrive between 11 PM tonight and 3 AM Sunday:
However, as the graphic above says, storms may form ahead of the line and arrive before 11 PM.
The 10:30 AM Storm Prediction Center update:
NWS: "A moderate risk means the expected storm system is atypical. This is an above-average intensity severe weather event."
Tornadoes. We have been removed from the hatched tornado area (the hatched area indicated a higher probability of strong EF2+ tornadoes). However, a tornado threat remains tonight — there's a 10% probability of a tornado happening within 25 miles of you: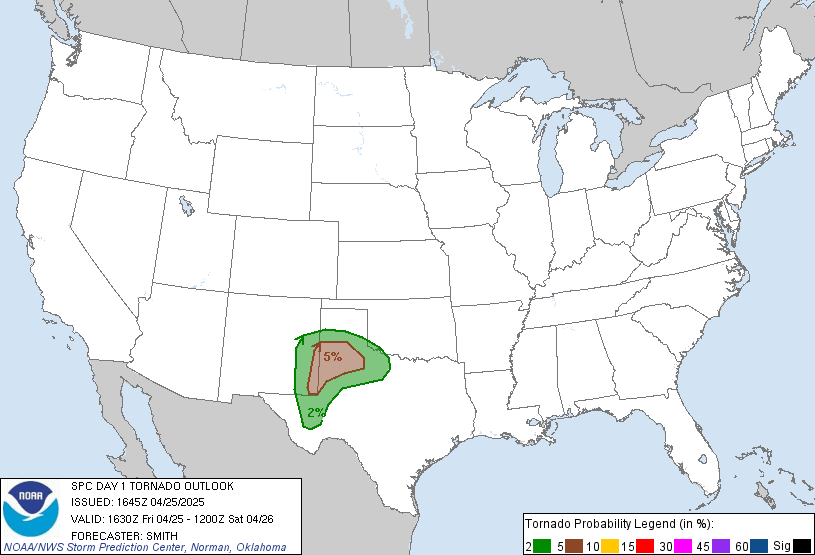 A Tornado Watch is in effect for West Tennessee until 8 PM tonight:
All that said, Damaging Winds are the bigger concern:
The probability of damaging thunderstorm winds or wind gusts of 58+ mph within 25 miles of you is 45%. We're also in the Hatched/Shaded Area, which means there is a 10%+  probability of wind gusts 65 knots (74 mph) or greater within 25 miles of you.
Winds before the storms will be strong. We remain under a Wind Advisory:
Travel. Remember, we cover only Davidson and Williamson Counties. Always consult other reliable weather sources, especially when traveling elsewhere. Travel West and Southwest of our area is increasingly discouraged the later in the day we go. Waiting until Sunday is the best idea.
Those with Christmas parties and Preds tickets tonight — I'm not telling you to go or not go. I think your plans should have you home before 11 PM (no OT tonight please, Preds). Also, while you're out, you need to closely monitor the weather all afternoon and evening in case the ETA of the main line is pushed forward or a few discrete supercells form ahead of the main squall line. You don't want to be on the road when the squall line arrives. Rain will be intense, and the winds will make driving very, very difficult.
Freaking Out? Don't. Just be prepared. We're all going to get a lot of wind and rain tonight. There's a chance of a tornado, but it's by no means a certainty. Keep in mind the above probabilities. We're stressing this event because the best forecasters in the world are stressing it, and your safety and well-being is worth taking a few precautions, having a plan in case there is a warning, and keeping an eye on things today and tonight.
Another update is forthcoming after the NWS 1 PM Conference Call.
More info can be found on Twitter @NashSevereWx.