While walking to get lunch this afternoon, I saw Snowbird.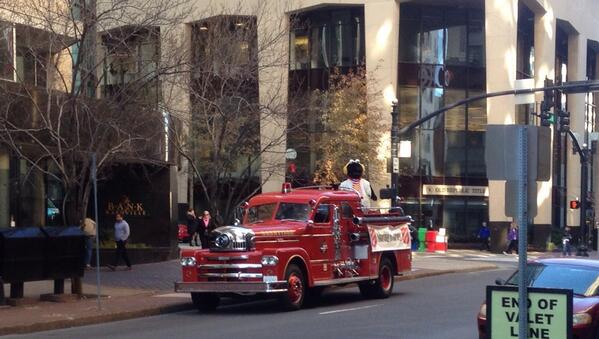 Snowbird was spreading cheer and goodwill downtown from the back of an antique fire truck, which was happily blaring its siren.
I stopped to take the above picture. The Snowbird waved to me. I waved back like a little kid, not caring that maybe I looked like an idiot. After all, I'm an important professional eating important lunches and otherwise busy doing important things. But, Snowbird.
Snowbird is beloved.
He/She lets you out of school. He/She means sledding and hot chocolate. He/She is friendly, with a peppy jingle. He/She has never sat on a wire and pooped on anyone's car. Even my no-girls-allowed barber has a Snowbird bobblehead.
Snowbird rules.
So, I got back to my office, then I got this tweet:
This made me think critically about Snowbird.
What does Snowbird actually do? Here's a good example of what Snowbird does (to the most innocent among us):
Snowbird causes panic.
Let's be honest. We're all friends. We panic at the mere mention of snow. And, frankly, panic is warranted. We can't cope with the snow. We're awful at it.
It's about time we had a mascot to account for this.
Introducing The Panic Catfish, brilliantly rendered by Matt Huff @M_Huff217: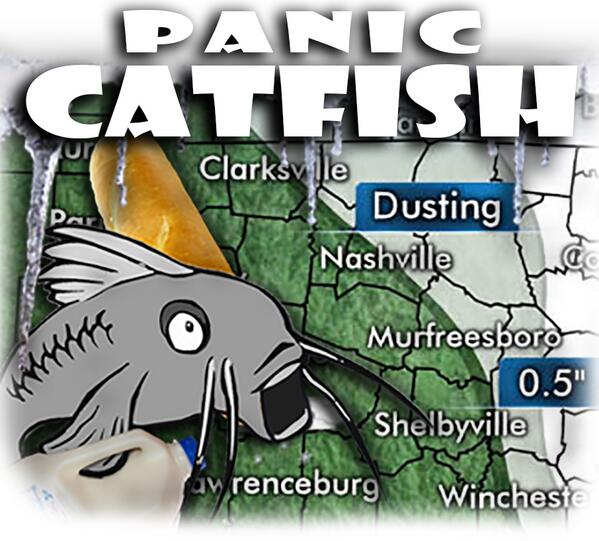 Only time will tell whether this will become "The Panic Catfish," the "Panic Catfish," or just the "Catfish." Y'all will decide.
While the Snowbird will be doing its Snowbird thing: putting a positive spin on snow, the Catfish will be an honest representation of what we do: Panic.
The Catfish won't be panicking anytime soon. Here's your forecast through the weekend:
Latest Official Hourly Observation:
Tonight – Chilly – Overnight Low 33
Clear & cool night.
Thursday – Partly Sunny –  Morning Low 33 / Afternoon High 61

6a 36 . 9a 44 . 12p 56 . 3p 60 . 6p 56 . 9p 54
Yes, you read that right. Sixty-One!
Friday – Increasing Chance of Showers. Windy – Morning Low 48 / Afternoon High 64

6a 50 . 9a 55 . 12p 62 . 3p 64 . 6p 63 . 9p 59
Rain chances increase throughout the day.
Winds could gust as high as 25 mph.
(Editor's Note: The Intern is in Canada. He's looking at highs in the teens. Everywhere he goes, he's getting hazed).
Hi-Res NAM model Thursday 11 pm – Saturday 12 am :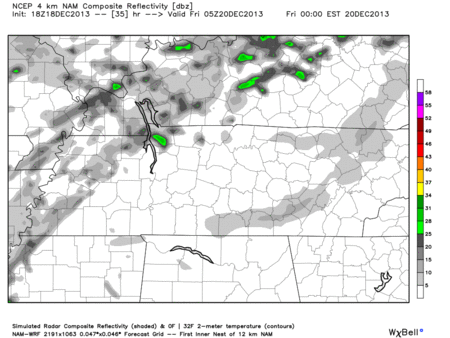 Official NWS forecast:
Weekend Storms
Warm temps well above average in the winter months usually means bad weather.  This weekend, it means rain and thunderstorms.
SPC (Storm Prediction Center) has issued a severe weather outlook Saturday for areas to our west. When updated by SPC tomorrow, we may be included in this (although most likely for early Sunday morning). Storms may be strong or severe this weekend, so stay weather aware.
The GFS model Saturday Noon through Sunday 6 pm predicts buckets of rain: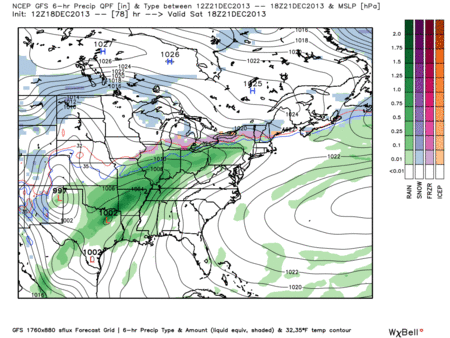 Weather Prediction Center delivers us 1.4 inches of rain through Monday at 12 am:
Questions? We're on Twitter @NashSevereWx.