Latest Official Hourly Observation:
Tonight – Chilly – Overnight Low 27
Clear & cool night.
Wednesday – Sunny –  Morning Low 27 / Afternoon High 50

6a 27 . 9a 34 . 12p 44 . 3p 47 . 6p 41 . 9p 38
Yes, the last morning below freezing for at least the next 5 days. Warming up!
Thursday – Increasing Clouds – Morning Low 36 / Afternoon High 61

6a 32 . 9a 41 . 12p 53 . 3p 58 . 6p 54 . 9p 51
It's going to be nice and warm, but you may need a light jacket if the winds pick up.
Official NWS forecast:
Weekend Storms
December + 60s and 70s = Thunderstorms.
Will storms be severe? SPC (Storm Prediction Center) is still not convinced. For them to issue a severe weather outlook this far away, they need to be more confident on the when and where — and they're just not there right now. There's too much uncertainty in the models.
There's a good indication there will be some severe weather somewhere, but it might not be here in Nashville. We will have to wait and see.
Everyone, however, is confident it'll rain.
The GFS model (below: 6 a.m. Friday through noon Sunday) predicts a LOT of rain. (The European model – not shown – delays all the rain by about 6 hours):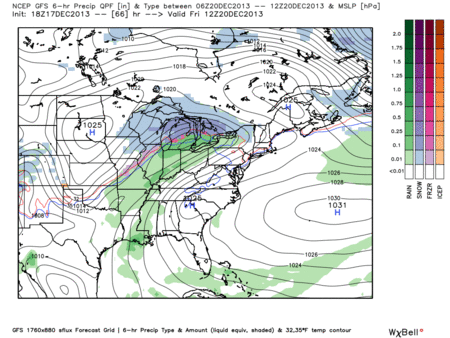 Rain starts during the middle of the day/late Friday, then ramps up Saturday and Sunday. Two or Three inches of rain is possible with this system:
Sometime Sunday the cold front will arrive and clear us out.
Monday will be cold, especially compared to the 70s (!) we may see Saturday.
Still no snow showing up on any of the model runs late Sunday/early Monday. Moisture moves out before the cold air arrives.
Christmas travel looks OK after this weekend.
Questions? We're on Twitter @NashSevereWx.