Latest Official Hourly Observation:
Overnight Flurries – Overnight Low 29

9p 37. 12a 34 . 3a 33
The HRRR thinks drizzle will give way to late night/early morning flurries:
HRRR model, 8 p.m. tonight through 4 a.m. Sunday: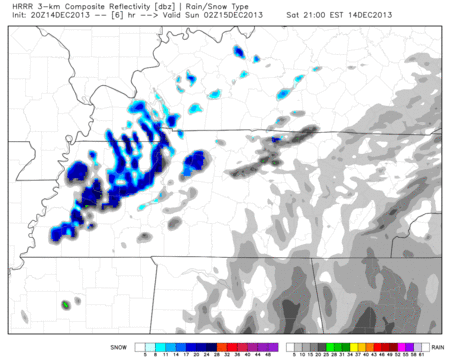 There are no travel advisories in effect. This will only be a "scattered flurries" event. No accumulation is expected overnight.
Sunday – Mostly Sunny & Cold – Morning Low 30 / Afternoon High 38
6a 30 . 9a 32 . 12p 35 . 3p 36 . 6p 33 . 9p 31
Wind chills will be in the upper 20s or around 30 most of the day.
Monday – Sunny – Morning Low 27 / Afternoon High 47
6a 27 . 9a 34 . 12p 44 . 3p 48 . 6p 43 . 9p 39
Gradual warm-up begins, and we await the end-of-the-week cold front/weather system (explained below).
Official NWS forecast:
Major Storm Next Weekend?
Our NWS has put together this GIF to illustrate how cold it's going to be and when you can expect it. Notice on Saturday it says we're "about to get blasted" with cold air.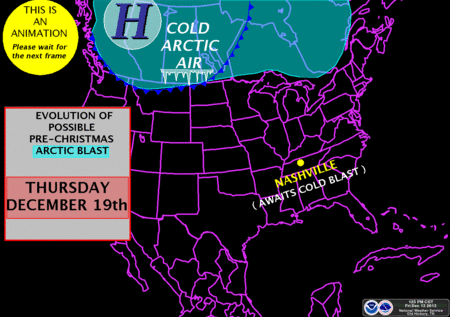 This weather system could bring severe weather on the front end, with a winter storm on the back end. Exactly when and where remains unclear. We only have a general idea.
SPC (Storm Prediction Center) thinks it's to early to put out a severe weather outlook for it at this time because the models are not in agreement with timing and intensity.
The GFS model is delivering coupious amounts of rain for us Saturday 12 am – Sunday 12 am:
Remember: this is just a weather model, which is probably wrong with exact timing and intensity, but I think it's going a good job painting the big picture.
The European model is also delivering a lot of rain, but 24 hours later than the GFS. This timing difference illustrates why we don't trust the models this far out.
No model is predicting any snow behind the cold front at this time.
This is something to watch closely.
Questions? We're on Twitter @NashSevereWx.