Latest Official Hourly Observation:
Tonight – Clear & C-O-L-D – Low at Midnight: 25
Bundle up tonight! Another reinforcement of Canadian air is on the way.
Thursday – Sunny & Cold – Morning Low 18, High 37
6am 18 . 9am 24 . Noon 34 . 3pm 37 . 6pm 30 . 9pm 28

A wind chill of 11° at 6 a.m. Ugh.
Friday – Increasing Clouds; Rain (Snow?) Late  – Morning Low 22, High 47
6am 22 . 9am 35 . Noon 43 . 3pm 47 . 6pm 41 . 9pm 38

Rain – and maybe snow – arrives after dark.
If this happens, it would be a light snow, accumulating mostly on grassy surfaces. Similar to what we had about 2 weeks ago, any snow would quickly change over to all rain, courtesy of southerly winds responsible for WAA (Warm Air Advection — meaning: warm air arrives).
Official NWS Forecast:
Saturday looks like a rainy mess.
Next Big Storm?
The following is a big giant guess and is subject to being 100% wrong. But, just for fun…
There are three major global weather models: the American (GFS), Canadian, and European. All three are picking up on a major low pressure system moving across the country December 20 – 22, that could bring us severe weather.  The way this is currently modeled, it would be a very dynamic system, with storms and above-average temps one day, then below-average temps the next day (with a chance of snow).
The GFS temperature model for December 20 at 6 p.m. wants to deliver us upper 50s and warming, with a cold front on its heals.
The Canadian model (below) agrees. The European model also generally agrees.
It's rare to have 3 different models agreeing like this almost 10 days out. It has our attention, but it's soooo far away, the system could completely disappear, it may not verify, it could be completely wrong, etc. etc. etc. We're just nerding out on the weather models.
BTW, odd's of 1″ of snow on Christmas — not looking good according to NOAA: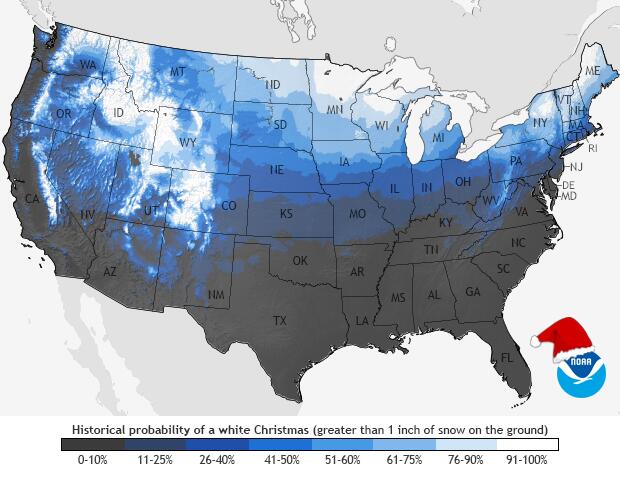 Questions? We're on Twitter @NashSevereWx.