Latest Official Hourly Observation
Midnight – Bedtime Update
From @ethanluck: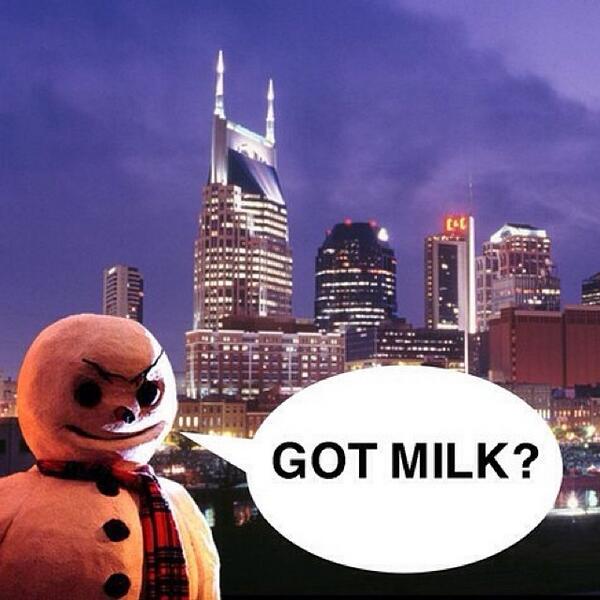 I'm going to bed. We'll be up to listen to the NWS conference call at 4:30 a.m., then post an early morning update. After that, Will will tweet y'all up in the morning so I can get some sleep.
The radar, beneath the 10:40 p.m. update below, should remain "live" so you can see the precip coming in from the SW. We think it'll all be snow from here on out. Look for about 1″ or so, more in some spots, less in others. Precip won't be melting soon — we'll be below freezing until at least 9 a.m.
11:00 p.m. Update
10:51 p.m. Update
1+" includes us. Newest NWS Statement ("NC" means us, "north central" Middle TN):
10:40 p.m.  Update
What we've seen is just the first batch. Precip will be off and on tonight. The precip-train extends back to Mississippi:
It'll start as sleet, then change over to snow, especially after midnight.
This will be difficult to melt. Surface temps won't cruise past freezing until mid-to-late morning.
Midnight 30 . 3a 29 . 6a 27 . 9a 30 . 12p 35
I will be on the NWS conference call at 4:30 a.m., post a blog update here, then Will will drive the account while I sleep.
10:03 p.m. NWS Special Weather Statement for Middle TN
9:45 p.m. Update
It's just one model run, and it may change, but the HRRR now wants to give everyone in Davidson & Williamson County snow. 8 p.m. to 2 a.m.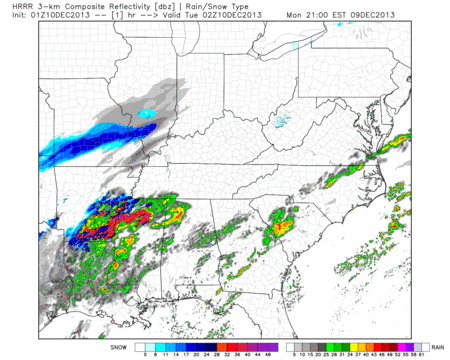 Next Few Days
Weekend
Another rainmaker arrives, but we think it'll be mostly rain, with a slim chance of snow mixing in Saturday night. It's way too far away to say anything certain for now.
This blog is a supplement to @NashSevereWx on Twitter, where more/updated information can be found.