Tonight
We've seen a few flurries this morning, but the afternoon and early evening will mainly just be dry and cold.
A new Winter Weather Advisory is effective at 9 p.m. tonight, ending 9 a.m. Sunday morning.
NWS thinks this event will "be more impactful" than last night's event – especially regarding travel.
Last night, almost all the rain was gone before the freezing temps arrived.
Tonight, freezing temps are forecast to already be here when the rain comes:
3pm 37 . 6pm 32 . 9pm 30 . Midnight 30 . [Sunday] 3am 29 . 6am 32 . 9am 35
We think everyone will get some ice, be we expect more ice in Davidson County than in Williamson County. The further north you are, the more ice we think you will get.
It may start with sleet mixing in, but this will be primarily a freezing rain event. Remember, freezing rain is "regular" rain that falls through a warm layer of air aloft, hits the ground, then freezes.
The freezing rain will begin in Williamson County as soon as 9 p.m. It will begin in Davidson County around midnight:
RAP model at 8 p.m.:
Even though the below says from "6 p.m. – midnight," we think the freezing rain won't actually start until after 9 p.m. (The model is only taking a total of the 6 hour period).
Travel will definitely be a concern during the overnight and early Sunday morning hours. The TDOT's Smartway app and website are good travel resources for road conditions.
Some minor local utility/power interruptions are possible:
When temps climb above freezing sometime after 6 a.m. Sunday morning, the rain will (obviously) stop freezing, and travel concerns will slowly and gradually diminish. By noon, we're forecast to hit 39, then 43 by 3 p.m.
All times above are estimates. Your results may vary. Stay tuned later tonight.
Interestingly, thunderstorms are possible with the rain tonight. The Storm Prediction Center included us in their thunderstorm outlook for tonight and overnight. Just lightning. Nothing severe.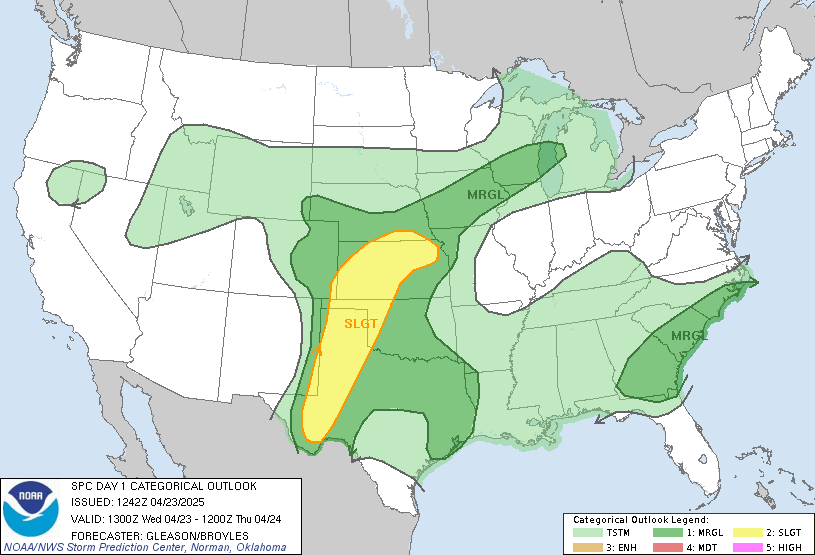 Rain may take a brief break Sunday afternoon, then continue Sunday night and into Monday. There are no immediate concerns about flooding during this time.
Monday Night
Light wintry precip is possible. We don't know what kind (freezing rain, sleet, or snow). It's not expected to be a big deal, but it may impact travel Tuesday morning. It's still too far away to make that call.
This blog is a supplement to more frequent updates and additional details provided on Twitter @NashSevereWx.