We've heated past 70 today. After noon, the official temp was 75.
That's going to change.
Thursday & Friday – Heavy Rain
The rain will begin in the morning, and should continue – mostly unabated – through Friday night and into Saturday morning. Totals will approach 3″, possibly more in some areas:
Flooding may be a concern.
Thunderstorms are also possible: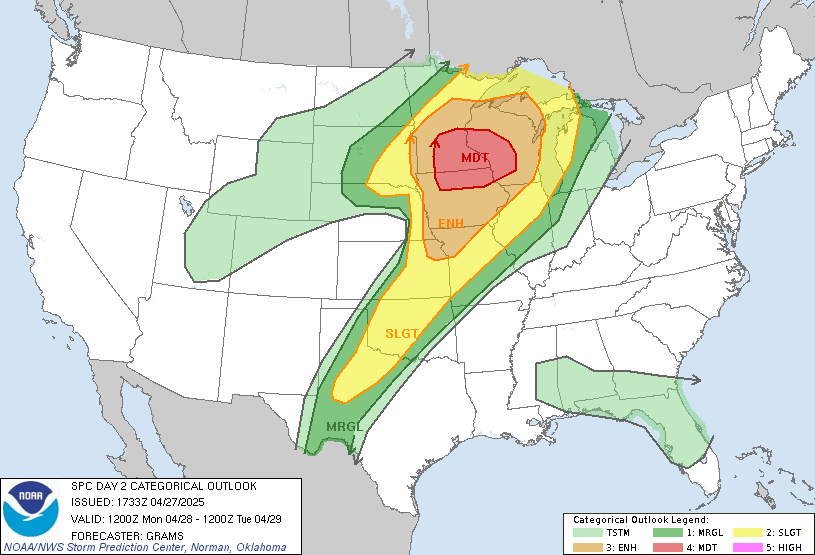 But they're more probable to our south: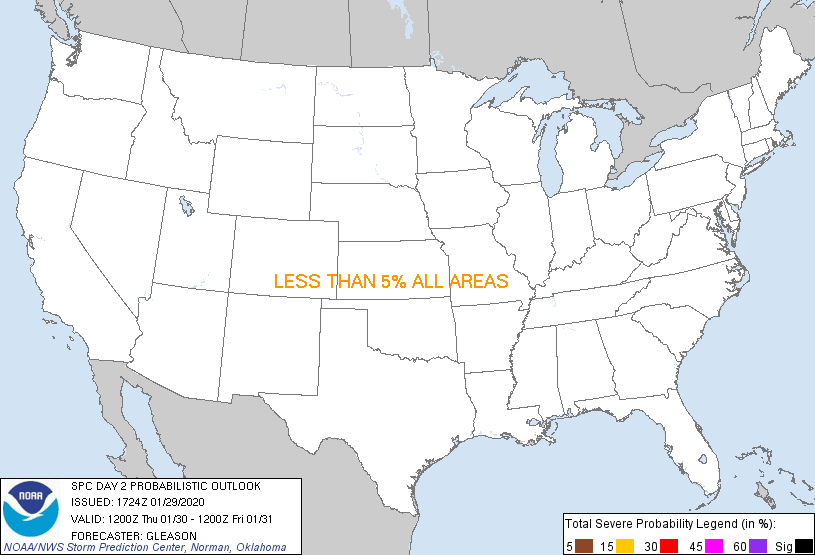 No widespread or organized strong/severe storms are currently anticipated Thursday. We'll see what the Storm Prediction Center says tomorrow, but for now, this appears to primarily be a rain event.
Do not overlook the rain potential. Minor flooding is a concern.
Friday Afternoon and Night – Freezing Rain Possible
We're concerned about freezing rain.  Don't be someone who thinks: "It's just rain, not sleet or snow, nothing to worry about!" Meanwhile, icing occurs.
Here's an illustration.
Note the rain is "warm," but does not freeze until it hits the ground. Freezing rain, y'all.
The $1,000,000 question is where the line will be between freezing temps, and those temps just above freezing. This forecast is perhaps the most difficult one to make due to the vast number of variables in play. A wobble of one variable here or there can be the difference between a power-destroying ice storm and a cold rain.
For now, the NWS puts the freezing line along/near Davidson and Williamson Counties. The worst of it is expected to happen to our NW. Today, the NWS chose to issue a Winter Storm Watch for those counties bordering us to the northwest:
Probabilities of Freezing Rain Friday & Friday Night. Notice we are on the line.
This graphic shows it as well:
The below image reflects the Ice Impact Index. We are in the "1" – "Some local utility interruptions possible, typically lasting a few hours:" This represents less than a 1/4″ of ice. It would cause travel problems.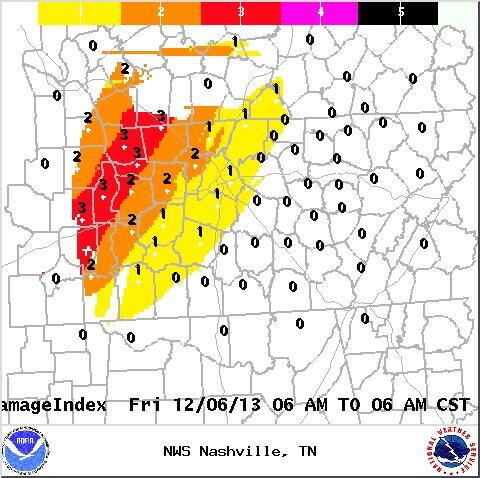 We are in the middle of all uncertainty. Expect this forecast to change. Any wobble of the freezing line southeast of us by 25 miles can cause a debilitating ice storm. At the same time, a wobble of the freezing line by 25 miles to our northwest will put us in the much-preferred all-rain category.
As for ETAs, think Friday night, but note: the NWS grids indicate icing could begin for us as early as 3 p.m. Friday.
Saturday Night – Another Possible Round of Freezing Rain
Saturday afternoon temps should climb into the mid-30s and allow for some melting, only for more rain – possibly freezing rain – to return Saturday night. The good news is it appears the freezing line may stay NW of us, but with this event 72+ hours away, I would not draw any conclusions. Still, it's a good sign.
Winter Storm Preparedness Tips. There's a "Prepare" tab with several suggestions of what you may need if we get hit by an ice storm.
Winter Driving Safety Tips. Includes "If you start sliding, turn slightly into the skid and pump your breaks" and other common sense, such as "Slow down and relax."  There's also a checklist of stuff to put in your car, just in case.
I'll leave possible flurries Monday night for a later date. That potential event is too speculative to comment further.
I'll update this blog again tonight.