This afternoon, our NWS began its Area Forecast Discussion by saying:
"Forecast confidence is increasing daily about the fact that Middle Tennessee is staring down the barrel of a miserable several days starting late Wednesday night."
Uh-oh.
This post contains three sections.
Our usual Daily Summaries
Rain/Flooding Potential
Two Rounds of Frozen Precipitation
(1)  Daily Summaries
Tonight – Few Sprinkles Possible, Not Likely Though – Overnight Low 55
Wednesday – Cloudy, Chance of Rain – Morning Low 55, High 71
6am 55 . 9am 61 . Noon 68 . 3pm 70 . 6pm 67 . 9pm 64

We may see some overnight/morning rain.
Hi-Res NAM model Wednesday 1 am – 9 am: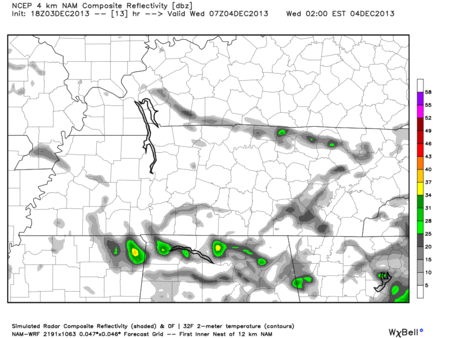 The warm front delivers temps well above average. Enjoy Wednesday, because it'll all go downhill from there.
Thursday – Lots of Rain, Cold Front Arrives – Morning Low 60, Afternoon High 62, Then Temps Drop
6am 61 . 9am 61 . Noon 62 . 3pm 61 . 6pm 50 . 9pm 45
Friday – Miserable! Raining, Strong Winds (20 mph), Plummeting Temps – Morning Low 39, Afternoon High 41 (then quickly dropping)
Saturday – Travel Problems Possible Early, Some Afternoon Melting, Another Chance of Freezing Precip Saturday Night – Morning Low 29, Afternoon High 38
Sunday – More Freezing Rain Possible – Morning Low 31, Afternoon High 41
(2)  Rain and Flooding Concerns Begin Thursday
For the 24 hours beginning Thursday at 6 a.m., we're expected to get 2″+ of rain:
Through Saturday, we'll see a total of up to 4″, maybe more:
For the next 7 days, about 6″ of rain is possible:
Flooding is a concern, especially if the precip over the weekend falls only as rain. We'll be around to pass along all hydrological advisories, etc., if necessary. Monitor local rivers, streams, and creeks with this interactive website.
(3)(a) Frozen Precipitation – Round One (Friday Night / Saturday Morning)
Temps Thursday will begin their descent toward freezing. It'll rain all day Friday while temps chill down the 30s, coming dangerously close to the magic number of 32 degrees.
At some point Friday night, the rain is forecast to change over to snow, sleet, or freezing rain.
Snow indicates temps overhead (off the ground) will have reached freezing. If we're at freezing at the surface, the snow should stick.
Sleet indicates fewer layers of the atmosphere above will have reached freezing, giving the rain no time to change to snow.
Freezing Rain indicates temps overhead are above freezing, with freezing temps at the surface. Rain would fall, then freeze. This is the least preferable of all the scenarios.
We don't know which of the three above scenarios we'll see. In fact, a fourth scenario — a very cold rain, is possible.
The last few model runs have Nashville right on the dividing line between an ice event and an all rain event. It's impossible to rule anything out right now. You should be prepared for all four.
Our NWS thinks counties to our northwest will be the first to see frozen precip Friday afternoon. Nashville is, unfortunately, right on the anticipated freezing line. This is often the worst place to be. Our NWS says a "mix of snow and sleet will be likely" for us Friday night. Freezing rain is also possible — around 0.10″, which would make a mess of early Saturday morning travel.
CPA's State Championship HS Football game (kickoff 3 p.m. Friday) is likely to be a wet, cold mess. Travel may be difficult, especially on the way home. Place a watchful eye on the temperatures and rapidly deteriorating weather conditions during the victory party.
Those planning to attend the Christmas Parade in downtown Nashville should plan for a cold rain, and also monitor the reclining temperature through the Friday evening hours. Do not get caught on the road while temps approach 32.
Travel north and northwest is discouraged Friday night and early Saturday morning. Those traveling north to Louisville, Paducah, and even Memphis (going to Memphis? read this) may be heading into worse winter weather conditions. This is a good resource for travelers. TDOT also has a mobile app.
We'll see a mid-day break from the precip Saturday. By noon, we should warm up beyond freezing which should melt any ice (making travel easier), but there is some concern the weather models are underplaying the intrusion of the cold, arctic airmass carpetbagging its way south — it may be colder than that.
(3)(b) Frozen Precipitation – Round Two (Saturday Night – Sunday)
More precipitation is coming Saturday night, and it will be cold. The real question is the location of the freezing line.
Our NWS says: "The cut off line between rain and freezing rain is still unclear . . . but the Nashville metro area could very well fall into the frozen stuff. Fingers are crossed this doesn't occur" because there will be a lot of rain, and if we're on the freezing side, well, no one will be going to church Sunday morning.
As for the entire weekend, we asked the models for their Snowfall/Winter Precipitation Totals:
1.  The Canadian model does not deliver a single snowflake. It all stays north.
2.  The European model (not shown) buries us in 4″-8″ inches of snow, with 10″+ accumulations just to our north and west. This would be a nightmare scenario because it would probably include a lot of freezing rain.
3.  The GFS model is the middle man: We are right on the line between nothing, and 2″-4″ inches through the weekend:
As if that's not enough, there maybe even a Round 3 late Monday (according to European model). This is an impossible forecast to do accurately.
(Editor's Note: the preceding statement was The Intern's, who is awesome. Check this out:
The Intern is smart.
Here's one opinion of Friday night, from the man behind @SumnerSevereWx and @MaconSevereWx. This is not an official forecast by any means, but it's a good graphic and is well reasoned. Remember – no one really knows how this is all going to shake out, and I hope he's wrong. I know he hopes he's wrong:
If you need to press a button, press this:
Questions? We're on Twitter @NashSevereWx.