SUMMARY. Early this week, a southwest wind will deliver warm, moist air, raising temps and bringing significant late-week rain. A cold front arrives Friday night, delivering a mystery bag of wintry precip over the weekend. If you've already read this, Scroll down for the NWS 8 p.m. update (in red).
Tonight – Few Sprinkles, No Big Deal – Overnight Low 47
Here is what the HRRR model portrays will happen 4 pm – 11 pm: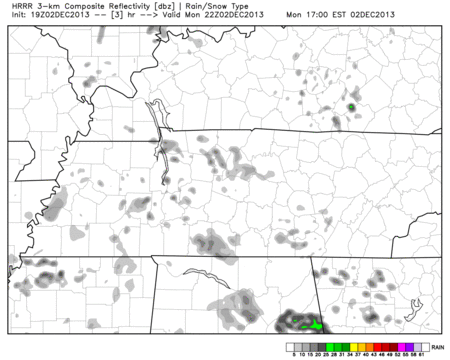 Tuesday – Cloudy – Morning Low 47, High 65
6am 49 . 9am 55 . Noon 62 . 3pm 64 . 6pm 62 . 9pm 60

We may see some overnight rain.
Wednesday – Scattered Showers – Morning Low 57, High Almost 70
6am 57 . 9am 62 . Noon 67 . 3pm 68 . 6pm 61 . 9pm 58
Southerly winds are to blame/thank for all the warmer temperatures and the rain ahead of the cold front.
Thursday – Friday: A Lot Of Rain – 2″ to 4″ Expected
A front will lay across Middle Tennessee Thursday, setting us up for 2″ to 4″ (some areas will get more) of rain Thursday and Friday.
Those along flood-prone rivers, creeks, and streams should monitor the situation. Click here for a fantastic website to monitor flood conditions.
Friday Night/Early Saturday Morning – The Cold Front Arrives: Sleet/Freezing Drizzle?
As the cold front arrives, it'll be chasing the back end of the exiting precipitation. Right now, we think the upper layers of the atmosphere will be close to, but above, freezing. Near and at the surface, we may make it to freezing.
Depending on how it shakes out, this could mean freezing rain (ice), sleet, or (if we don't make it to freezing at all), all rain. Snow is certainly possible, but that appears less likely than rain/sleet/freezing rain.
Those going to the Christmas parade in downtown Nashville should plan for a cold rain.
Late Saturday Night / Sunday – Cold Rain, or Sleet/Ice/Snow?
Another "quick hitting" system will arrive late Saturday night into Sunday. All modes of winter precipitation are possible.
Here's the difference between rain, freezing rain, sleet, and snow. Remember, temperatures overhead can be warmer than those here at the surface:
We think this Saturday night/Sunday event will be more significant than what we get Friday night/Saturday morning.
Forecasters struggle with the determination between rain, freezing rain, sleet, and snow within 12 hours out; right now, we're still 100+ hours away from this event, so to say what we will get right now is silly.
Possibilities:
1.  All Rain. Models have been trending a bit warmer of late, and away from a snowpocalypse. As easily as those trended warmer, they could just as easily trend colder.
2.  Sleet or Snow. If we are going to get wintry precip, this is what we would prefer.
3.  Freezing Rain/Ice Storm. This is the Queen Mother of all dirty words for southern winter storms. Freezing rain is simply rain that hits the ground, then freezes (it never changes to sleet or snow). Ice-coated roads are a mess, and more importantly, ice glazes over power lines and trees. The weight takes them down, and we lose power.
For this to happen, an extraordinary series of events must occur, and it's too far away for us to know. But, this is a possibility, and you need to monitor several reliable weather sources as we approach the weekend.
Another look at the difference between Freezing Rain and Sleet:
The difference between an all-rain event and an ice storm can be just a few degrees. It's all about the timing of the weather systems, the temperatures at the surface, the temperatures aloft, dew points, evaporative cooling, etc. Several variables exist, and, right now, there are few, if any, known quantities.
Model Snow Totals: Remember, these are models, NOT forecasts.
The GFS (American model) only delivers a dusting of snow between now and Tuesday Morning:
The Canadian model (typically predicts more than what actually happens), looks about the same as the GFS for the same time period:
ECMWF (European) model continues to predict a lot of snow (3″ or more). This model is probably overdoing it. We don't think the vertical temperature profiles support snowfall.
The best guess right now is that this will not be a snow event for us. Rather, it'll be rain or freezing rain. Keep in mind, that's a GUESS. The only thing you need to take away from this post is to this situation in mind, and check reliable weather sources as we approach the weekend.
8 pm update from our NWS:
Questions? We're on Twittter @NashSevereWx.