Today – *Winter Weather Advisory* – Snow? Windy & Clearing – Overnight Low 23

Timing from our NWS remains unchanged:
The Winter Weather Advisory remains in effect:
This NWS graphic thinks we will see 1.0″ of snow: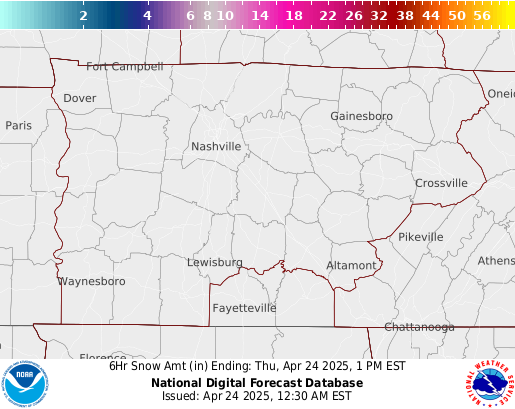 So, there's that.
Then there's the HRRR model (19z) for today from 4 pm – 1 am: (Blue  = Winter Precip, Green = Rain):
According to this, very little snow is expected, but to be fair, the HRRR has been waffling a bit all day long.
There is nothing impressive on the radar to our south or southwest to give me any confidence of 1″ of snow. All the good moisture has escaped east. However, water vapor imagery shows there's still some moisture to work with before the system departs tomorrow:
There's plenty of evidence to support a sNOw or a YESnow. The safest bet is that the roads are wet, the temp will drop substantially below freezing after dark, and black ice is a travel concern. Also, there will be a strong wind tonight. You don't want to be outside. Wind chills will fall into the teens before 9 p.m. tonight.
We'll be on Twitter @NashSevereWx providing updates the rest of the night.
Wednesday – Any Snow: Gone. Cold & Windy – Morning Low 23, High 31
6am 24 . 9am 26 . Noon 30 . 3pm 30 . 6pm 26 . 9pm 24
Wind Chill of 10 degrees in the morning!
Travel should be OK, although be careful in the morning. Dry air and high winds should hopefully clear your path to grandma's.
No need to freeze your turkey. Just leave it outside.
Thursday – Mostly Sunny – Morning Low 19, High 41
6am 20 . 9am 28 . Noon 37 . 3pm 40 . 6pm 34 . 9pm 30
Warming up a bit. No weather or travel concerns.
Official NWS Forecast:
Questions? We're on Twitter @NashSevereWx.