Today – Snow/Sleet/Rain – Low 34 Tonight/Overnight, 33 by 6 a.m. Tomorrow
We thought we would see rain and sleet. Instead, we got snow sticking to grass, but not roads. Here's a good picture from @gencarter: "@NashSevereWx snow in downtown Nashville, just west of the Capitol":
Right now it's 34 (above freezing) and sleeting/snowing/raining. We are not forecast to reach 32 tonight. Travel should be OK, but stay tuned (we've been fooled before), and be careful on bridges and overpasses.
Take note how the HRRR model (below) changes the snow to rain tonight. Why? Winds are coming from the south. We are warming!
HRRR model Monday 4 pm – Midnight: (Blue  = Winter Precip, Green = Rain):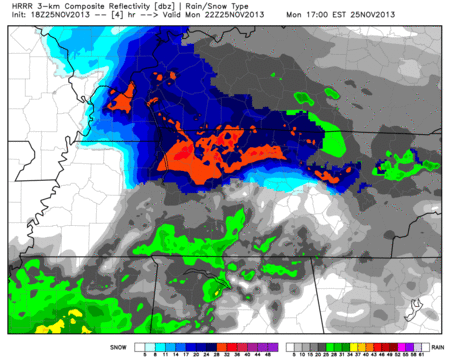 Tuesday – Rain/Snow/Sleet – Morning Low 33, High 40
6am 33 . 9am 36 . Noon 39 . 3pm 39 . 6pm 34 . 9pm 31
Looks like this will mostly be a rain event, but we can't rule out more winter precipitation mixing in with the rain. This is especially true late Tuesday afternoon and evening. No accumulation is expected, but grassy surfaces may be assaulted again.
Hi-Res NAM model Tuesday 5 am – 2 pm (we are in the very center of this radar loop):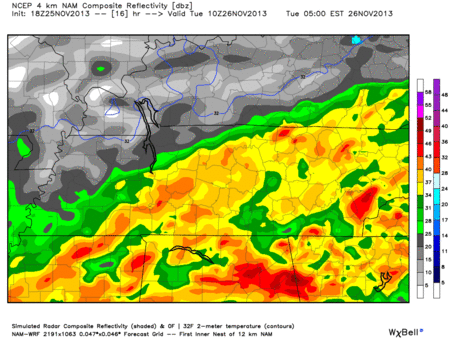 The WPC forecast is for about .5″ of rain through Wednesday 6 a.m.:
Wednesday – Mostly Sunny – Morning Low 25, High 33
6am 26 . 9am 28 . Noon 32 . 3pm 32 . 6pm 27 . 9pm 24
Another fiercely cold day!
Official NWS Forecast:
Questions? We're on Twitter @NashSevereWx.