Friday – Light/Moderate, Off & On Rain – High 59
6am 53 . 9am 55 . Noon 58 . 3pm 52 . 6pm 47 . 9pm 45
Rain most of the day, then a cold front will clear us out.  Hi-Res NAM model Friday 7 am – 4 pm: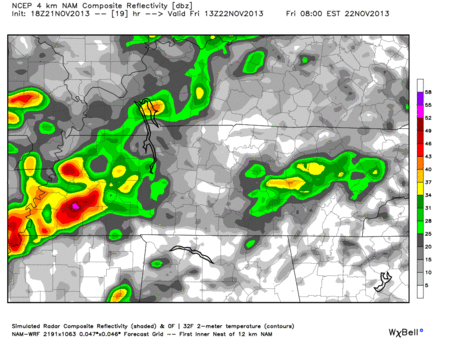 Rainfall totals from the WPC are expected to be around .60″:
Saturday – Cold Air Arrives; Mostly Clear; Windy – Morning Low 39, High 49
6am 41 . 9am 44 . Noon 48 . 3pm 48 . 6pm 39 . 9pm 33
It'll be cold….and windy. Winds will be sustained between 10 and 15 mph, with gusts as high as 20 mph. The rain should be gone by the wee hours of the morning.
We call this CAA (Cold Air Advection) in meteorology. After sunset Saturday evening, temps will plummet.
Sunday – COLD – Morning Low 24, High 38
Wind chills will be into the teens (as low as 15 degrees)! It will be sunny, but unseasonably cold. A brisk north wind will be blowing at 5 to 10 mph.
GFS model Temperatures Sunday 6 am:
Monday-Tuesday-Wednesday of Next Week 
First, a note of caution: the weather models do not agree with the timing, location, and type of precip (rain/sleet/snow).
We will have cold air. This 6-10 day outlook (next week) from the Climate Prediction Center shows the arrival of cold temperatures:
Note that temps won't be below freezing all day of every day next week. The sun will take us above freezing, so any wintry precip that falls will have to do so in the evening/morning hours. We're expected to be well above freezing every afternoon next week.
Our precip-maker will be a deep low pressure system expected to move south of us. We will catch the northern edge of it. There's disagreement about when.
The GFS barely drags a smidge of rain into Middle Tennessee Tuesday night into Wednesday morning. This could result in some brief wintry mix precip Tuesday night/Wednesday morning, but the 12z run of the GFS has it as almost all rain:
The Euro is much more aggressive.
It predicts the precip-maker will arrive a full day before the GFS, spreading a very cold rain in Middle Tennessee Monday night – Tuesday morning. Rain may change to sleet and mix with snow.
The Euro has us down for about 1″ of snow while we sleep, but that's probably way too aggressive. Remember, we are forecast to 42 by noon, so if it happens, it won't last long:
Bottom line: When the models diverge this much, there's no reason to get excited or begin to panic. Stay tuned.
Questions? We're on Twitter @NashSevereWx.