No tornadoes occurred in Davidson or Williamson County, but the tornado-warned segment of last night's squall line produced two tornadoes to our north:
(1) an EF-1 tornado in Robertson county, and
(2) an EF-0 tornado in Sumner county. These were brief spin-ups.
A third tornado occurred to our south, in Lincoln County.
The below graphic overlays actual storm reports atop the the Slight/Moderate/High outlook areas from the Storm Prediction Center. Those guys are really, really good forecasters. It's why we pay attention to them, and you should, too: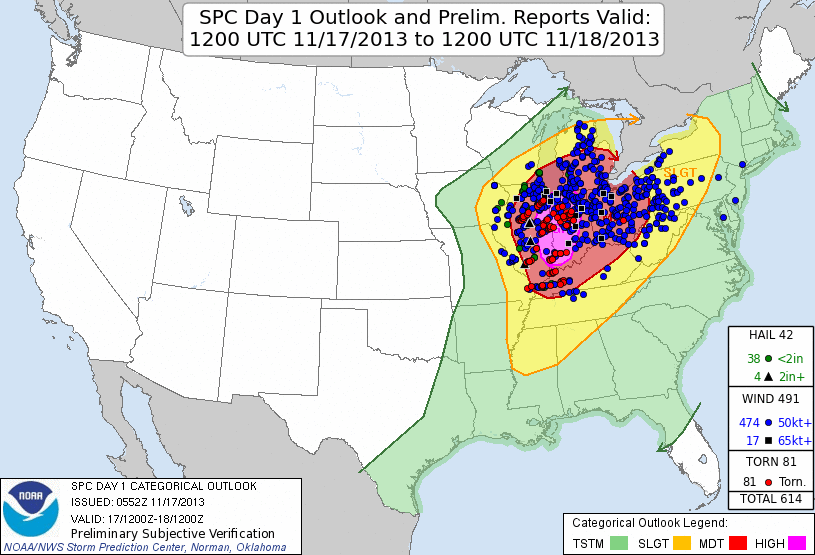 (The graphic will be updated to account for the two tornadoes in Middle Tennessee).
While we escaped unscathed, others did not. Here's why we tweet, in one picture (courtesy of @SevereStudios):

Today – Clear – Overnight Low 34
High pressure has taken over, delivering much nicer weather.
Gusty chilly NW winds (10-15 mph) will help bring down the temperatures tonight.
Tuesday – Sunny, but the Coldest Day This Week – High 55
6am 36 . 9am 43 . Noon 52 . 3pm 54 . 6pm 46 . 9pm 41
Wednesday – Warming Back Up – Morning Low 33, High 61
6am 34 . 9am 45 . Noon 57 . 3pm 60 . 6pm 54 . 9pm 49
November warm ups usually mean two things: clouds, and rain on the way.
Thursday, Friday, & Saturday – Rain Returns – High 62
No severe weather expected. We should see about an inch of rain (total) from Thursday through midnight Saturday night:
It's too far away to know exactly when it'll rain/clear. It won't rain the entire Thu-Sat period.
Questions? We're on Twitter @NashSevereWx.