Tornadoes with debris signatures on radar are cutting through Illinois right now (11:30 a.m.). The risk in Illinois, Wisconsin, Indiana, Michigan, northern Kentucky, and Ohio is much greater than ours, but you need to pay attention to our weather this afternoon and tonight.
This is Washington, Illinois damage from this morning (checks out as authentic on Tineye.com):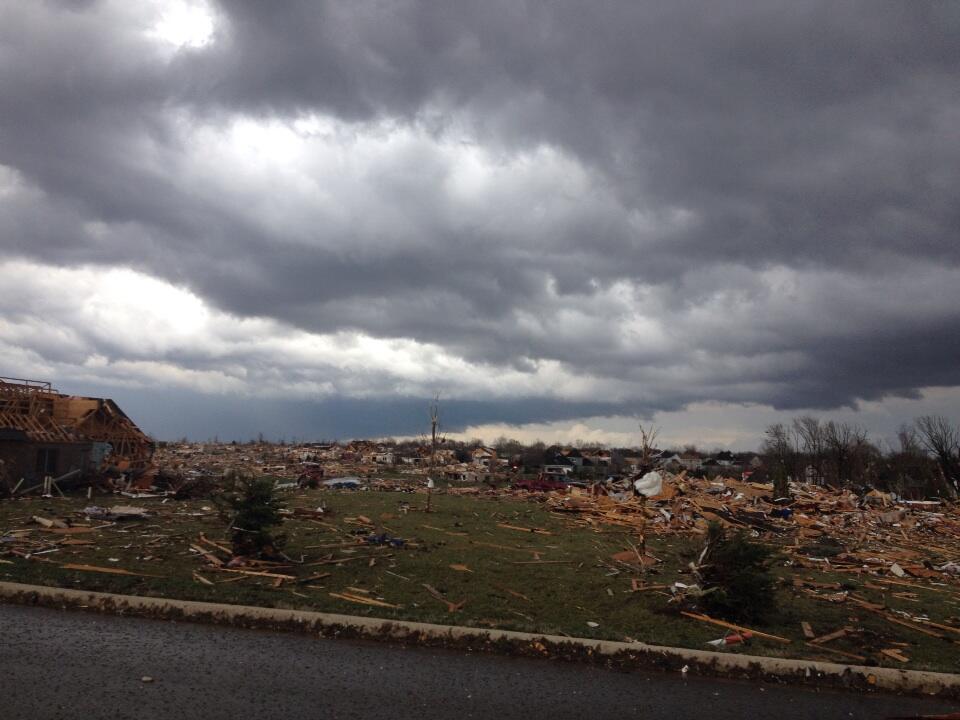 To be clear: we can never be sure, but we don't think tornadoes this strong will happen here.
Let's go through things chronologically.
Our First Round of rain hasn't been strong/severe, and is on its way out now.
The HRRR model moves the morning rain completely out by 2 PM. Below is the HRRR loop from Sunday, Noon to 6 p.m.:
There is a Wind Advisory in effect until 10 pm:
As you saw from the above HRRR simulated radar loop, a squall line is expected to develop tonight. This is where the severe weather may occur.
Updated Storm Prediction Center probabilities (these are largely unchanged from this morning):
This squall line will certainly be capable of knocking down branches and weak trees. An isolated tornado is also possible. Charge your cell phones!
Our NWS timing of the squall line: 7 p.m. – 10 p.m. If I had to bet, I'd say the squall line will be here at 8 p.m.
Here's the other short-range model, the RAP, looping today from Noon to 9 p.m.:
Rain Totals:
Expect 0.5″ rain through tomorrow morning at 6 a.m.:
Monday – Cooler & Clear – High 60
Much better weather! The cold front will have passed, leaving sunny skies with winds down to 10 mph.
Tuesday – Clear – High 56
This will be our coldest day of the week. At least it will be sunny.
As you wake up Wednesday morning, expect a low of 34.
Finally, remember: 99% of our content will be put not on this site, but on Twitter @NashSevereWx.