Clear & Cold Tonight & Tomorrow Morning
It'll be 32 at 9 p.m., diving into the upper 20s during the wee hours of Thursday morning.
Thursday – Fire Weather Watch – Morning Low 27, Afternoon High 55
6am 27 . 9am 40 . Noon 54 . 3pm 54 . High 55 . 6pm 46 . 9pm 39
Expect dry air and breezy conditions. In anticipation of that, today our NWS issued a Fire Weather Watch effective from noon until 5 pm Thursday. A Fire Weather Watch means critical fire conditions are expected to occur.
Translation: don't burn stuff outside. Fires may spread rapidly out of control.
A Red Flag Warning may be needed tomorrow. NWS: "The main area of concern will be along and west of I-65" where it may be more breezy. Afternoon winds are expected around 8 mph in Davidson & Williamson Counties.
Colts at Titans, Thursday, 7:25 p.m.
Few clouds, kickoff temp in the mid 40s, dropping into the low 40s. Temps inside the stadium may hit the upper 30s by the 4th quarter. Plan for wind chills in the upper 30s.
Friday – Bit Warmer – Morning Low 32, Afternoon High 61
6am 32 . 9am 47 . Noon 58 . 3pm 60 . High 61 . 6pm 53 . 9pm 50
There's a suggestion of afternoon rain in some of the models, but the NWS thinks it will be too dry at the surface for any rain to reach the ground.
Weekend – Sunday Storms?
First, the good news. Temps will rebound.
Saturday's morning low is 48, with an afternoon high of 68. Sunday is even warmer, 56 in the morning, 69 in the afternoon.
Now, the bad news.
Western Canadian air will slide into the SE US by early next week (arrow inspired by @RyanMaue):
This system will arrive (we think) late Sunday. It's reminiscent of Halloween night, but this system will lack a surface low bombing out in the Great Lakes (meaning it won't be as windy for us here). Also, expected rain/storms to our south may cut off our supply of moist Gulf air needed to fuel storm development.
That said, the Storm Prediction Center is watching west Tennessee for strong/severe storm development:
Their outlooked area jumps around some. We will see where it is tomorrow.
A Note About Analogs
You may have seen this somewhere before. We RTed it this morning, so it deserves an explanation. Analogs compare
past atmospheric conditions which produced strong/severe weather in the past with
expected/forecast conditions in the future.
The idea is "what happened before may happen again."
For Sunday, the CIPS analog folks spit out a strong/severe weather event in this general area: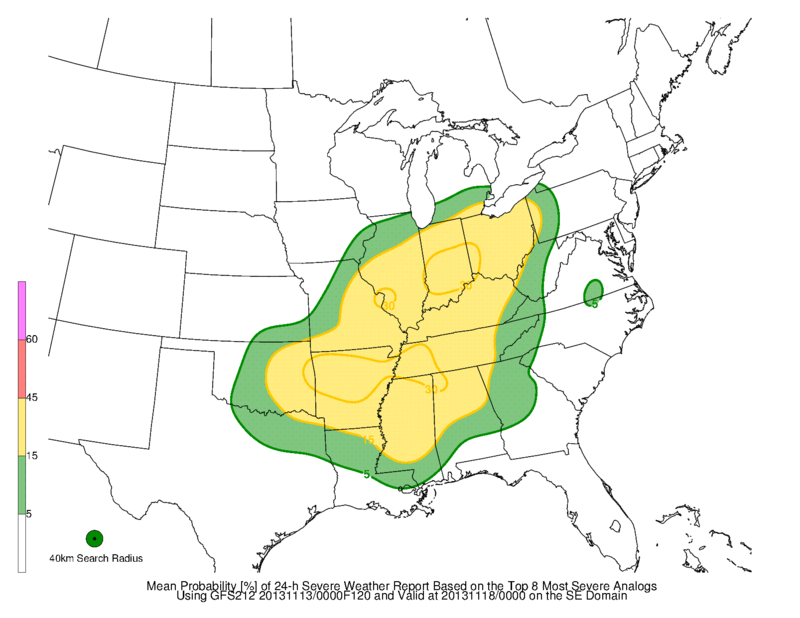 The analog compared it to a November 2002 event which produced widespread severe weather: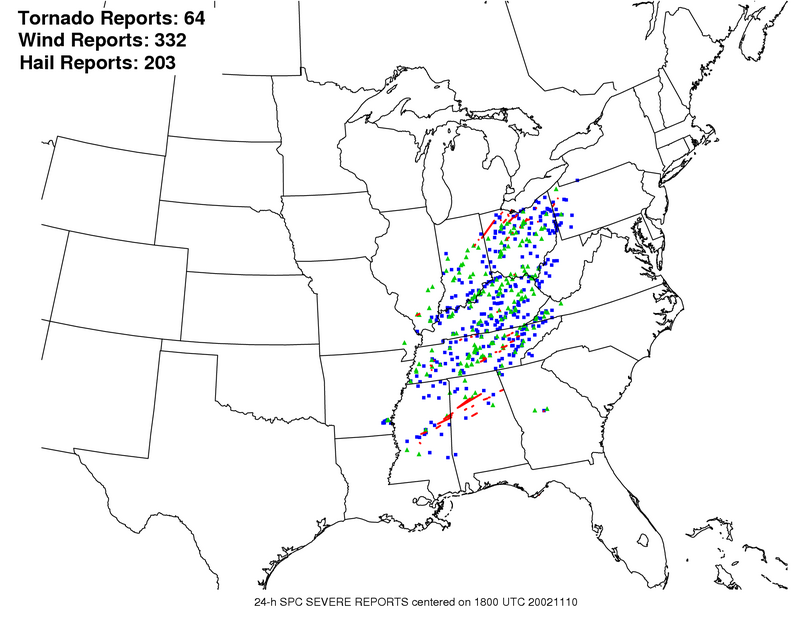 This doesn't really mean much to us right now. The analogs are the product of several assumptions built on top of each other. It deals in anticipated, always-changing, and possibly incorrect variables. Analogs are of some value, but this far away from "the event," I would not give them a second thought. No two systems are exactly the same, the models may have it wrong, the analogs have produced this solution before and nothing happened, etc.
Don't worry about the analogs.* Just remember to check the weather again Saturday. Don't cancel any Sunday plans.
*Still worried? Consider this: Dewpoints in the above analog from November 2002 were much higher than we think we will see Sunday. Dewpoints are an essential ingredient for severe weather. Also, our NWS has only forecast a "slight" chance of thunderstorms. Further, instability also looks storm-unfriendly.
Next Week — The Cold Returns!
Lows in the 20s, highs in the 40s.
Wednesday morning we'll be 20 degrees colder than normal:
Questions? We're on Twitter @NashSevereWx.