Veterans Day – Few Clouds – High 68
It has been a beautiful day to honor the women and men who have served our country.
Winds will increase tonight ahead of an unwelcome cold front, which will arrive while we sleep.
Tuesday – Cold, Windy, Few No-Stick Sn*wflakes Mixing with Rain – Morning Low 35, High 39
6am 39 . 9am 39 . 12pm 39 . 3pm 38 . 6pm 34 . 9pm 31
A Wind Advisory is in effect from Tuesday 3 am until 3 pm. Expect 35+ mph wind gusts:
We could see rain, sleet, or snow, before 9 a.m.
Here's the Hi-Res NAM from 3 am to 8 am Tuesday morning: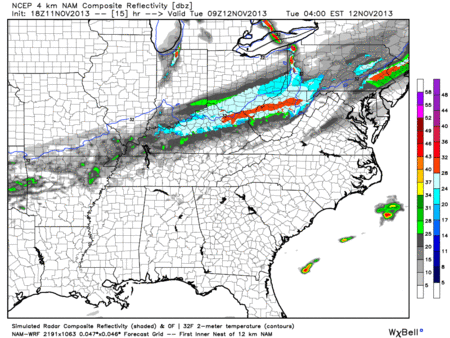 Surface temps well above freezing will prevent any snow, sleet, or ice from accumulating. So, you may see a few flakes. Some of it will be just rain.
The cold + wind will be a shock to the system. Winter clothes will be needed tomorrow.
Wednesday – Even Colder – High 45
6am 28 . 9am 34 . 12pm 41 . 3pm 45 . 6pm 40 . 9pm 32
Still another very cold day, but not as windy. The wake-up temps will be especially harsh: mid-20s, with wind chills bottoming out around 19!  Nineteen!
We'll gradually warm up Thursday, Friday, and Saturday. Next chance of rain will be late Saturday/Sunday.
Questions? We're on Twitter @NashSevereWx.