Today – Sunny – High 61
10am 54 . 1pm 60 . 4pm 58 . 7pm 49 . 10pm 43
It may feel a little bit chilly with a wind of 5-10 mph out of the North.
Veterans Day – Few Clouds – High 65
7am 37 . 10am 53 . 1pm 62 . 4pm 61 . 7pm 52 . 10pm 47
A great day to be honoring those who have protected, and are protecting, us.
Winds will really pick up Monday night ahead of the cold front which will arrive Tuesday.
Tuesday – Cold, Windy, Dreary – High 45
7am 39 . 10am 42 . 1pm 44 . 4pm 43 . 7pm 37 . 10pm 33
The cold front won't have as much moisture as previous weather model runs thought.
Not a single weather model out there gives us any sn-w.
GFS model Tuesday 12 am – 6 pm. Blue is snow, green is rain: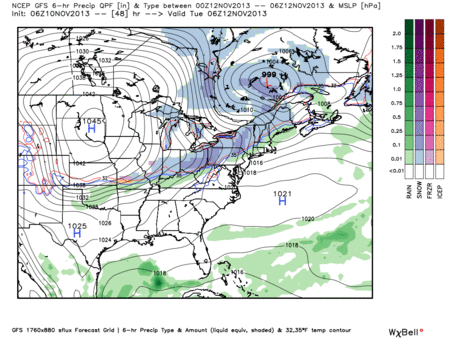 Here's the HI-Res NAM from Monday midnight to noon Tuesday. The red line is the freezing line. The shaded area is the precip. Watch the red line jump way north of us just as the precip arrives:
Our NWS is expecting no more than 0.05″ of rain from this.
The big deal with this system is the cold temps and strong winds (possibly gusting to 30+ mph. A wind advisory may be necessary Tuesday.
Wednesday –> Weekend: Slow Warmup
We'll gradually warm up from the 40s Wednesday, 50s Thursday/Friday, almost 60 by the weekend.
Questions? Aggrieved? We're on Twitter @NashSevereWx.