7-Day Forecast
Mon 39/66 . Tue 42/67 . Wed 50/71 . Thu 50/59 . Fri 35/58 . Sat 38/62 . Sun 40/62
(Dry . Rain (0%-30%) . Rain 30%+ . Severe . Snow)
Details
Monday – Warmer, Mostly Sunny – Morning Low 39, Afternoon High 66
7a 41 . 10a 56 . 1p 64 . 4p 63 . 7p 56 . 10p 52
South winds = warmer temps. Jackets in the morning, short sleeves in the afternoon.
Tuesday – Even Warmer, Mostly Sunny – Morning Low 45, Afternoon High 67
7a 47 . 10a 59 . 1p 64 . 4p 65 . 7p 60 . 10p 57
South winds crank up a little more, driving in slightly higher temps. Clouds will begin to increase overnight.
Wednesday & Thursday – Rain
The models are coming into agreement to give us rain starting Wednesday. The showers should move out as quickly as they move in.
GFS model Wednesday 3 PM – Thursday 9 AM: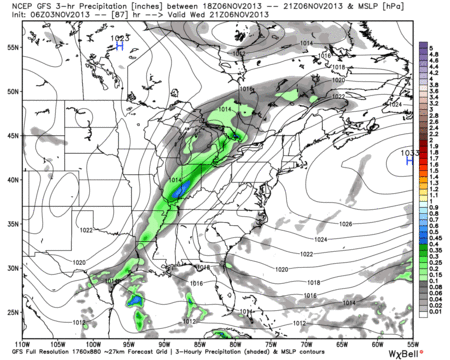 The worst of the rain looks to be Wednesday night into the wee hours of Thursday morning. The front will clear out by Thursday evening, making for a cool and beautiful Friday + weekend.
October in Review
Our average temp was 61.8. That's 1.5 above normal. We got up to 89 (Oct. 5) and down to 28 (Oct. 26). No temperature records were set.
We got 2.34″ of rain, which is 0.70″ below normal. We had one day of thunderstorms (6th). Fastest wind gust was 52 mph (31st).
Fog occurred on 21 days. Three of those days saw dense fog.