First, let's review final rainfall totals from Thursday's Flash Flood: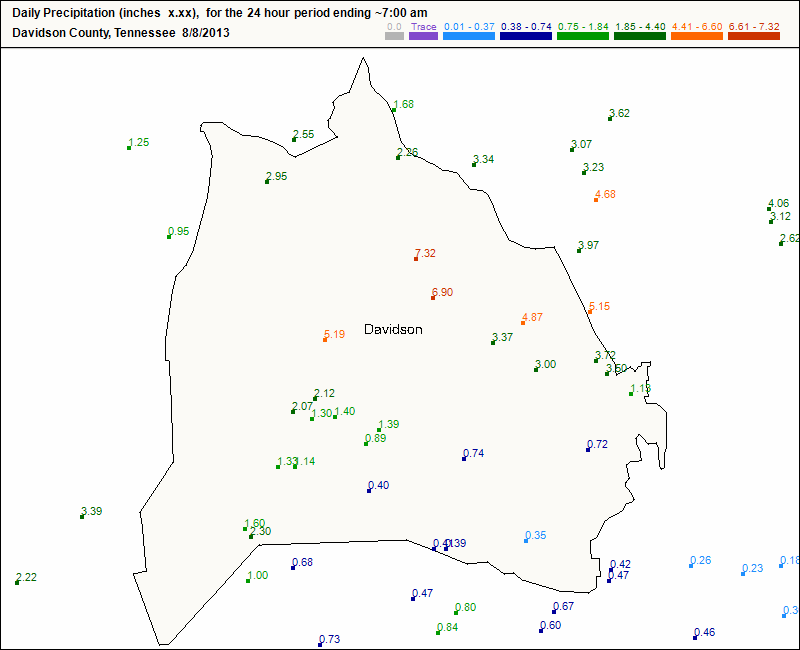 Despite destroying the record of 1.99″ set in 1923, the record remains because the official measurement is taken at the airport, where rainfall totals didn't even approach 1.99″.
Tonight & Tomorrow – Rain Likely – Saturday's High 88
Fri 7pm 79 . 10pm 77
Sat 7am 74 . 10am 82 . 1pm 86 . 4pm 88 . 7pm 85 . 10pm 77
Behold this epic, informative run-on sentence from the NWS afternoon forecast discussion:
THE ATMOSPHERE ACROSS A BROAD 
SWATH FROM PLAINS THROUGH THE
TENNESSEE VALLEY IS 

LADEN WITH
MOISTURE

 WITH THE BEST 
MOISTURE TRANSPORT TONIGHT 
BEING FROM NORTHERN ARKANSAS 
ACROSS WEST TENNESSEE AND THE 
NORTH HALF OF MIDDLE TENNESSEE 
WHERE 

LOCALLY ONE INCH OR MORE 
OF RAIN COULD FALL AT JUST 
ABOUT ANY LOCATION IN MIDDLE 
TENNESSEE OVERNIGHT

 WITH 

MORE 
LOCALLY HEAVY RAINFALL DURING
THE DAY ON SATURDAY

 AS SURFACE 
FRONT TO OUR NORTHWEST SAGS 
DOWN INTO MIDDLE TENNESSEE 
BEFORE LIFTING BACK NORTHWARD 
AS WARM FRONT BECOMING 
STATIONARY ALONG THE OHIO 
RIVER BY SUNDAY.
Sounds lovely, right? (We've landed a man on the moon, but I can't explain or eliminate those spaces in the block quote.)
FRIDAY NIGHT AT THE FAIR
As I write this, a big rainer just ended at the Fair. The HRRR thinks it'll still be raining around 7 p.m. . . .
. . . but I'm not so sure. This mid-afternoon rainer may be the only shower the Fair gets. That's my (unscientific and often wrong) gut feeling.
Still, the atmosphere is so humid, and with a gravity wave (a topic for another day) swinging our way from W TN vs a Crazy Ivan outflow boundary going the other way, I'm not going to say for sure whether you should go tonight. If you go, it's a risk.  But, then again, so is getting on a ride at the Fair.
SATURDAY'S TOMATO ART FESTIVAL
Our NWS thinks that between 6 a.m. and 6 p.m., we will see 0.29″ of rain.  That's more rain than a drizzler, less than a washout. You will need rain boots/flip flops and a poncho/rain jacket, it'll be very humid, and it's possible we will see a thunderstorm, but if you were otherwise going to go, you should go.  Just keep an eye on multiple reliable weather sources.
The weather models are all over the place regarding rainfall totals. The NAM sends a lot of rain into Middle TN, but very little for us. The GFS switches our rain on and off. The Euro keeps us wet, but not very wet (I think this is the most reasonable assessment). The Storm Prediction Center isn't impressed and has not outlooked us for severe weather – not even their usual 5% probability of severe weather — just general thunderstorms.
Brides — it's a meteorological fact that if the weather sucks on your wedding day, it will be awesome on your honeymoon.
SATURDAY NIGHT
Rain chances decrease somewhat, but are still there. Those planning to show a non-Disney movie outdoors should take a wait & see approach (Disney movies always bring sunshine). The HRRR will be helpful when it gets in range by mid-morning tomorrow.
SUNDAY – High 87
Look for more humidity with scattered showers and thunderstorms. Sure hope a thunderstorm doesn't interrupt the signal for the resumption of Breaking Bad —