New model runs and a Storm Prediction Center update are in.
Storms are moving NW-to-SE today. The morning showers which moved south of I-40 are long gone, and there's not much on the radar to our NW to cause any rain-out/washout concerns for outdoor plans later this afternoon and tonight.
The HRRR continues to keep us rain and storm free through midnight; however, the RAP predicts storms around 11 p.m. – midnight coming from the NW, moving SE:
The Hi-Res NAM agrees. ETA just after midnight:
The European and GFS models predict a few rounds of late night shower/storm complexes moving NW to SE through Wednesday morning. The models appear to be in decent agreement (for now).
At 11:25 a.m., the Storm Prediction Center kept us inside its severe weather Slight Risk category for these late night storms, valid today through Wednesday at 7 a.m.:
SPC isn't concerned about tornadoes in Tennessee. They've kept us included in a 15% probability of damaging winds (58 mph or more) happening within 25 miles of anyone inside the yellow-shaded area:
We remain included on the line between a 15% and 5% probability of large hail (1″ or larger):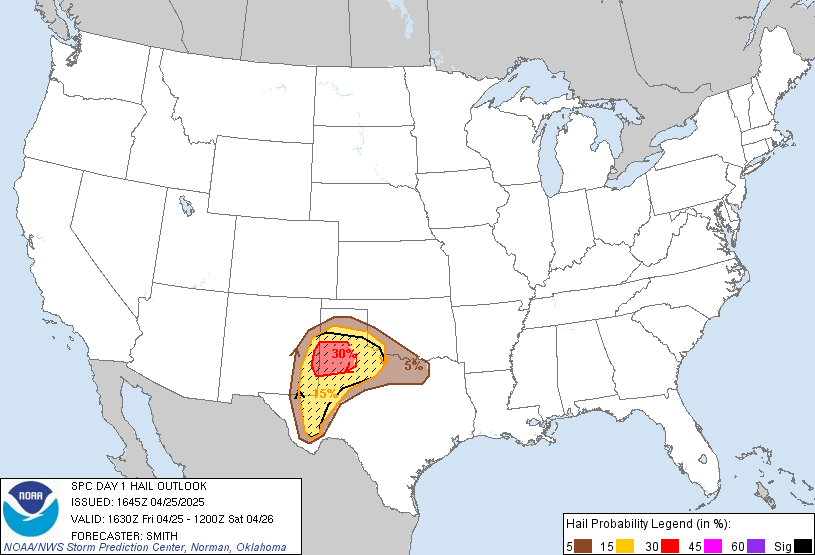 Additional information will be posted this afternoon.