Today –  Thunderstorms Possible – High 94
The heat index made it over 100 today.
Our NWS gives us a 60% chance for thunderstorms tonight and into the overnight. We are not exactly sure if we will get the full brunt of these storms, get clipped by them, or have them miss us completely.
The HRRR model from Wednesday 4 PM – Thursday 1 AM (one frame an hour):
Hi-Res NAM model has us getting clobbered tonight. Here it is from Wednesday 4 PM to 1 Thursday AM (one frame an hour):
SPC (Storm Prediction Center) has put all of Middle Tennessee under a Slight risk for severe weather.
There is a 15% probability of damaging winds (58 mph+) within 25 miles of you:
There is a 15% probability of severe hail (1'+) within 25 miles of you: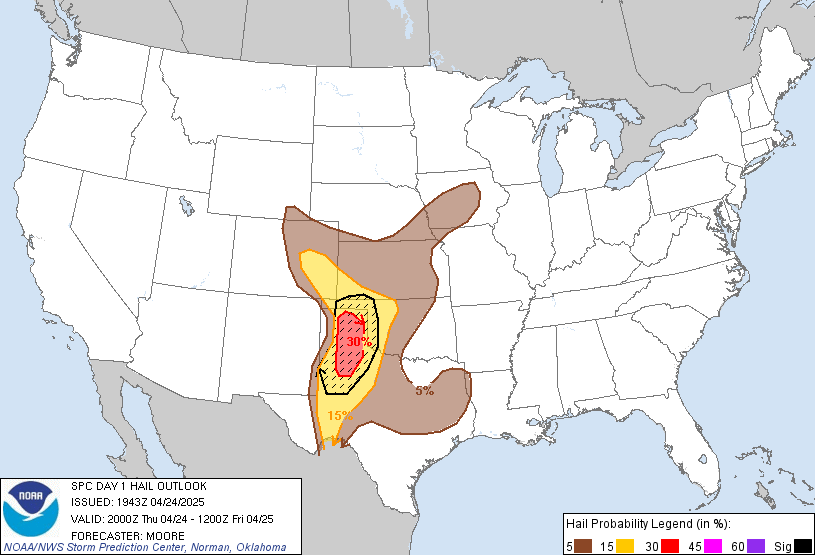 Thursday –  Cooler, But Still Humid – High 87
7 am 75 . 10 am 81 . 1 pm 85 . 4 pm 86 . 7 pm 82 . 10 pm 72
The cold front won't pass through until around lunch hour.  Before then, a few more showers/thunderstorms can't be ruled out. The further south you are, the higher your chance of rain.
The cold front will set up a wonderful summer evening to spend outside.
Friday –  Wonderful Weather, Sunny – High 86
7 am 64 . 10 am 76 . 1 pm 83 . 4 pm 84 . 7 pm 81 . 10 pm 72
This is where we get to feel the full affects of the cold front. Dew points will drop into the 50s instead of the ridiculously-high 70s we had this week. It's uncommon to have cold fronts this far south in July, so enjoy this. The rest of July and August awaits.