Today – High 95 
It's been quite humid, with heat indices reaching 100 today.  You can all feel it in the air, and that is going to be the energy/fuel big storms tomorrow will be using — if they reach us tomorrow morning.
Heat relief is on the way. One more warm and humid evening tonight, then look for cooler temperatures this weekend. There is a very slight chance for storms this evening, but our best chances are into the early morning hours of Friday.
Friday – High 87; Storms Possible – Uncertainty High
It may or may not be a stormy Friday morning.
There will be a MCS (Mesoscale Convective System – a strong/severe line of storms) developing late Thursday in the KS, NE, MO, IA area.  No one knows where exactly the storms will develop, how they will move, or how fast, but we are confident there will be storms and they will move southeast in our general direction. This will put AR, MS, TN, AL all in the line for this complex of storms.
We will have a much better handle on the forecast once the MCS forms tonight.
The greatest threat with these storms will be straight line winds, very similar to Wednesday night's system (that missed us). Isolated tornadoes are unlikely, but can't be ruled out.
Here is what SPC (Storm Prediction Center) has posted, It looks like Williamson Co. is under a slight risk of severe thunderstorms tomorrow, but not Davidson Co. So we are right on the edge. Don't read too much (if anything) into this. Both counties should pay attention.
SPC gives us between a 5% and 15% probability of seeing severe weather tomorrow within 25 miles.
As of right now, the weather models think the MCS will pass just to our west, missing us. This could change. Our NWS accounts for this variable by posting a 50% chance of thunderstorms.  We just aren't sure.
Here's what the weather models think. Remember (altogether now…): Use models for guidance, not gospel.
GFS model (American model) Thursday 7 PM – Friday 7 PM:
Canadian model Thursday 7 PM – Friday 7 PM:
Hi-Res NAM model Friday Midnight – Friday 9 AM
Saturday – High 84; Cooler
A much better day. A cold front will pass, ushering in cooler air, but we still have a  20% chance of random pop up thunderstorms in the forecast. Winds will still be coming out of the north, keeping the cooler air in place overnight.
Answering @jeannesherrill's Question
The tweet read "Dear @NashSevereWx Intern, such different cloud formations! Got me thinking how these match up w/soundings?" She attached this picture: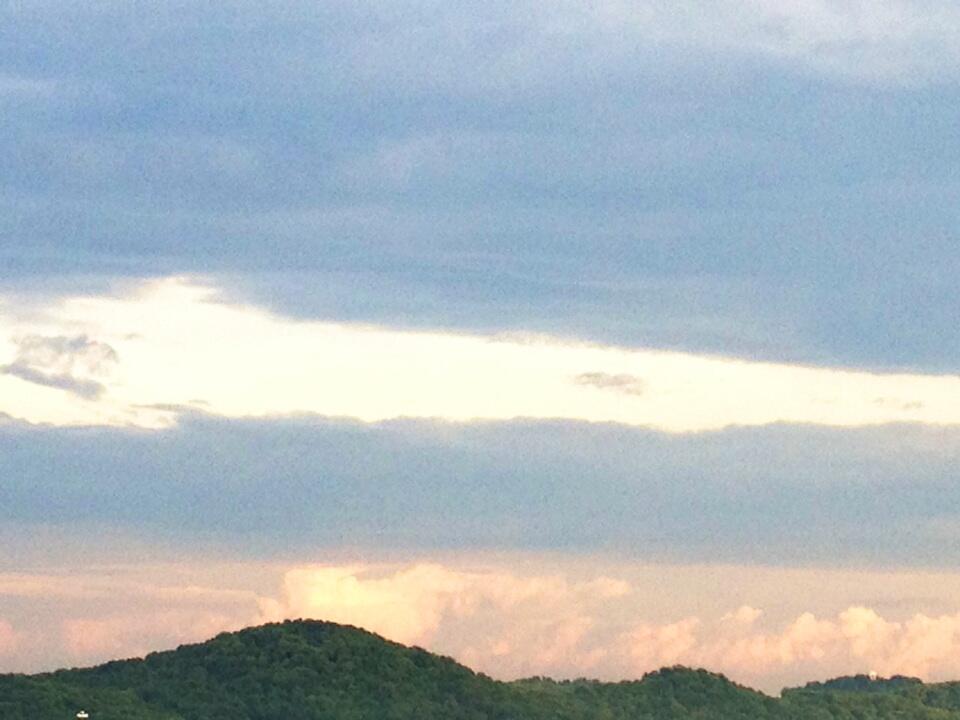 Well @jeannesherrill: Great Question!
A sounding displays data from a weather balloon, which measures pressure, wind direction, wind speed, temperature, and dew point as it floats up into the sky.
The LCL (Lifting Condensation Level) is the point at which a parcel of air rises and  condenses, making a cloud. So, theoretically, the sounding will tell us where the clouds should form.
We have different layers of clouds all throughout the atmosphere depending on the atmospheric set up. Now the best you can probably do is when looking at clouds are they "crispy" or "wispy"?  Crispy or cumulus clouds are what we see when it's a warm weather event, and there are no major "inversions" (is where the atmosphere warms with height instead of cools) allowing clouds to build tall, possibly into thunderstorms. Wispy looking clouds are associated more with cold systems lacking vertical lift. They can have a soft blanket look to them.
I hope that help answer your question. If it did not, please let me know and I'll try to do better next time.