Wall clouds descend from rotating storms. Tornadoes often come out of them. Some wall clouds don't rotate. Those that do are God's way of warning you a tornado may be imminent. Here's a chronological collection of several (but not all) of the photos you all sent in of today's rotating wall cloud, which set off this afternoon's tornado warning in Williamson County. We do not have any reports this produced a tornado.
The storm started in Fairview. Photo by @wailingtg:
The wall cloud then moved toward Franklin. This was taken from Franklin Green, just W of downtown Franklin (very close to where the 4/26/12 tornado began). Photo by @raisethebarn.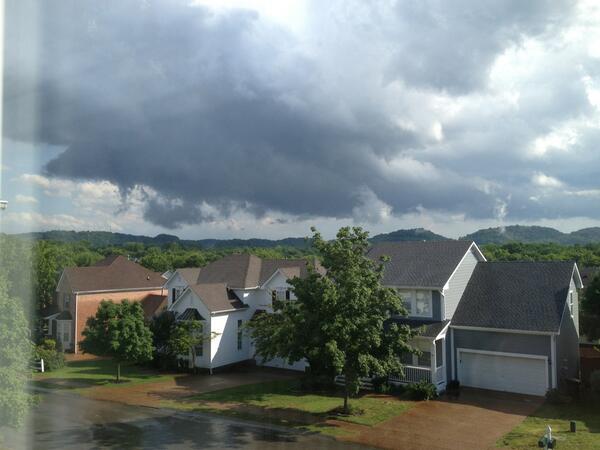 The wall cloud then moved south of Franklin. Here it is, looking east, by @alyshaeva:
Here's a shot of it from south Williamson Co, from @thaddehart: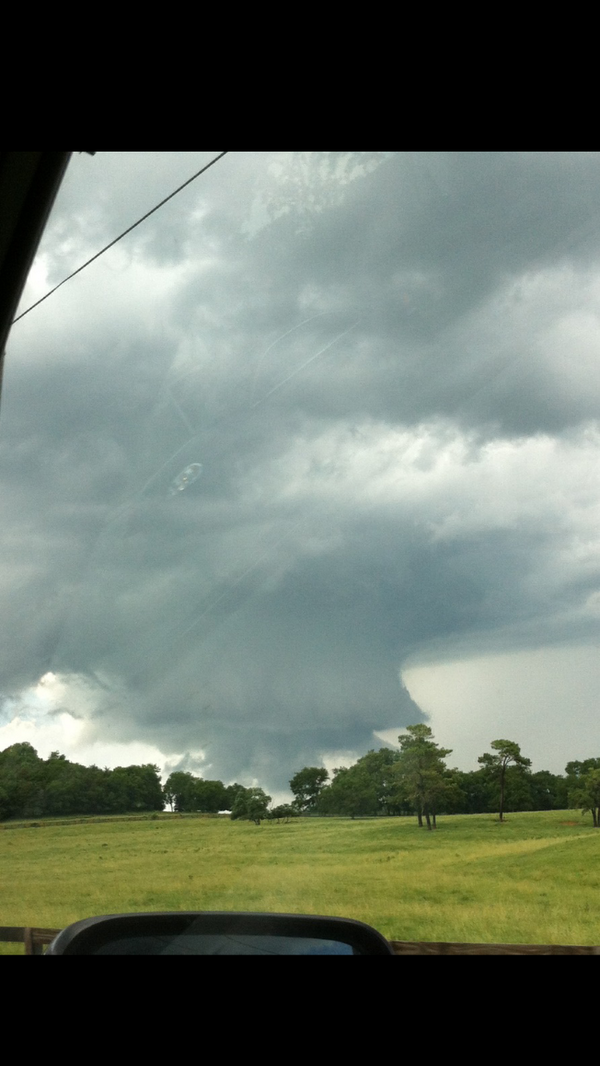 The storm passed S of Franklin and crossed I-65 (below). This was taken by @jeremyteran, looking N from Spring Hill: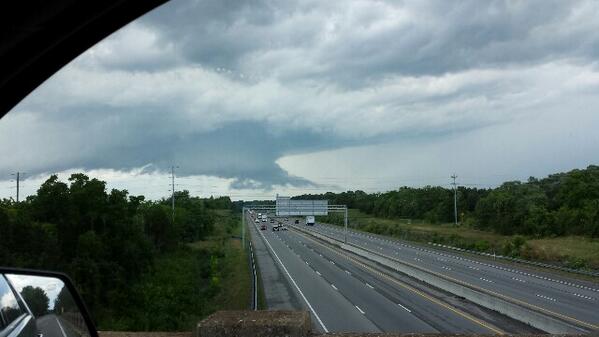 Here is another photo from the same vantage point, taken by American Idol winner @taylorhicks: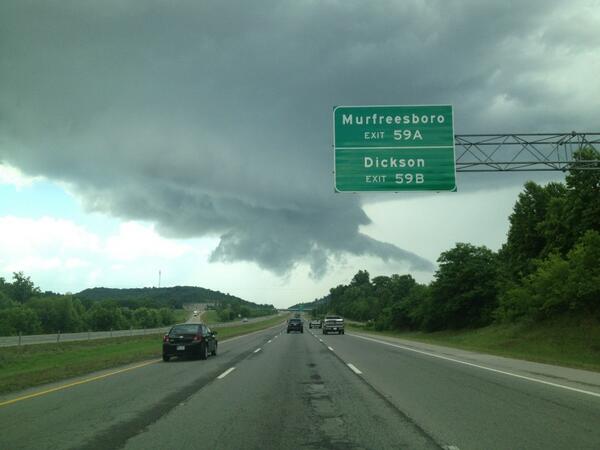 Further east, by @mozes007, at Arno Road and 840: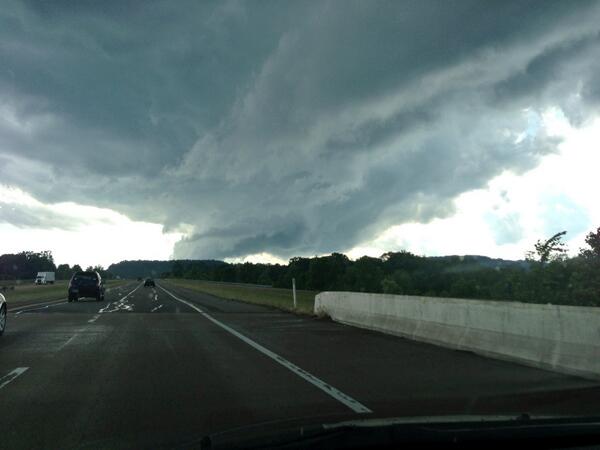 This is what it looked like from Murfreesboro, as the storm was approaching @klbugg4 in Murfreesboro (doesn't look that cool when it's coming at you, does it? This should be a scary sight when a tornado-warned storm is moving in your direction):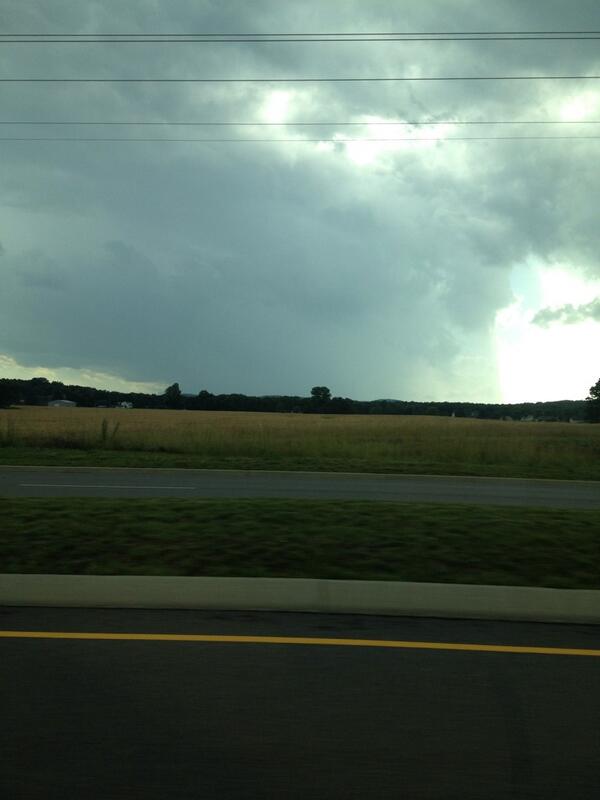 Photo from @AlexaKavv, from Bethesda, after the wall cloud passed and headed toward College Grove in SE Williamson Co.:
Here it is as it reached @darrentyler in College Grove:
Off it went into Rutherford Co.
Finally, after all was well, from The Factory in Franklin, by @ReneeCutaia: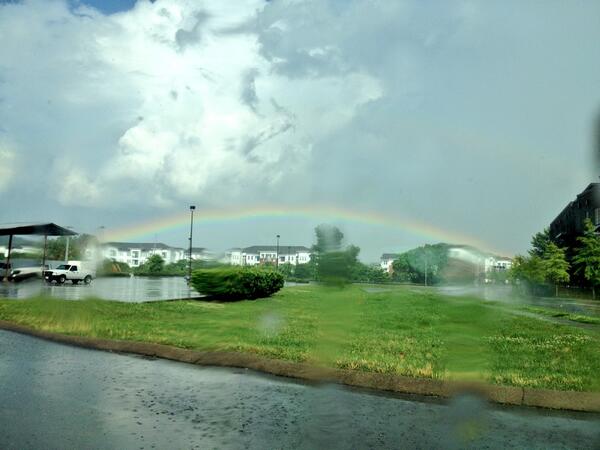 Tonigh – Severe Weather Moves East
The forecast discussion for our Tornado Watch from the SPC: "Severe threat becoming marginal" for tornado watch area:
The Tornado Watch might be canceled before 9 p.m.
We picked up 1.16″ of rain at the airport today.  Storms will continue to move out of our area further east. After 9 PM, our rain threat drops to almost zero.  Winds will be shifting out of the south, which will deliver warmer temps for tomorrow and Wednesday.
Tuesday – High 91
We are going to need all the rain we just got.  You won't have to water your lawns, but the heat will return. We start the day at 66, with sunny skies, and high pressure driving away any rain chances.  We will make it to 90.  Nighttime temps will be a balmy 80 by 10 PM.
Wednesday – High 95
If you thought Tuesday was bad, Wednesday will be worse. 72 is the forecast morning low, then things will quickly heat up. If we reach our forecast high of 95, it will be the hottest day of 2013 by far. Some of the models have us getting even hotter than that. In the evening, there is a almost non-existent 20% chance for showers and thunderstorms.
Rain is likely Thursday.
More updates can be found on Twitter @NashSevereWx.