Note — below is the morning update. More current information will be posted throughout the day on Twitter @NashSevereWx.
This Morning
A non-severe thunderstorm cluster hugged the TN/KY border. Storms in the cluster are moving NE, and the system itself is struggling to make it south.
Our NWS believes "that main area of showers and thunderstorms to our north will generally remain across this area through noon…but can not rule out some isolated to scattered showers and thunderstorms developing across the metro Nashville area also during this time period. Will also continue to expect south to southwest winds 10 to 20 mph with some higher gusts to around 25 mph possible. So bike riders need to take this into account also."
This will NOT be the main weather event today.
Afternoon / Early Evening
The main event comes late this afternoon/early evening, courtesy of a cold front approaching the Mississippi River, ready to push east towards us. Our NWS says:
A DEVELOPING AREA OF STRONG 
TO SEVERE TSTMS ... WILL MOVE 
ACROSS THE MID STATE LATE
THIS AFTERNOON AND INTO THIS 
EVENING AND OVERNIGHT.
ETA is a little difficult because storms may form out ahead of a main line. I think it may rain/storm at any time after noon, but more likely things should begin around 5 p.m. to 7 p.m.  We will update the ETA on Twitter throughout the day.
This morning, the RAP has a well-after-dark ETA of 9 p.m.:
How bad will it be? Again, from our NWS:
SOME

 

WEAKENING

 OF THE STORMS 
IS EXPECTED OVERNIGHT. 
HOWEVER...PLENTY OF FORCING
AND INSTABILITY WILL STILL
EXIST AND THEREBY PROVIDE A
RISK OF SEVERE WEATHER THIS 
EVENING AND OVERNIGHT. SEVERE 
WEATHER THREATS APPEAR TO BE


STRAIGHT LINE WIND

 DAMAGE AND 
SOME 

HAIL

.
Storms should be a bit worse off to our west, where the storm dyanamics are more favorable.
The Storm Prediction Center outlined the following risk areas for severe weather through Sunday at 7 a.m.:
Probability of Damaging Winds happening within 25 miles of you: We are right on the line between 15% to 30%.
Probability of Large Hail (1″+) happening within 25 miles of you: 15% to 30%. We are right on the 15/30 line, and close to the "hatched" (shaded) area, which means there's a 10% chance of 2″ hail within 25 miles of anyone in that hatched area:
Probability of a Tornado happening within 25 miles of you: 2% to 5%. We are right on the line: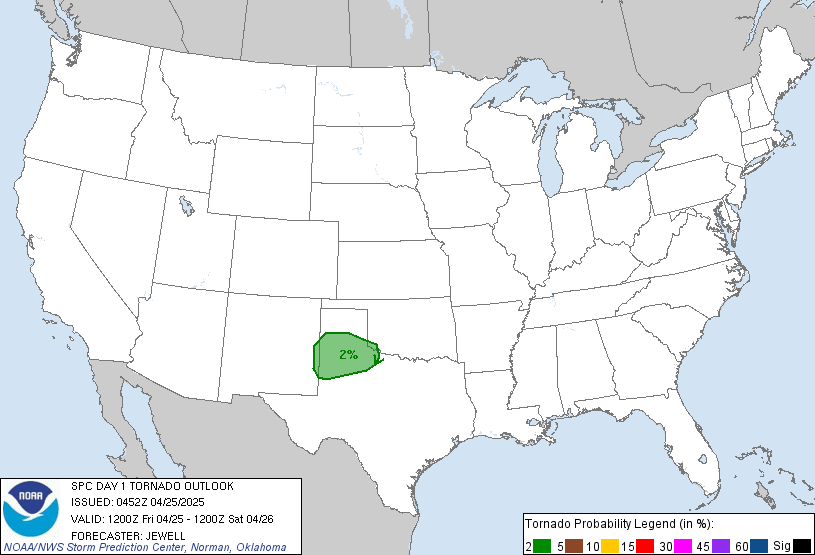 Once the rain starts later today, the rest of your outdoor activities will be a wash out. We expect 1.5″ of rain through 7 a.m. Sunday.
Sunday, the cold front finally comes and goes, bringing a few showers behind it, then a general clearing out. Saturday's high is 86, Sunday's is 82, and Monday we cool off to 78.
Additional updates can be found on Twitter throughout the day @NashSevereWx.