Updated at 12:10 p.m.
Here is a Special Weather Statement from our NWS:
...TORRENTIAL RAIN AND STRONG 
TO SEVERE STORMS POSSIBLE...

AREAS OF THUNDERSTORMS HAVE 
ALREADY DEVELOPED ACROSS THE 
MID MISSISSIPPI VALLEY AREA 
AND THE SOUTHERN PLAINS. ONE 
OF THESE THUNDERSTORM 
COMPLEXES WILL MOVE INTO 
MIDDLE TENNESSEE FROM LATE
MORNING THROUGH THE AFTERNOON 
HOURS. 

THE MAIN THREATS WITH 
THESE STORMS WILL BE 
TORRENTIAL RAINFALL AND WIND 
GUSTS TO 45MPH. 

SCATTERED 
STORMS WILL CONTINUE 
THROUGH THIS AFTERNOON AND
EVENING...AND AN ISOLATED 
SEVERE STORM OR TWO CANNOT 
BE RULED OUT.

HOWEVER...

THE BEST CHANCE FOR 
STRONG TO SEVERE STORMS WILL 
BE MAINLY TOWARDS DAWN 
WEDNESDAY

 AS SEVERE STORMS 
DEVELOP OVER THE SOUTHERN 
PLAINS THIS AFTERNOON 
AND MARCH EASTWARD OVERNIGHT. 
A LINE OF STRONG TO SEVERE 
STORMS IS EXPECTED TO APPROACH 
MIDDLE TENNESSEE VERY LATE 
TONIGHT INTO THE EARLY MORNING 
HOURS ON WEDNESDAY...WITH 
STRONG WINDS AND TORRENTIAL 
RAINFALL BEING THE MAIN 
THREATS. ISOLATED LARGE HAIL 
CANNOT BE RULED OUT...AND AT 
THIS TIME...A TORNADO THREAT 
LOOKS VERY LOW. 

IT SHOULD 
BE EMPHASIZED THAT ANY 
THUNDERSTORMS THAT AFFECT 
MIDDLE TENNESSEE TODAY...
TONIGHT AND WEDNESDAY WILL 
NOT NEARLY BE AS 
SIGNIFICANT AS WHAT 
OCCURRED YESTERDAY IN 
OKLAHOMA.



THE BEST CHANCE FOR SEVERE 
WEATHER WILL BE BETWEEN 
ROUGHLY 3AM AND 8AM NEAR 
THE TENNESSEE RIVER...WITH 
STORMS WEAKENING AS THEY MOVE 
FURTHER EAST. A THREAT FOR 
STRONG STORMS WILL STILL 
EXIST THROUGHOUT THE DAY 
WEDNESDAY BEFORE THE STORM 
SYSTEM PUSHES THROUGH THE 
REGION.
Below is a weatherbell.com animated gif showing a the "waves" or "rounds" of storms approaching (today, from 6 a.m. to noon):
The SPC is currently monitoring our area for a Severe Thunderstorm Watch. The chance of them issuing one is 40%. The main threat is strong/severe winds and heavy rainfall:
Late this morning, the Storm Prediction Center updated its severe weather outlooks, as follows:
Probability of Damaging Winds happening within 25 miles of you before 7 a.m. Wednesday: increased from 5% to 15%. This remains the primary threat.
Probability of Large Hail happening within 25 miles of you before 7 a.m. Wednesday: increased from 5% to 15%.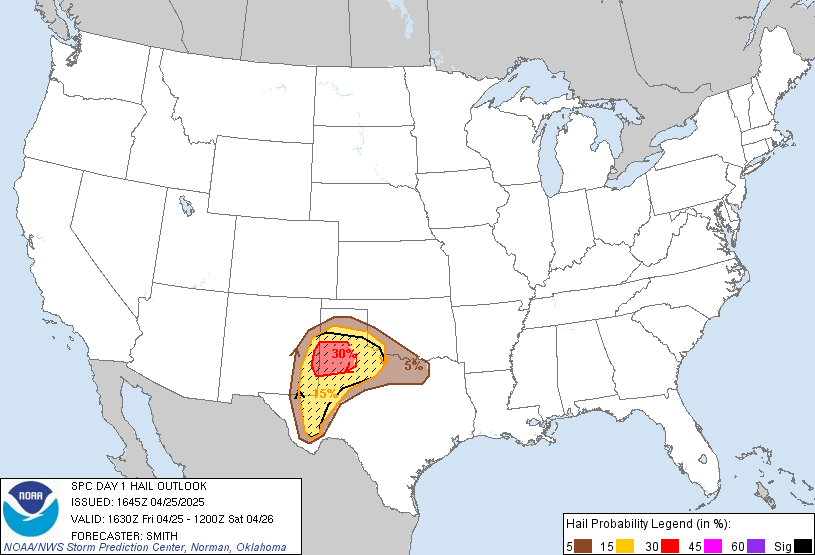 Probability of a Tornado within 25 miles of you before 7 a.m. Wednesday: Remains less than 2%. We are still just *outside* this risk area: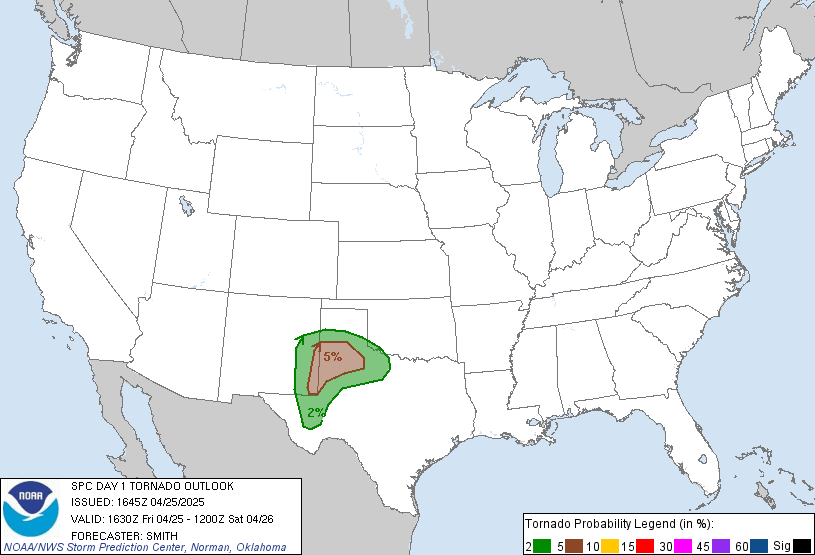 Wednesday
The Storm Prediction Center has now included us within a Slight Risk of severe weather for Wednesday after 7 a.m. They'll add a breakdown of tornado/hail/wind threats no earlier than 1 a.m. Wed morning.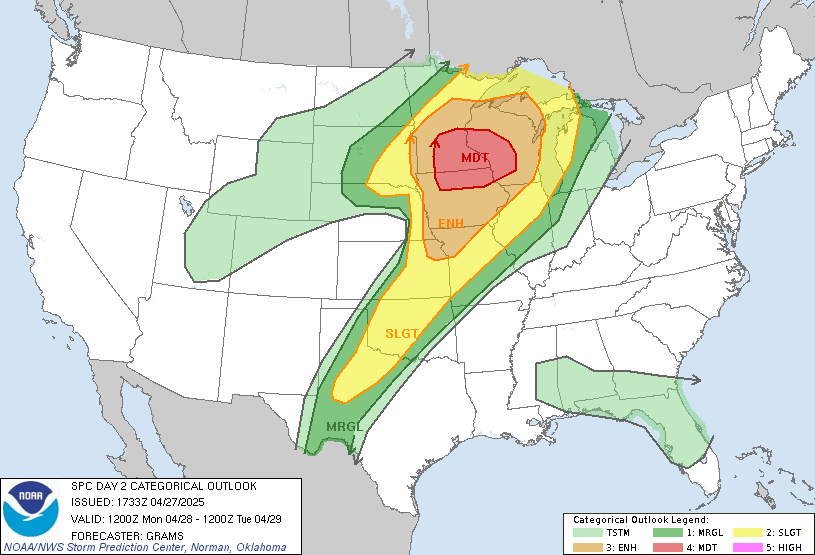 Additional updates and real-time imminent/occurring storm information can also be found on Twitter @NashSevereWx.