Below is the weatherbell.com animated gif showing storms across the region from 1 p.m. until around 7 p.m. tonight:
This afternoon's Forecast Discussion from the NWS made three main points:
1.  The storms marching this way from Arkansas tonight into the wee hours of the morning may weaken. This appears to be happening. Small hail and 40 mph are below severe criteria.
2.  More strong to severe thunderstorms are possible Wednesday morning. Afternoon storms should be strongest.
3.  More rain and a few storms — not severe — should linger into Thursday.
If you prefer the NWS write up:
..STRONG TO SEVERE STORMS 
POSSIBLE ON AND OFF THROUGH 
WEDNESDAY AFTERNOON-EVENING.
TONIGHT...THE LINE OF 
CONVECTION [thunderstorms]
PUSHING OUT OF ARKANSAS WILL
LIKELY BE OVERTAKEN BY 
CONVECTION IN EASTERN OK.
THE SOUTHERN PORTION OF THE 
LINE WILL LIKELY TAKE OVER AS 
WE HAVE STABILIZED FROM 
TODAY`S CONVECTION. THUS...


WOULD NOT BE SURPRISED TO SEE 
THIS LINE APPROACH MIDDLE TN 
LATE TONIGHT-EARLY WEDNESDAY 
MORNING AND WEAKEN 
CONSIDERABLY IF NOT DISSIPATE 
COMPLETELY.

 EITHER OCCURRENCE
WILL YIELD ANOTHER CHANCE TO 
DESTABILIZE AHEAD OF THE 
UPPER LEVEL LOW, WITH MORE 
STRONG TO SEVERE STORMS 
POSSIBLE WEDNESDAY LATE
MORNING BUT ESPECIALLY IN THE 
AFTERNOON. WE`LL HAVE BETTER 
SHEAR IN PLACE AS WELL, WITH 
THE BEST CHANCE OF SEVERE 
ALONG AND EAST OF I-65. SPC 
PLACED US IN A DAY TWO 
SLIGHT RISK AGAIN WITH THE
MAIN THREATS BEING DAMAGING 
WINDS AND LARGE HAIL. 
ALTHOUGH THE SURFACE
BOUNDARY WILL PUSH EAST OF 
THE AREA WEDNESDAY NIGHT...
MORE SHOWERS AND STORMS 
(LIKELY NON-SEVERE) WILL 
ACCOMPANY THE TRAILING UPPER
LOW THROUGH THURSDAY AND WE 
WILL FINALLY DRY OUT THURSDAY 
NIGHT WEST TO EAST.
This afternoon, the Storm Prediction Center updated its severe weather outlooks, as follows:
The probability of Damaging Winds happening within 25 miles of you before 7 a.m. Wednesday remains at 15%:
Probability of Large Hail happening within 25 miles of you before 7 a.m. Wednesday: Remains 15%.
Probability of a Tornado within 25 miles of you before 7 a.m. Wednesday: Now 2%.
Here is the Storm Prediction Center's updated Wednesday outlook. Notice we have a "Slight" risk of severe weather. SPC will add a breakdown of tornado/hail/wind threats no earlier than 1 a.m. Wed morning.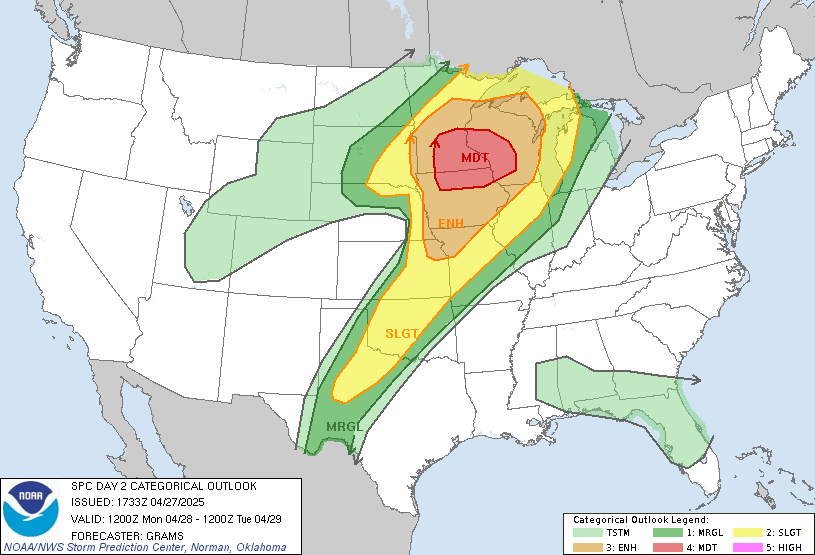 Additional updates and real-time imminent/occurring storm information can be found on Twitter @NashSevereWx.