I'm feeling good about your soccer game, 10 year anniversary party, and late afternoon motorcycle ride into town, but you should not ignore the weather today.
Saturday Morning – 75 at 10am
Water vapor imagery displays the amount of moisture in various levels of the atmosphere. The more you get, the better your rain chances.
This morning's water vapor imagery showed drier mid-level air moving in behind the shortwave that caused all that rain yesterday:
This is a good sign. There is very little on the radar, and the models are keeping our Saturday morning almost completely rain-free.
Saturday Afternoon & Evening – 81 by 4pm, 73 at 10pm
This afternoon, a weak shortwave (elongated area of upper-level low pressure) will interact with some of our unstable air (cold air sitting on top of warm air). This will create scattered rain showers and thunderstorms somewhere in middle Tennessee.
It's like that Whack-a-Mole game:
We're sure something will pop up, we just can't say for sure where. (Unlike the game, we are powerless to stop it. Get to work on that, science).
That said, I am still going to try to answer the question of when and where, and I think you'll like the answer. Here's where two wx models pop-up the moles this afternoon:
HRRR at 4 pm — the shortwave/storms are approaching Jackson:
HRRR at 7 pm — we're still looking pretty (but not completely) dry:
NAM at 4 pm keeps us dry:
NAM at 7 pm – pops up a shower/storm just to our east, so don't get overconfident:
NAM at 10pm — a few more pop up in Middle TN:
Our NWS concludes: we "cannot rule out a pulse severe storm just about anywhere" in Middle TN, "but the greatest threat looks to be in the south/west." That's plain to see on the models, above. It looks like most of the activity will be SW of us, but we can't rule anything out.
The NWS mentioned a "pulse" storm. Watch out for these. These are the storms that shoot up. From a distance, they often look like this: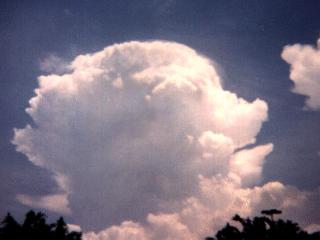 Pulse storms are isolated from other storms. They can get severe, but usually only very briefly. However, if one pops on you, you'll need to take cover, and it'll probably rain out whatever you're doing.
Despite all this talk of rain, the NWS thinks "at least a little sunshine [is] expected."
Bottom Line for Saturday: do not cancel any outdoor plans, but keep an eye on the radar. As always we'll be on Twitter (@NashSevereWx) all day to answer any questions you have, and to watch for any (pulse) storms which misbehave. I feel good about our prospects of a good day outside.
Sunday – High of 86
More unstable air + daytime heating will make rain and a few strong/severe pulse storms are possible. NWS does not expect a "widespread" severe day, but they'll be the first to admit no one cares how widespread it is when it's happening to you. Best chance of rain will be during the middle of the day.