Just got off the phone with the NWS.
At 1pm, the squall line was in Little Rock, moving slowly east through central Arkansas toward the Mississippi River. Central and east Arkansas is under a Tornado Watch.
Wind Advisory
A Wind Advisory is in effect until 1am tomorrow.  Winds may gust 40-50 mph late this afternoon, and then again just before the squall line approaches.
ETA
Anytime between 11pm and 3am. Best guess remains midnight.
Tornado Threat
The NWS says tornadoes can't be ruled out. Tornadoes may be
embedded in the line of storms, and/or
contained in any supercell which may move out ahead of the line. Any such supercell would be more likely to contain a tornado than anything embedded in the squall line.  Note that any tornado could be strong, regardless of where it is.
You won't be able to see any tornado tonight, so don't try and go outside to have a look.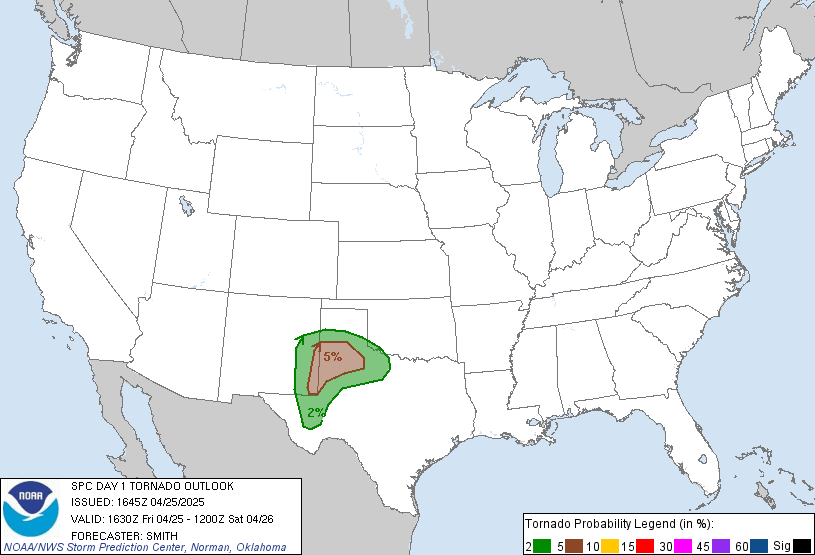 We are remain on the edge between the "hatched" area (shaded) and the non-hatched area. The percentages (10% and 5%) represent the probability a tornado will occur within 25 miles of anyone inside that area.  The hatched area means there is a 10% or greater probability of an EF2 – EF5 (110mph to 234mph winds) tornado happening within 25 miles of anyone inside that area.
We remain outside of, yet uncomfortably close to, the hatched area.
Damaging Winds
This afternoon, our NWS emphasized that non-tornado damaging straight-line winds remain the biggest threat.
The probability of damaging winds at or above 58 mph is between 30% and 45%. We're right on the line. Tie down anything you don't want blown off your property.
Hail > 1″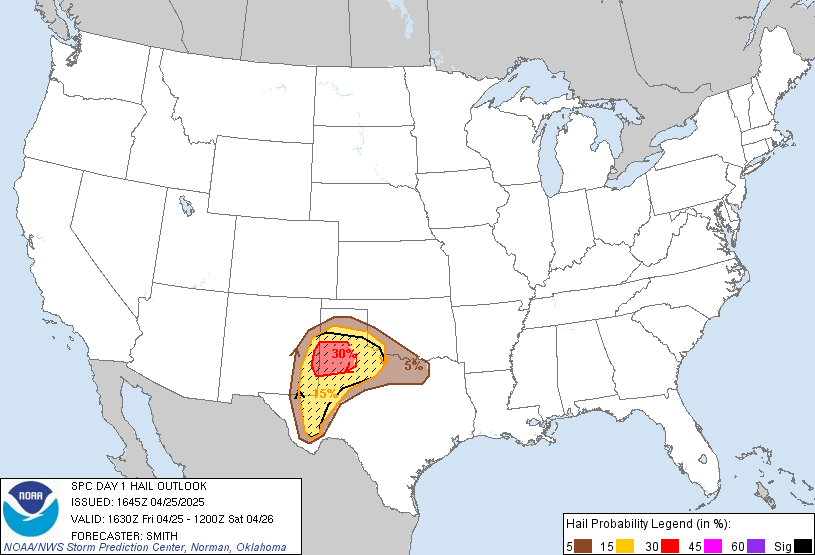 The probability of hail > 1″ occurring within 25 miles of you is between 5% and 15%. Again, we are right on the line.
Weakening Potential
I would feel a lot better about these storms if we were 50 miles east of I-65. Storms are forecast to begin weakening at I-65. Pinpointing a 40 mile range when severe storms may weaken is a near-impossible task. That said, the models suggest some weakening will occur.
For example, here's the WRF model our NWS likes (due to its decent track record). It likes the storms to weaken:
1 am:
By 4 am, notice how the storm intensity has backed way off:
Rain Totals
1″ to 2″ possible. The rain should be long gone Friday by lunch.
Friday & Saturday – Frost?
Temps will fall dramatically. Here's what the NWS said this morning:
MUCH COOLER TEMPERATURES ARE ANTICIPATED FRIDAY AND SATURDAY 
WITH LOWS FALLING INTO THE MID TO UPPER 30S SATURDAY MORNING. 
WITH SURFACE RIDGE SETTLING OVER THE MID STATE...LIGHT TO CALM 
WINDS...AND DEWPOINTS FALLING INTO THE 20S AND 30S...PATCHY 
FROST APPEARS POSSIBLE FOR MUCH OF THE FORECAST AREA AND HAVE 
ADDED MENTION TO ZONES.
This blog contains general information. Follow @NashSevereWx on Twitter (or on this page) for during-the-storm updates.