A powerful storm system is approaching.  It'll be here tonight.  Here are all the details. We'll have more details this afternoon.
What It Did Yesterday
Yesterday, a cold front dragged itself across the then-humid Plains. A squall line formed, which dropped numerous funnel clouds, two tornadoes, +/- 40 reports of winds > 58 mph, and around 100 reports of hail > 1″ (not all of yesterday's storm reports were associated with the line). Here's what happened yesterday:
This system is coming our way.  This morning it was moving out of west Arkansas into central Arkansas.
Wind Advisory
This morning our NWS issued a Wind Advisory, effective from 10am today until 1am tomorrow.  Winds may gust to 40 mph as the squall line approaches.
Storm Prediction Center: On The Line Between Moderate Risk & Slight Risk
The Storm Prediction Center has five "risk" products: (1) No Risk – (2) General Thunderstorm Risk – (3) Slight Risk of Severe Wx – (4) Moderate Risk of Severe Wx – (5) High Risk of Severe Wx. We see a handful of Slight Risk days every year. We may get 2 or 3 Moderate Risk days a year. Some years we don't get any.  High Risk days are exceptionally rare.
Today, the Moderate Risk line runs almost exactly down I-65: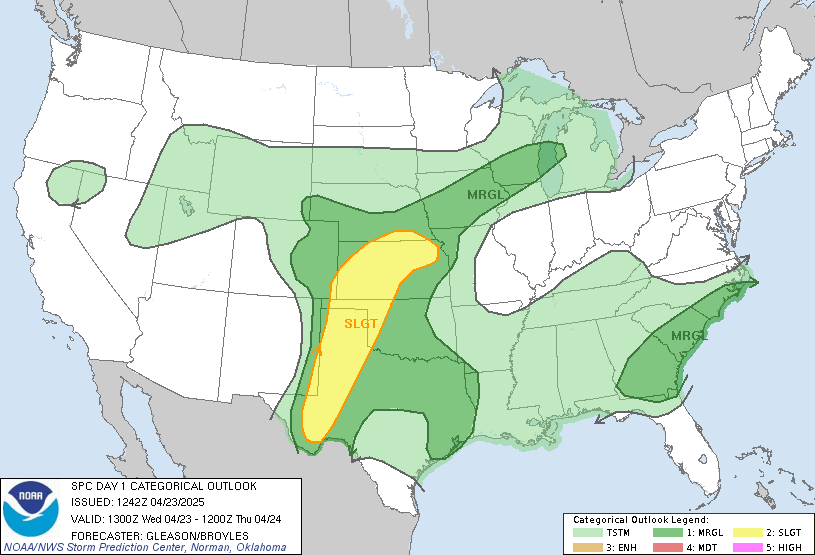 Don't get caught up too much in whether the edge of the Moderate Risk area is 20 miles this way or that way. Although we are on the edge of the area — we are downstream of it. Those storms are coming our way, hopefully weaker upon arrival.
Tornado Threat
Check out this SPC map:
We are right on the edge between the "hatched" area (shaded) and the non-hatched area. The percentages (10% and 5%) represent the probability a tornado will occur within 25 miles of anyone inside that area.  The hatched area means there is a 10% or greater probability of an EF2-EF5 (110mph to 234mph winds) tornado happening within 25 miles of anyone inside that area. We are uncomfortably close to that hatched area.
Anyone planning to drive to or from Memphis tonight should staple themselves to reliable weather sources.
Damaging Winds
Non-tornado damaging winds > 58 mph are our greatest threat:
The probability of damaging winds at or above 58 mph is between 30% and 45%. We're right on the line. Tie down wanted garden gnomes, secure deck umbrellas, just-planted trees, etc.
Hail > 1″
The probability of hail > 1″ occurring within 25 miles of you is between 5% and 15%. Again, we are right on the line.
Why We're On The Line
The high instability and impressive shear forecast to fuel the storms in W Tennessee is expected to weaken a bit beginning at and east of I-65.  There is not total model agreement on that:
SOME GUIDANCE INDICATES A SURGE OF MID/UPPER 60S DEWPOINTS 
COMING NORTHWARD AHEAD OF THE [SQUALL LINE] WHICH COULD BUMP UP 
[INSTABILITY] VALUES TO NEAR/OVER 1000 J/KG ACROSS WESTERN ZONES.
Do not discount the threat. Again, from our NWS office:
REGARDLESS...IMPRESSIVE 0-3KM [SPIN IN THE ATMOSPHERE]
STRENGTHENING INTO THE 500-800 M2/S2 RANGE [THAT'S A LOT} AND 
VERY LONG CURVED HODOGRAPHS SUGGEST A 

SIGNIFICANT DAMAGING 




WIND THREAT

 WITH THE LINE OF STORMS ALONG WITH SOME [SQUALL
LINE] TORNADOES. HIGHEST RISK OF DAMAGING WINDS/TORNADOES IS 
EXPECTED TO BE ALONG/WEST OF I-65 IN THE [9PM-1AM] TIMEFRAME 
ACROSS THE MODERATE RISK AREA...AS STORMS WILL ENCOUNTER 
INCREASINGLY LESS INSTABILITY AND WEAKENING SHEAR OFF TO THE EAST.
ETA 
"Around midnight." Below is the morning NWS technical discussion. Translations in brackets.
[SEVERAL WX MODELS] ALL INDICATE A STRONG TO SEVERE [SQUALL LINE]
WILL FORM LATER TODAY ALONG THE FRONT...REACHING THE TENNESSEE 
RIVER BY MID EVENING...I-65 CORRIDOR AROUND MIDNIGHT...AND EXIT 
EAST OF [MIDDLE TN] NEAR/AFTER SUNRISE FRIDAY MORNING.
Rainfall Totals
Our NWS office expects just under 1 inch.
Friday & Saturday – Frost?
The rain should be long gone Friday by noon, if not before. Temps will fall dramatically:
MUCH COOLER TEMPERATURES ARE ANTICIPATED FRIDAY AND SATURDAY 
WITH LOWS FALLING INTO THE MID TO UPPER 30S SATURDAY MORNING. 
WITH SURFACE RIDGE SETTLING OVER THE MID STATE...LIGHT TO CALM 
WINDS...AND DEWPOINTS FALLING INTO THE 20S AND 30S...

PATCHY 




FROST

 APPEARS POSSIBLE FOR MUCH OF THE FORECAST AREA AND HAVE 
ADDED MENTION TO ZONES.
We will post another update this afternoon.