Today
Expect a slight chance of a shower or thunderstorm. We'll make it into the 80s this afternoon.
Thursday Into Friday Morning
This morning, the Storm Prediction Center included us within a Slight Risk of severe weather for Thursday overnight into Friday morning.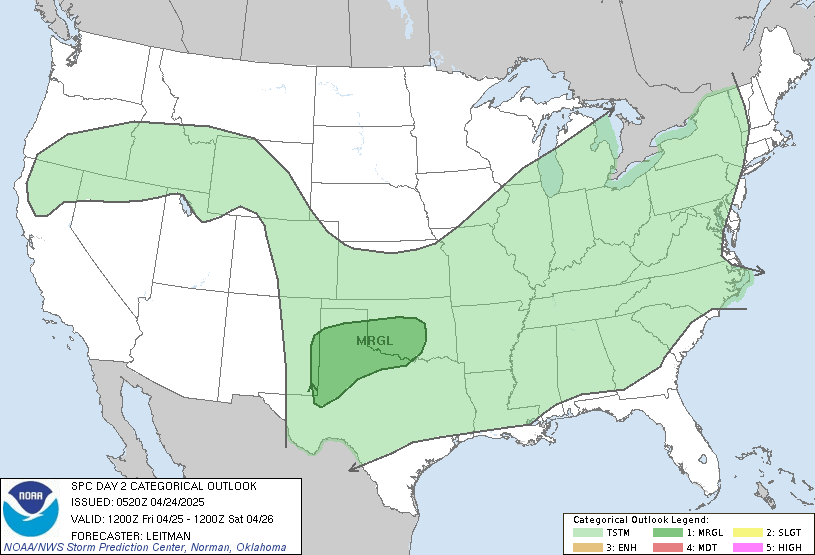 We should stay dry most of the day Thursday — and get in a rare [insert sport here] practice/game Thursday evening — but it will be very windy. Our NWS explains:
THUS EXPECTING STRONG SOUTH WINDS AT THE SURFACE BY AFTERNOON 
WITH GUSTS UP TO 40 MPH AT TIMES...AND A WIND ADVISORY WILL
LIKELY BE NECESSARY.
Our NWS says the weather models are in "great agreement" (unlike last week) that a squall line will form to our west Thursday night, reach the Tennessee River around 10-11pm, and hit us around 1am.
Damaging winds are the main concern.  We may see a few tornadoes inside the squall line.  The good news is the storms should begin to weaken right around the time they get to us. Here's the NWS explanation:
STRENGTH OF SHEAR AND OVERALL SYSTEM INDICATES
POTENTIAL FOR DAMAGING WINDS AND POSSIBLY A FEW ISOLATED QLCS
TORNADOES ACROSS THE WESTERN HALF OF THE MID STATE...BEFORE
ACTIVITY WEAKENS NEAR/EAST OF THE I-65 CORRIDOR AS IT OUTRUNS WHAT
LITTLE INSTABILITY REMAINS.
We think there will be over 1″ of rain with this system. The rain should be gone around 7-8am Friday morning.
Check back for updated information and any changes to the forecast.