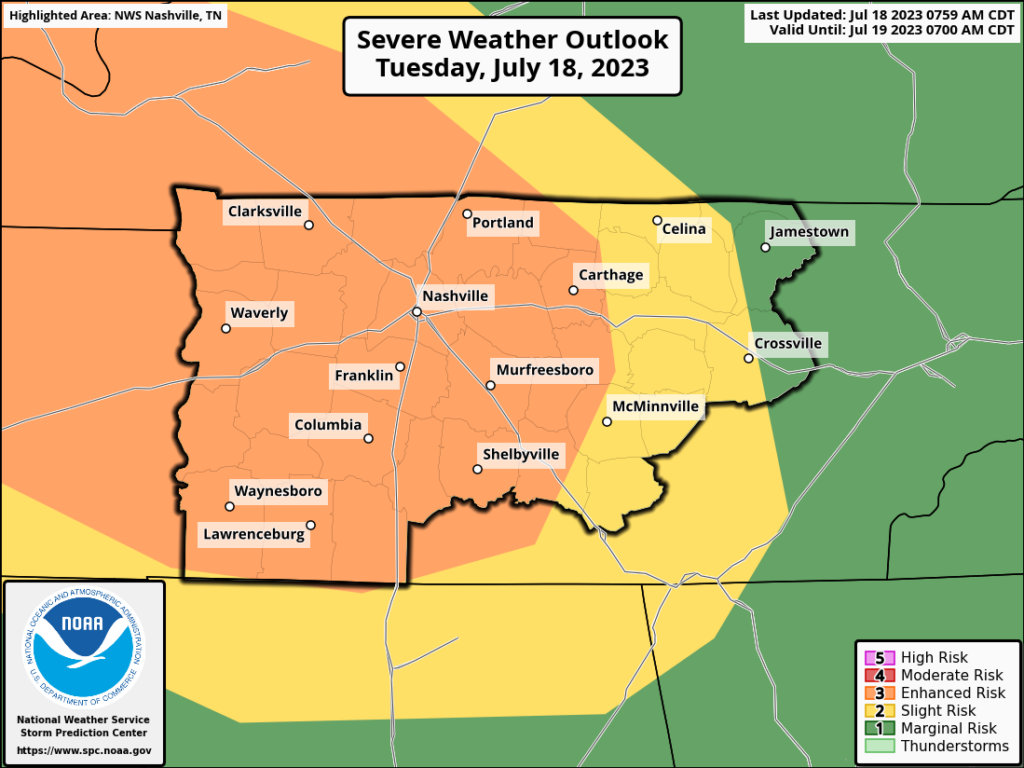 The Storm Prediction Center has outlooked us with the following probabilities, all within 25 miles.
30% chance of damaging (58mph+) straight-line winds
15% chance of severe (1″+) hail
2% chance of a tornado
Additionally, the Weather Prediction Center has outlooked the majority of our counties with "at least 40%" of flash flooding occurring within 25 miles, with the rest of us with "at least 15%" also within 25 miles.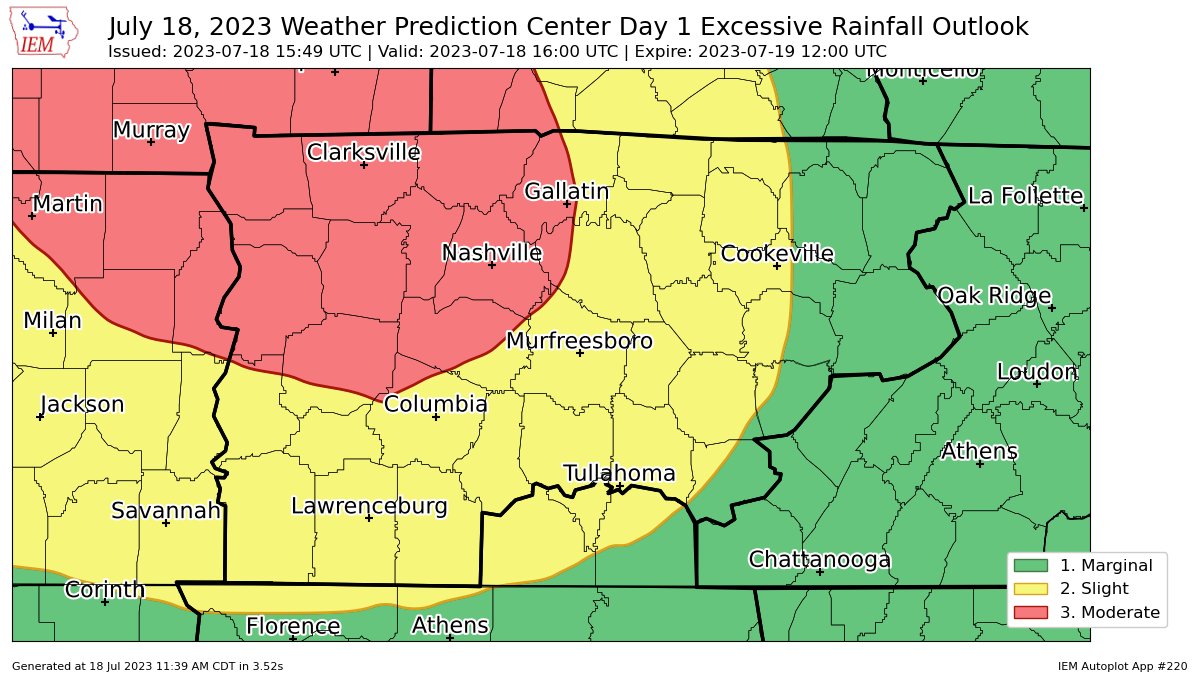 Timing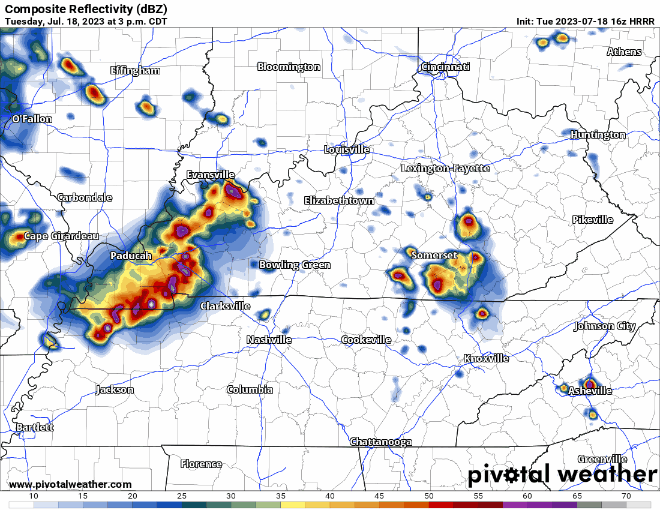 The latest run of the HRRR model (above) shows two, possibly severe, lines pushing thru this afternoon and evening.
Current timeframe for severe weather chances look to be from 3-8pm. This could change as these kinds of systems are hard to time. We'll be watching the radar and looking northwest. Stay connected.
Main threat will be damaging straight-line winds. The tornado threat is low, but not zero. Damaging straight-line winds can cause just as much, if not more damage than these quick spin-up tornadoes possible.
Overnight Flash Flooding Concern
On top of the rain from the afternoon/evening lines, models show additional showers/storms forming overnight and lasting possibly into Wednesday morning.
12:30 UPDATE: Increased confidence in heavy rainfall has caused NWS Nashville to issue a Flood Watch from 4pm to Noon Wednesday. Rainfall totals of two inches, with some areas receiving 5″+ possible.
*Do not take the flood threat any less serious than the severe threat.* Recent model runs (HRRR model below) depict the heaviest ran going right over our two counties. This could be off, but it certainly has our attention. Stay connected today, especially if you live in a flood prone area!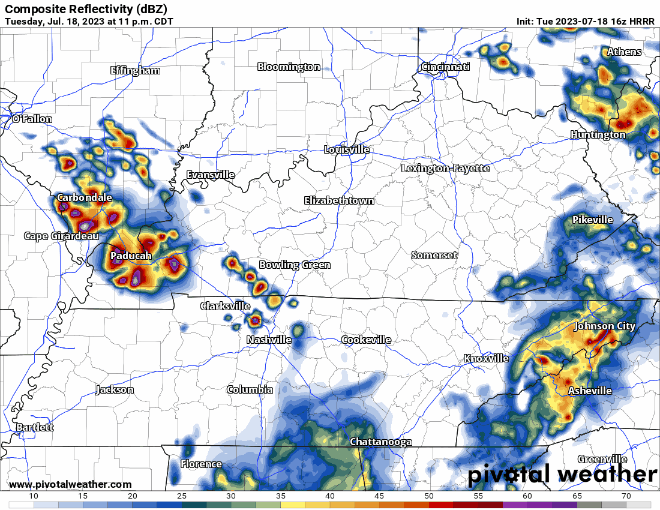 The HRRR only goes out to 5am tomorrow, and it still shows heavy rain training over our area, especially Davidson Co. HRRR shows a swath of 3-5″ of rain at this time with additional rain possible. Please, take this flooding threat seriously.
These storms could also be strong to severe, with gusty winds and hail being possible.
What To Do
Stay connected today. You absolutely do not want to be caught outside during a storm.
Updates will be coming in all day today, we'll update the blog and Tweet as needed. I imagine we'll be under some type of watch this afternoon/evening. If any part of our two counties goes under a warning, we'll go live on YouTube. https://www.youtube.com/@NashSevereWx
With the flash flood threat being overnight, it'll be important to have a way to receive Flash Flood Warnings, especially if you live in a flood-prone area. Weather radio, wake-me-up-app, the WEA Alerts on your phone (make sure they are turned on!).
Charge your phone before the storms in case you lose power, damaging straight-line winds will be our main concern today.
Rest of the Week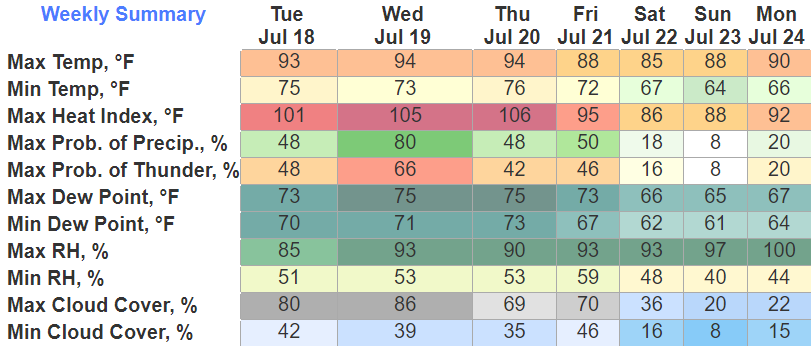 Second half of Wednesday we should dry out, and heat up with heat index values getting up to around 105°. Similar heat is possible Thursday, with hopes of a shower or storm to cool ya off. Temps relax a bit this weekend into the mid to upper 80's. Lower rain chances too.
Quick References:
Weather changes constantly.
Follow @NashSevereWx on Twitter for any changes to this forecast.
We are 100% community supported. No ads. No subscription fees. Keep it free for everyone.