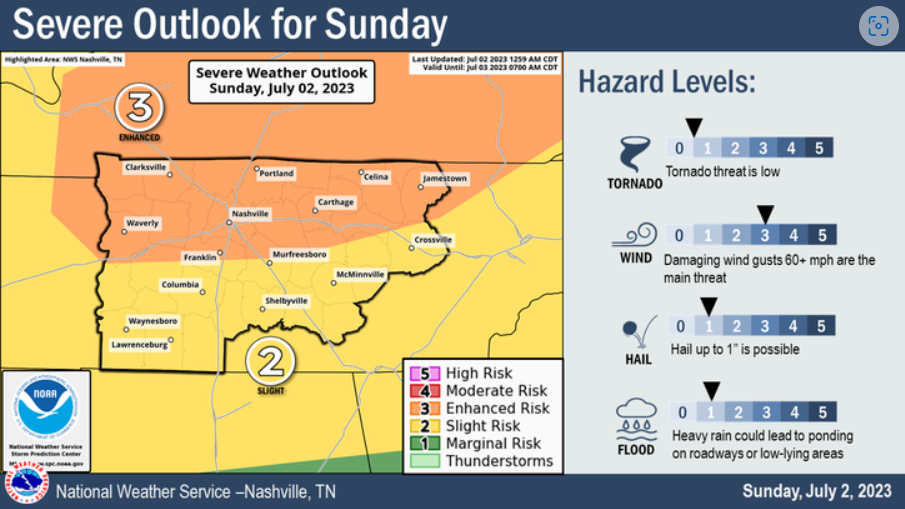 There's a chance of severe weather today, which means getting information will be vital. If you reach your "rate limit exceeded", here are some alternative ways to receive new information. This is based off my personal experience and some ways may not work for everybody.
Turning on our Twitter notifications, you will still receive new tweets via notification
Latest Tweets – Nashville Severe Weather <– auto-feed of all our tweets, refreshes every minute
So far, for me, using twitter on a search engine (either on desktop or mobile) hasn't limited me
Nashville Severe Weather @NashSevereWx – YouTube <— our YT channel, subscribing and turning on notifications will help you know the second we go live. (only live if any part of our two counties is under a warning)
@NashSevereWx on Instagram, we post all of our Tweets on our story
---
We've been outlooked with a:
30% chance of damaging straight-line winds within 25 miles
15% chance of severe hail within 25 miles
2% chance of a tornado within 25 miles
Timing:
HRRR model has been all over the place with timing. It keeps pushing back and back, now with storms arriving 5-6pm. Other models are as early as 2-3pm. This is all the more reason to stay connected all day and have multiple ways to receive info.
What To Do:
Stay connected today. Have multiple ways to receive info. Turning on our Twitter notifications will still allow you to get our tweets as we tweet. If either part of our two counties goes under a warning, we'll hop on YouTube live. Our main concern is damaging straight-line winds. These are nothing to shrug off, they can be just as dangerous than a tornado.
We'll keep you updated as new information comes in today.
Before storms today, it'll be hot once again. Heat index values up to 105° possible. Continue to take it easy outdoors and drink plenty of water.
Rest of the Week: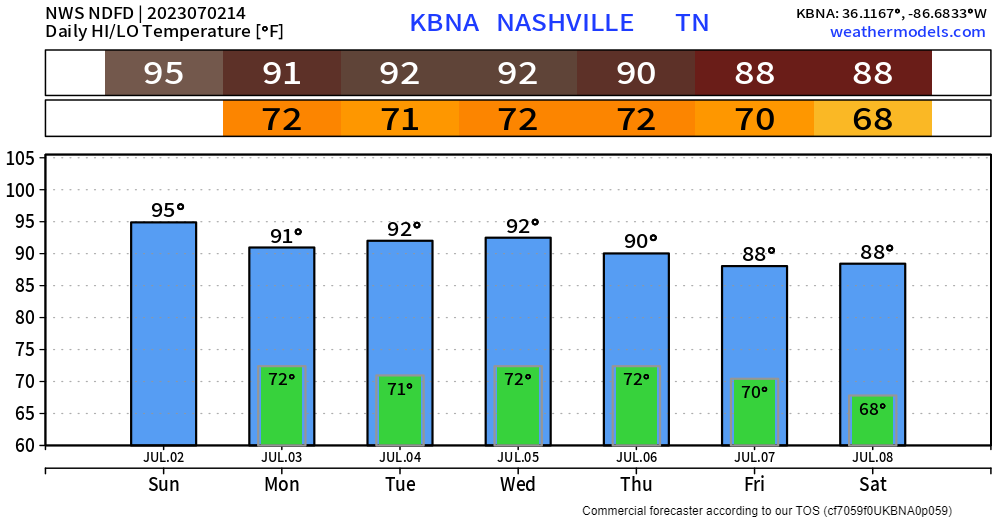 Rest of the week comes with some relief from the heat, with high temps "only" in the low 90's, with heat index values in the upper 90's. Daily Wattery chances, mostly in the afternoon and evening. I've seen worse forecasts for the 4th, I've also seen better. More specifics tomorrow.
Quick References:
Weather changes constantly.
Follow @NashSevereWx on Twitter for any changes to this forecast.
We are 100% community supported. No ads. No subscription fees. Keep it free for everyone.