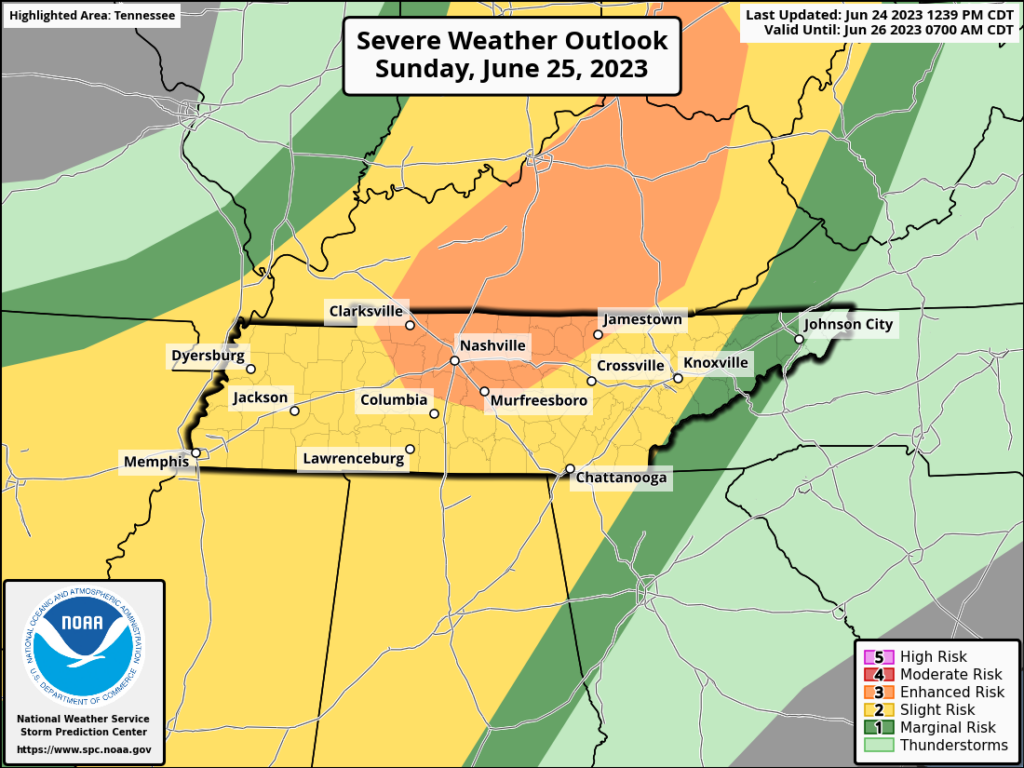 Today we'll have a calm, but warm day. High temps in the low 90's, rain very unlikely.
Sunday, I think we can divide into three parts – Morning, Afternoon, and Evening.
Sunday Morning:
We'll be waking up to some non-severe storms.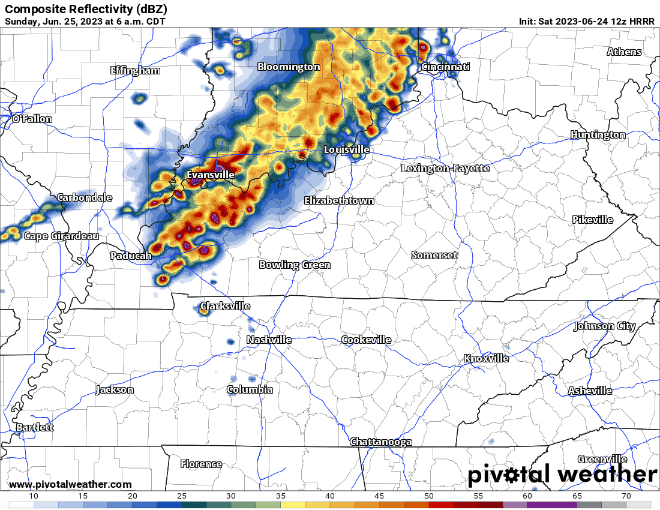 HRRR model (above) thinks the timeframe Sunday morning will be from 8am – noon. Lightning and heavy downpours are possible.
Sunday Afternoon:
We'll clear out, the sun will come out and it'll seem like a solid day. However, this will allow for the heat to turn up. Temps may surge into the mid 90's, paired with dewpoints in the low to mid 70's will allow heat index values to range from 100° – 105°. The timing of the morning showers will also have a major impact on how hot we get, HRRR model thinks we may only make it to the mid 80's. That'll be interesting to see how that plays out.
Sunday Evening/Night:
The Storm Prediction Center has outlooked our counties with a:
💨 30% chance of damaging straight-line winds within 25 miles
☄️ 15% chance of severe hail within 25 miles
🌪️ 2% chance of a tornado within 25 miles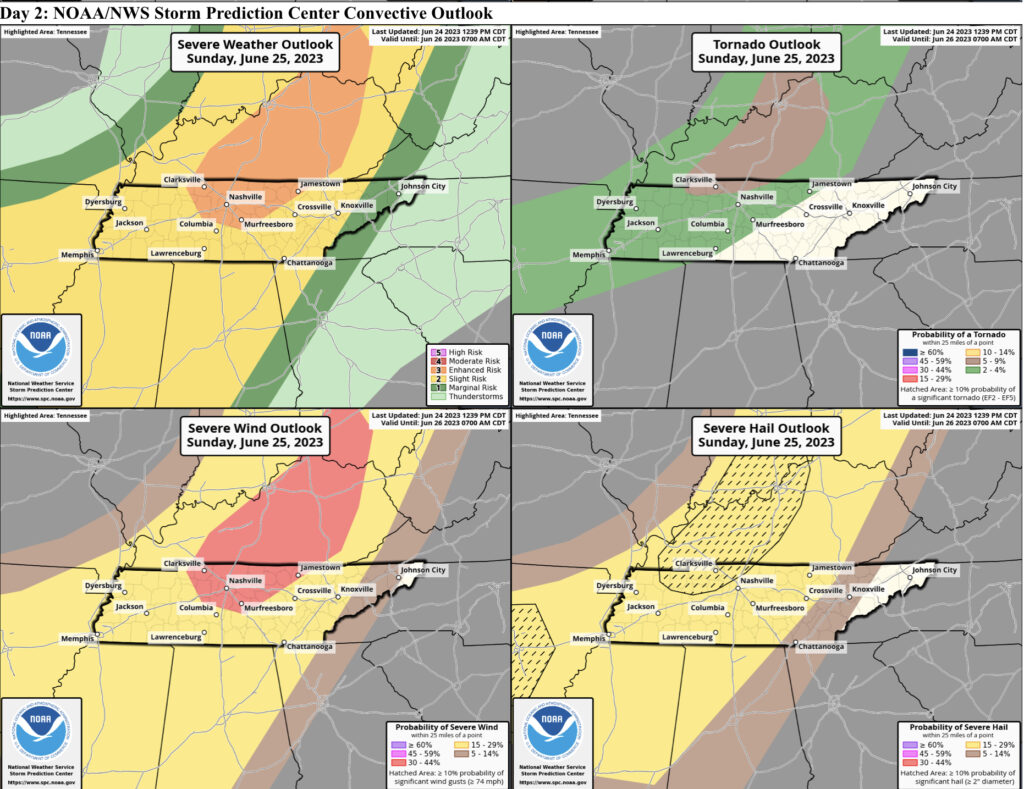 Timing: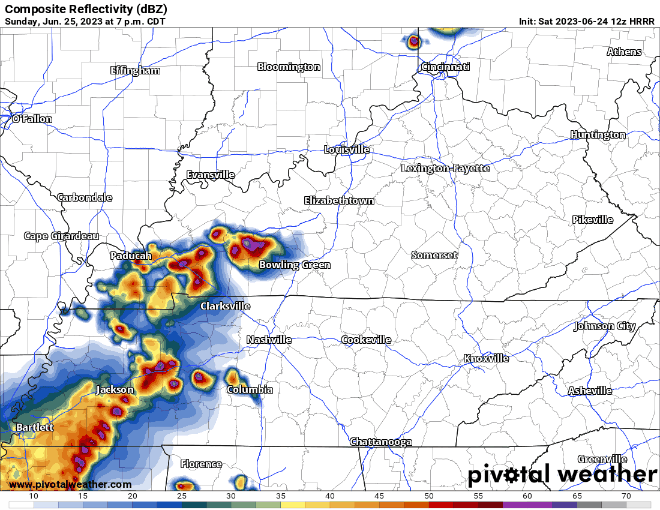 The HRRR model thinks the timeframe for severe storms will be from 7pm-10pm. The main threats will be damaging straight-line winds and hail. Timing is still iffy, as models disagree. The NAM3k model thinks the threat won't be until later in the night.
New data will be rolling in throughout the day today and tomorrow, models should come to more of a consensus sooner rather than later. We'll tweet and update the blog as needed. Stay connected and have multiple mays to receive new info, especially if you plan on being out tomorrow night. With the current timing, concerts, Nashville Speedway, and other events may be affected.
Monday and beyond will be very summerlike, hot and Wattery. We really heat up as we get later in the week.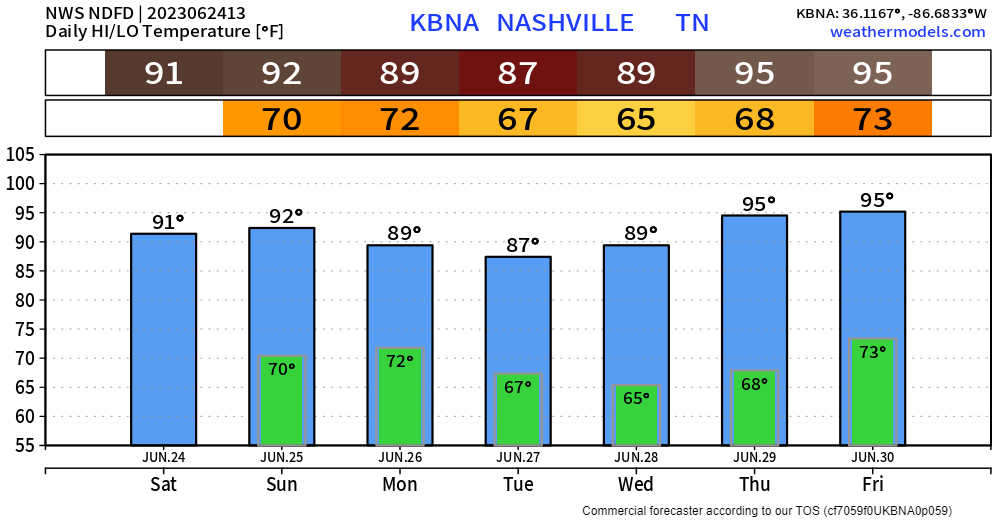 Quick References:
Weather changes constantly.
Follow @NashSevereWx on Twitter for any changes to this forecast.
We are 100% community supported. No ads. No subscription fees. Keep it free for everyone.