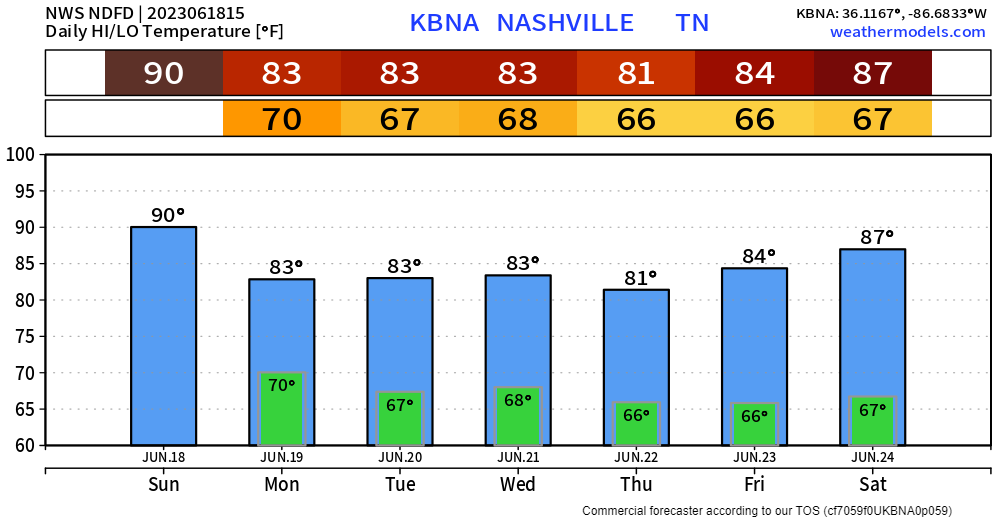 Currently a band of light rain around the TN River. It'll slowly move toward us, unsure if it will make it. If it does, we could see some light rain around noon – 3p. No big deal.
Hot off the press, the Storm Prediction Center has outlooked our counites with a
5% chance of damaging (58mph+) straight-line winds within 25 miles
5% chance of severe (1″+) hail within 25 miles
we are NOT outlooked for any tornado probabilities
*If* we see any strong to severe weather, it'll be tonight.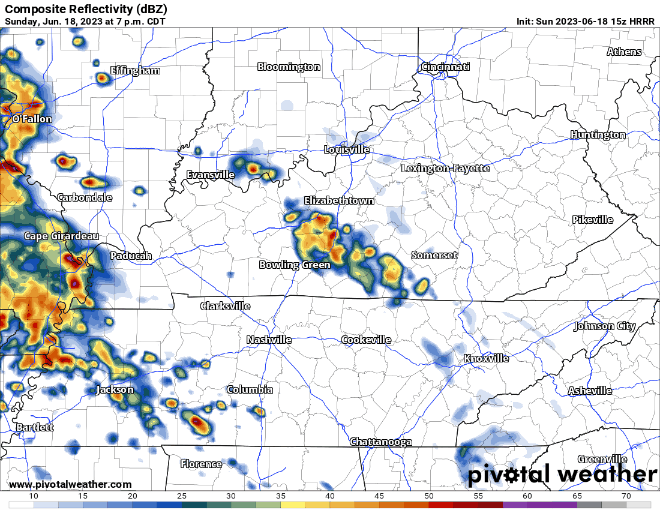 HRRR model (above) gives an ETA of 7-8pm, continuing through the night. You may have to make extra room in the bed for the kiddos tonight. This would be the time we see any strong to severe storms, however even if you don't see any, lightning and heavy rain are possible.
You may wake up to it still raining Monday morning, We'll be dealing with on/off rain all day. No severe weather expected, but lightningstorms are possible. The low pressure system will be sitting on top of us, which is why the rain is spinning.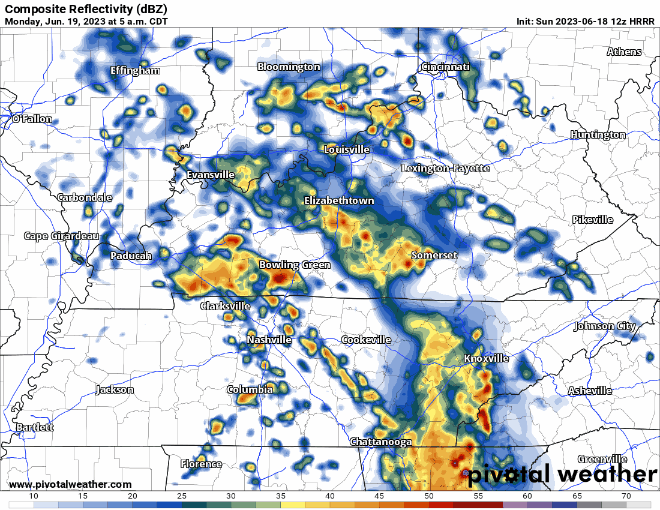 The rest of the week will be a repeat of each other. Daily Wattery chances, mainly in the afternoon and evening. Models disagree about timing and specifics; they'll stop arguing eventually.
Sidenote: Happy Father's Day! My dad doesn't read the blogs because I don't even think he knows what Twitter is, but he'll come around eventually. I got him to delete the crap apps off his phone, so progress is being made. Dads rule.
Quick References:
Weather changes constantly.
Follow @NashSevereWx on Twitter for any changes to this forecast.
We are 100% community supported. No ads. No subscription fees. Keep it free for everyone.