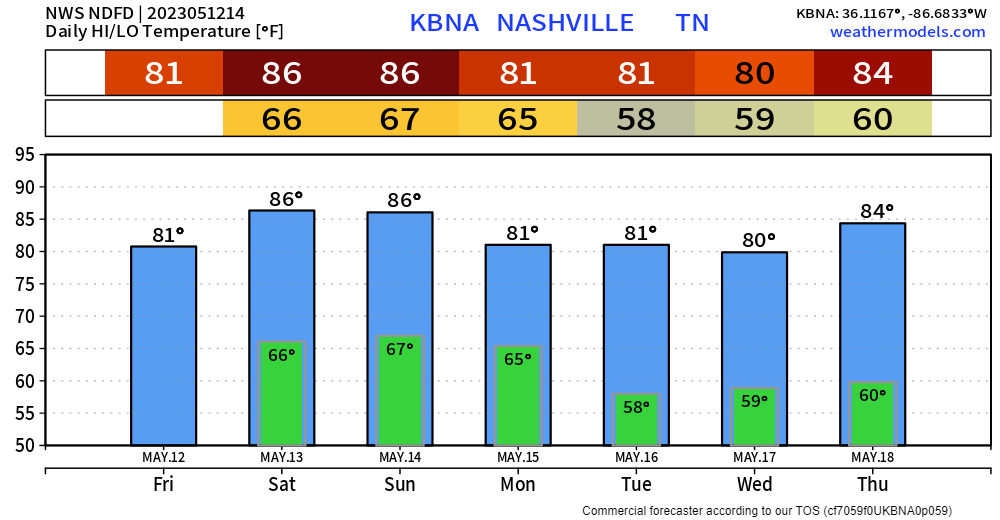 🎵"Loud thunder, heavy rainnnn"🎵 is what awoke my dog this morning, which means it was also time for me to get up.
There's a brief break before another round of on/off rain/storms move through. Lightning is possible with this as well. HRRR model (below) does a pretty good job of showing it, timestamp in the upper left. No severe weather concerns.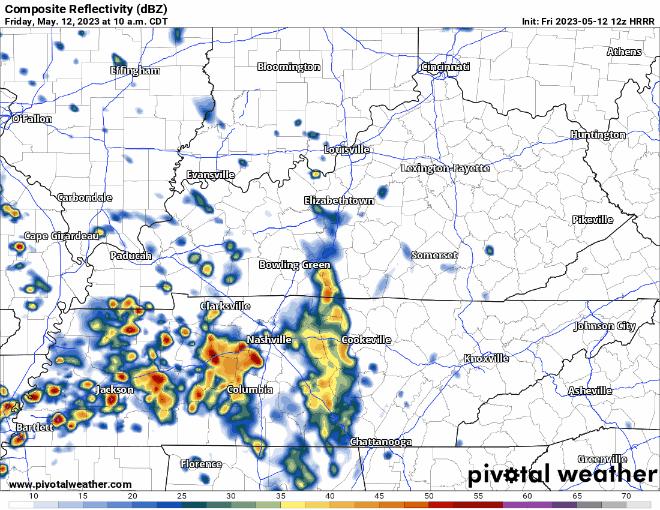 Good news! Looks like your dinner plans and outdoor activities tonight will be spared. Looks like we'll dry out and be set up for a wonderful evening.
Anddd back to some not-so-good-news. Sorry, you knew the good weather couldn't last forever. We live in Middle TN.
The HRRR model shows two chances of rain Saturday. Let's discuss.
Chance #1 – Saturday Mid-Morning
HRRR shows a cluster of showers/storms moving through around mid-morning, moving out around noon. If arriving to Steeplechase early, I recommend having some cover you can go to easily, and wearing shoes you don't mind getting mud on. I wouldn't write these ETA's down with a sharpie, probably more in pencil, and have an eraser nearby. Conveniently enough, opening ceremonies at Steeplechase begin at noon. Fingers crossed the weather will cooperate. No severe weather concerns, but lightning, heavy rain and some gusty winds are possible.
Regardless of rain, it'll still be very warm. It'll feel like close to 90° Saturday afternoon, big hats = good shade.
Chance #2 – Saturday Night
After what the HRRR model thinks will be a decent break from the rain in the afternoon and evening, we'll get another chance just in time for your night activities.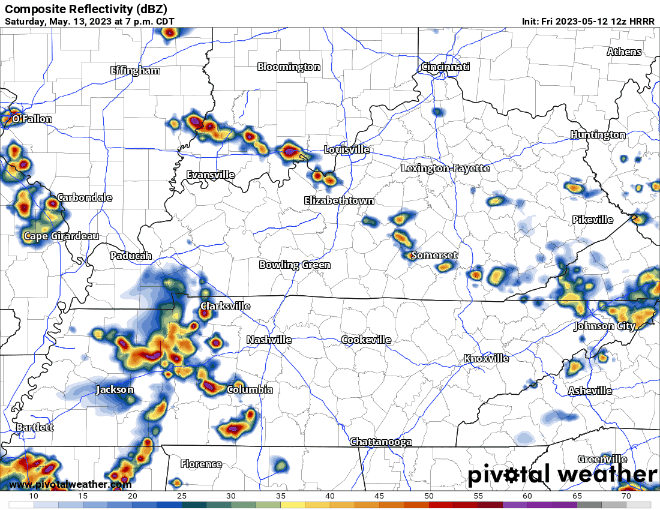 Again, wouldn't write this ETA down with a sharpie, but for now, looks like around a sunset or later ETA for the second round. Lightning, heavy rain and gusty winds are all possible, but not concerned about severe weather.
*Disclaimer: the HRRR model could be totally wrong. It could do a 180 and completely change its mind by this afternoon/evening. We'll keep you posted on what it, and other models think.
Mother's Day, also known as Sunday, looks not too bad for now. Models show most of the rain chances holding off until the evening. Hoping this trend will hold.
Monday thru Thursday looks drier and slightly "cooler" with high temps in the low 80's instead of the mid 80's.
Quick References:
Weather changes constantly.
Follow @NashSevereWx on Twitter for any changes to this forecast.
We are 100% community supported. No ads. No subscription fees. Keep it free for everyone.