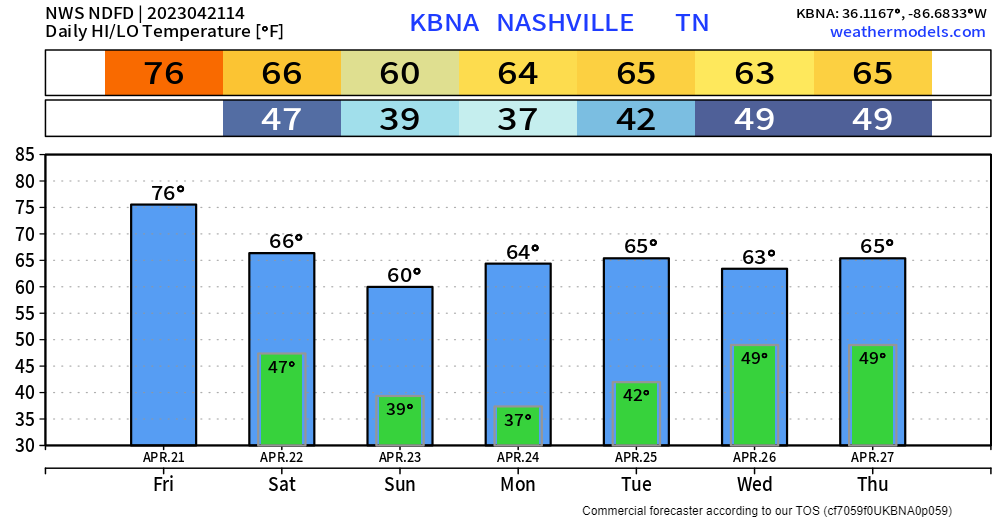 A line of rain is slowly, but surely, making its way toward us. When it gets here, nobody knows. JK we kinda have an idea of when.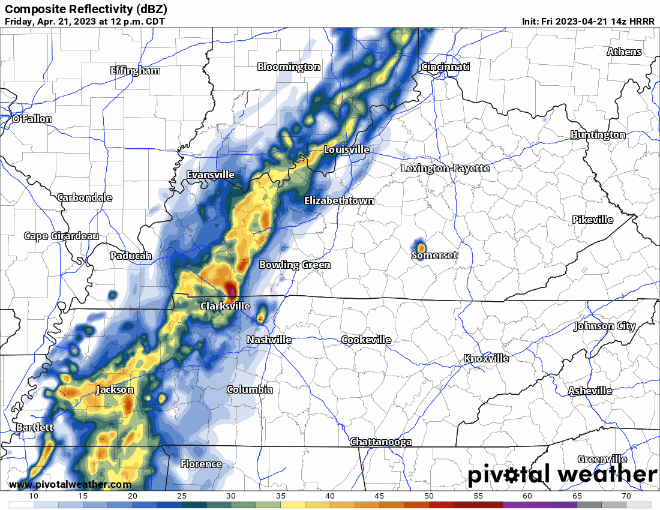 HRRR model (above) shows rain creeping in sometime this afternoon. This run holds the majority of it off until around 3 or 4pm, but I think any time after noon, you can expect on/off rain. Coverage will increase as we head into the evening, transitioning into a good, soaking rain for a few hours. No severe weather or flooding concerns. You may hear some thunder, but nothin' crazy. Rainfall totals around an inch, your grass will be thankful.
Rain will be outta here by midnight, setting us up for a dry, but cool rest of the weekend (as in temperature, but I hope your weekend is also cool as in 😎).
If I were to be participating in any sort of running Saturday, which I am not, I feel as if I would be happy with the forecast. However, I am no runner, so I will leave that to the professionals – I hope this forecast makes the running less painful. Temps will start out in the upper 40's in the earlier hours, making it up into the low 60's by lunch.
Saturday and Sunday night, lows will dip into the upper 30's, which may lead to some patchy frost. If you love your plants, you may want to tuck them in with a blanket. Bedtime story probably not needed, but that's up to you.
Rain chances creep back in Tuesday, probably more Wednesday. No severe weather in the forecast for the next 7 days, which considering it is late April, is very good. High temps will run around 10 degrees below average next week.
Quick References:
Weather changes constantly.
Follow @NashSevereWx on Twitter for any changes to this forecast.
We are 100% community supported. No ads. No subscription fees. Keep it free for everyone.