There will be a day to when I do not have to include something along the lines of "possible severe storms" in the title. But, today is not that day, so let's talk about it.
Record high for today is 87° set in 1934, our current forecast high is 86°, it'll be close. No rain expected today.
Before the maybe strong/severe storms arrive Wednesday, it will be quite warm, daily record high is 87° set way way back in 2010, forecast right now is for us to fall two degrees short of that. Now let's talk storms.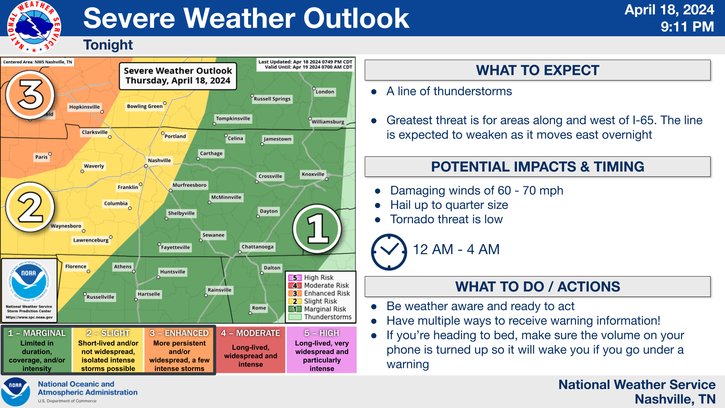 The Storm Prediction Center has outlooked our two counites with a:
30% chance of damaging (58mph+) straight-line winds within 25 miles
5% chance of a tornado within 25 miles
5% chance of large (1″+) hail within 25 miles
The overwhelming main threat is damaging straight-line winds. Although some large hail and a tornado or two cannot be ruled out. It'll be important to stay weather aware.
Timing: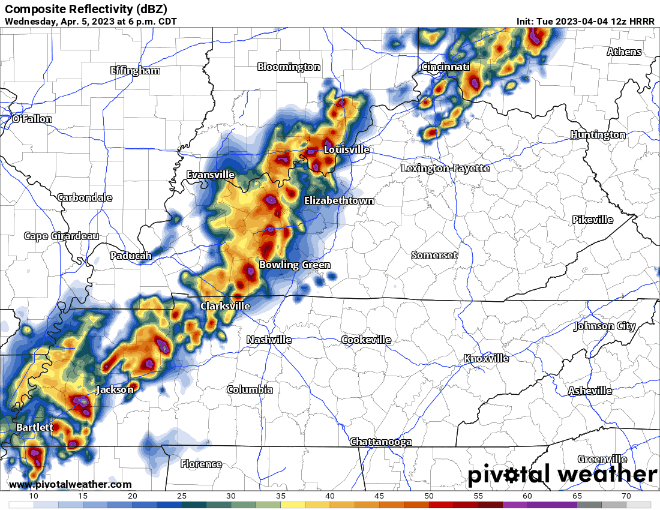 The HRRR model (above) shows the line of storms arriving around 8pm Wednesday, although for now I'd give that ETA a +/- 2 hours or so. The first push of the line would carry the threat of damaging straight-line winds and the smaller threat of a tornado or hail.
The front sorta stalls a little bit as it pushes through our area bringing some additional rain overnight, but this would just be rain and no concern for severe weather. Maybe some isolated ponding on the roads but this rain won't be heavy and/or last long enough to cause any major flash flooding problems. Rainfall totals look to be 1 – 1.5″. Maybe some lingering showers Thursday AM but this will pass as we head through mid-morning and into the afternoon.
It's always a good idea to be prepared. Know what the difference between a Watch and a Warning are, know where to go and what to do in case a warning is issued for you. We have a whole page on that, you can get to by clicking right here.
Hopefully this can push through before bedtime and we can get some real sleep, but weather doesn't care about our sleep schedules and it very well may wait until later in the night. Have ways to wake up in case a warning is issued for you – weather radio, wake-me-up app, Wireless Emergency Alerts on your phone, the more, the better. Do NOT rely on sirens to wake you up.
We will go live on our YouTube only *if* either part of our counites go under a Severe Thunderstorm or Tornado **Warning**. You can click here to get to our channel.
Storm anxiety is real and it is not fun. Click here for an article we have on it.
This system does not look as dynamic for us as the system did Friday, however, that does not mean we should let our guard down. Being prepared never hurts, we'll keep you updated on here and on Twitter.
---
We are rewarded with a nice and quiet Friday and Easter weekend. Maybe a stray shower, but other than that, temps around average and dry.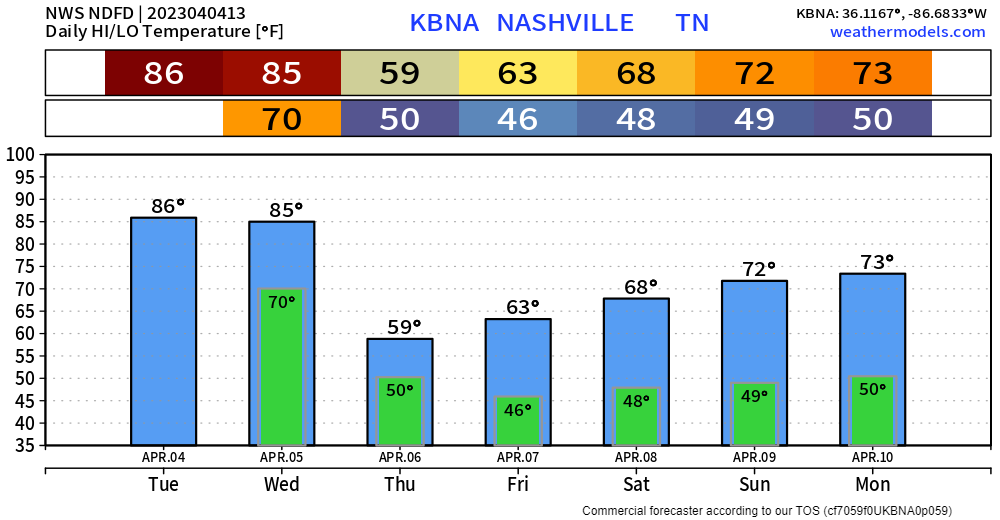 Quick References:
Weather changes constantly.
Follow @NashSevereWx on Twitter for any changes to this forecast.
We are 100% community supported. No ads. No subscription fees. Keep it free for everyone.