A Wind Advisory will be in effect from 7pm tonight thru 1pm Saturday. Strong winds outside of thunderstorms will be possible, with gusts up to 45mph possible. Secure loose outdoor furniture, trampolines, especially in front of the line of storms tonight.
Some on/off showers continue to move through this morning, don't be shocked if you see some lightning or hear thunder as they move through.
The Storm Prediction Center has outlooked our counties with a:
30% chance of damaging (58mph+) straight-line winds within 25 miles, along with a 10% chance or greater that those winds will be 74mph or greater
10% chance of a tornado within 25 miles, along with a 10% chance or greater that a tornado will be EF-2+
5% chance of large (1″+) hail within 25 miles
Yes, the probabilities have increased some since yesterday, however, our message remains the same. Damaging straight-line winds will be the main threat tonight, but a tornado, large hail, or isolated flash flooding cannot be ruled out.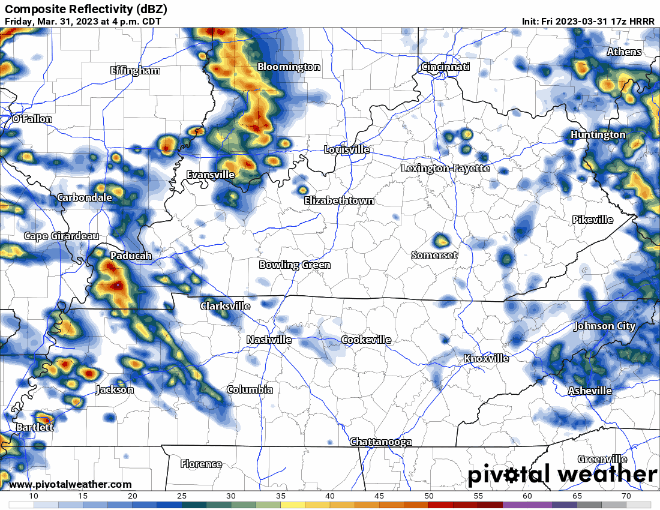 The latest HRRR model (as of 1pm) shows two possible rounds of severe weather this evening and tonight. The first potential round would be from 6-8pm. Then, the main line of storms looks to move in ~11pm – midnight. Both rounds would be capable of all modes of severe weather, but our main concern would be the main line coming in around 11pm, +/- an hour or so.
A lot can change, and new model runs come in every hour. Check back frequently on Twitter and have multiple ways to receive information today.
In the meantime, stay weather aware all day. Frequently check back on Twitter for updates. With this being a nighttime event, it is important for you to have multiple ways to receive warnings – weather radio, wake-me-up app, and/or the Wireless Emergency Alerts on your phone. Do NOT rely on sirens as a way to receive warnings.
At some point tonight we will probably be under some sort of Watch. Know the difference between a Watch and Warning. Watch = Be Prepared. Warning = Take Action. Know where to go if a warning is issued for you. Click here for more information.
If a warning happens to get issued for either part of our two counties, we will go live on our YouTube channel, which you can click right here to get to. Subscribing and turning on notifications won't hurt.
On days like this, heartrates can get a little high, and that's okay. Click here for an article we have on storm anxiety. Remember, there is a 90% chance you WON'T see a tornado within 25 miles of you today.
Rain will move out by sunrise Saturday, leaving us with a dry and warm weekend.
Yes, we are still outlooked for severe weather on Tuesday, but let's focus on today first.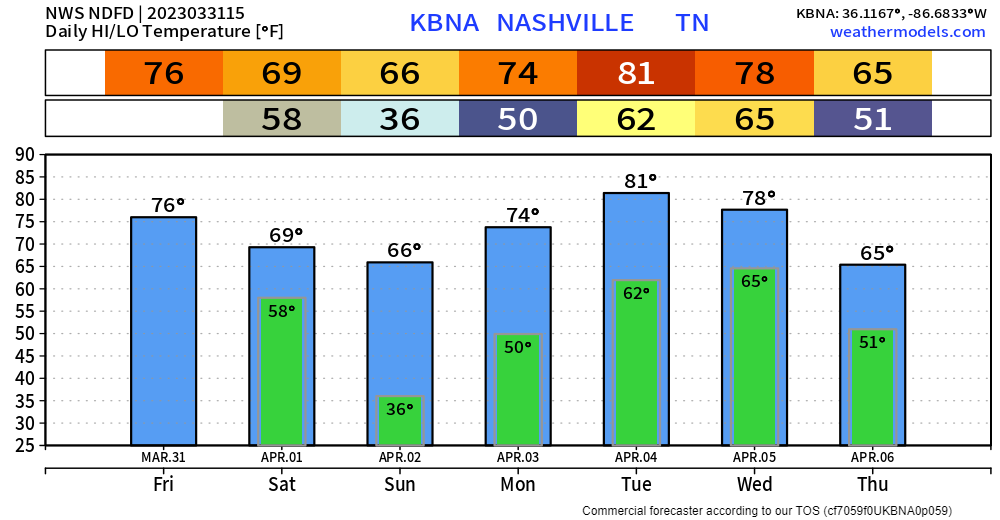 Quick References:
Weather changes constantly.
Follow @NashSevereWx on Twitter for any changes to this forecast.
We are 100% community supported. No ads. No subscription fees. Keep it free for everyone.