Today will be a great day, warm and dry. Very spring-like as we approach the 70° mark.
Friday we will wake up to on/off showers. We are NOT concerned with severe weather with these daytime showers. These on/off showers will last for the majority of the day until the line of storms approaches.
In addition, before the line of storms arrives, non-thunderstorm winds will be strong, with gusts up to 45mph possible. While no Wind Advisory has issued yet, one will likely be issued later today or tonight.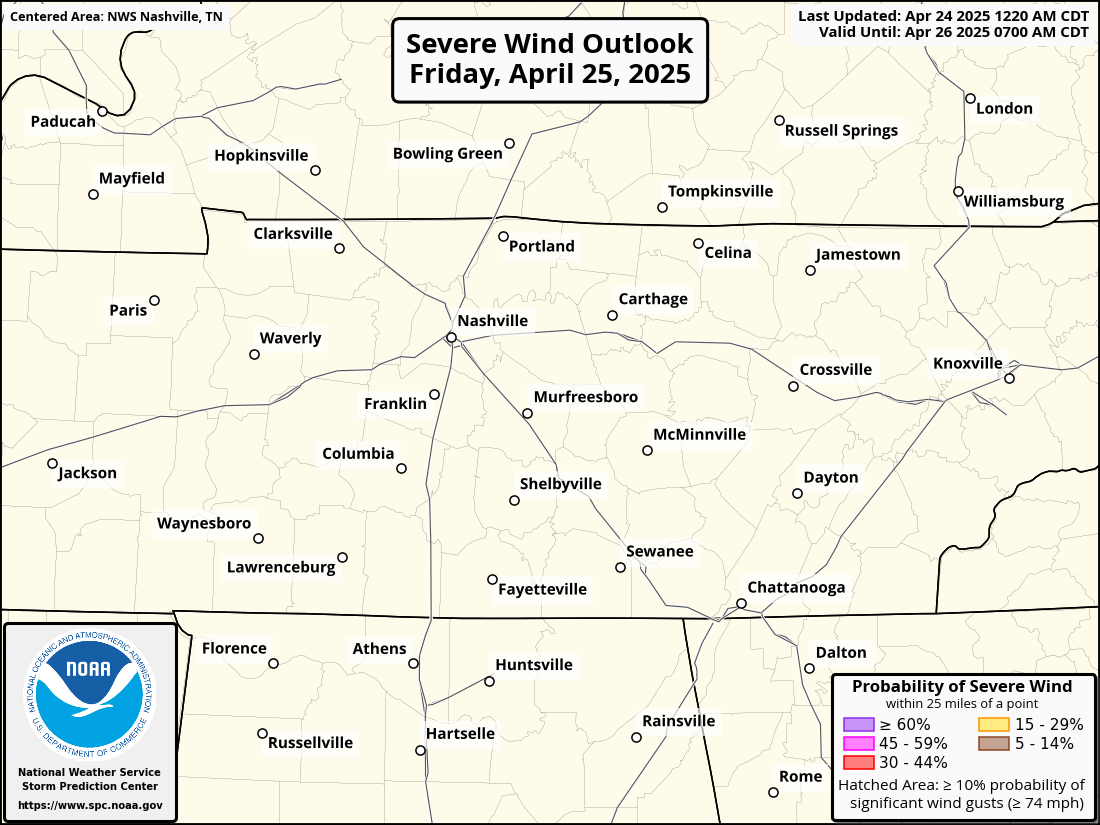 The Storm Prediction Center has outlooked our two counties with:
30% chance west of I-65, 15% chance east of I-65 of damaging (58mph+) straight-line winds within 25 miles
5% chance of a tornado within 25 miles
5% chance of large hail (1″+) within 25 miles
The hatched area means that there is a 10% chance or greater that those damaging straight-line winds will be 74mph+.
The greatest threats with this will be heavy rain, lightning and damaging-straight line winds. However, a tornado or large hail cannot be ruled out. While the line will bring heavy rain, it should be fairly brief, and while an isolated incident of flash flooding is possible, widespread flash flooding looks unlikely. Rainfall totals look to be around 1 – 1.5″.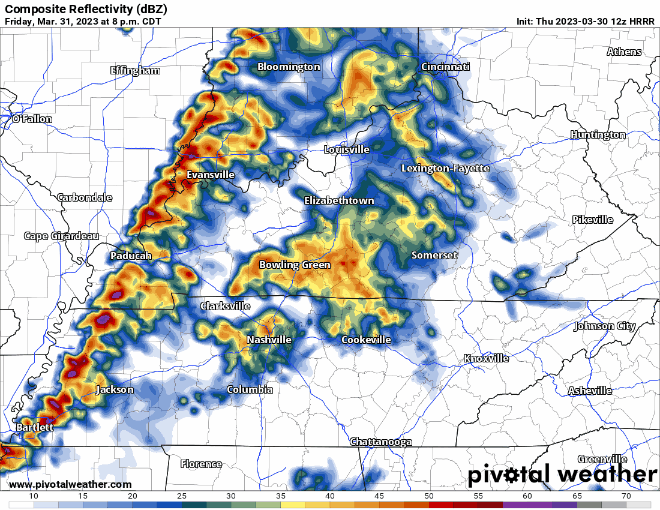 The HRRR model (above) shows the line of potential severe storms moving through our area at around 11pm- midnight, this is just a rough estimate and it is important to note that other models show an ETA of ~2am. We should be able to nail down a better ETA tomorrow. You'll need to make your Friday night plans revolve around this, as you do not want to be outside or driving while the line passes.
Regardless of which model is correct, the threat will arrive after dark and maybe after you go to sleep. Have a way to wake up in case a warning is issued for you, whether it be a weather radio, wake-me-up app, the WEA (Wireless Emergency Alerts) on your phone. The more ways, the better.
I imagine at some point Friday night a Watch may be issued for us. Do you know the difference between a Watch and a Warning? Do you know where to go if a Tornado Warning is issued for you? Click here for a great refresher on all of that and more.
As always, if a warning is issued for either part of our two counties, we'll go live on YouTube, which you can find by clicking right here. Subscribing and turning on notifications for when we go live won't hurt, although we will also tweet when we go live.
Storm anxiety is a real thing, click here for an article we have on it.
---
We are rewarded with a dry and warm Saturday-Monday. Sunday morning we may have a few spots with some frost, but it doesn't look to be a widespread problem.
Unfortunately, we do not get too much of a break from severe weather chances, as we are yet again outlooked for possible severe weather Tuesday.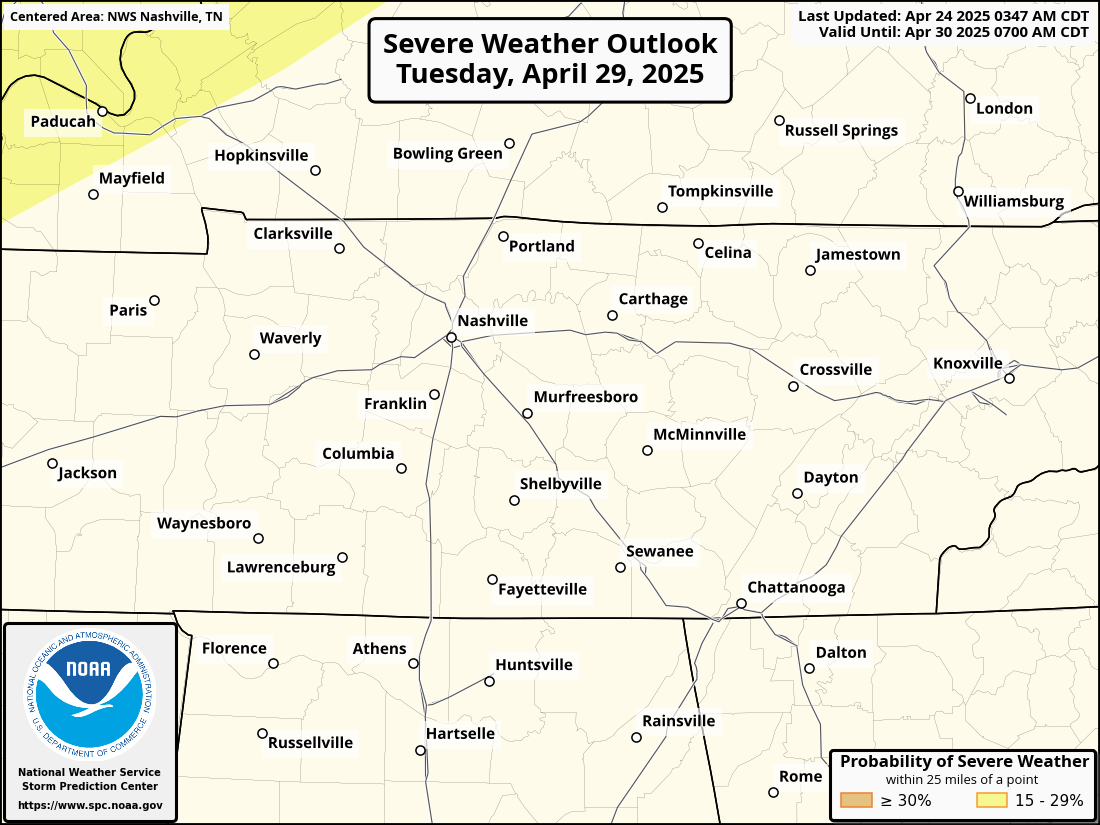 For now we are outlooked with a 15% chance within 25 miles – it is still too far out to try to nail down any sort of details, and a lot will change in the next few days. Just something to keep in the back of your mind. Let's just get through Friday first.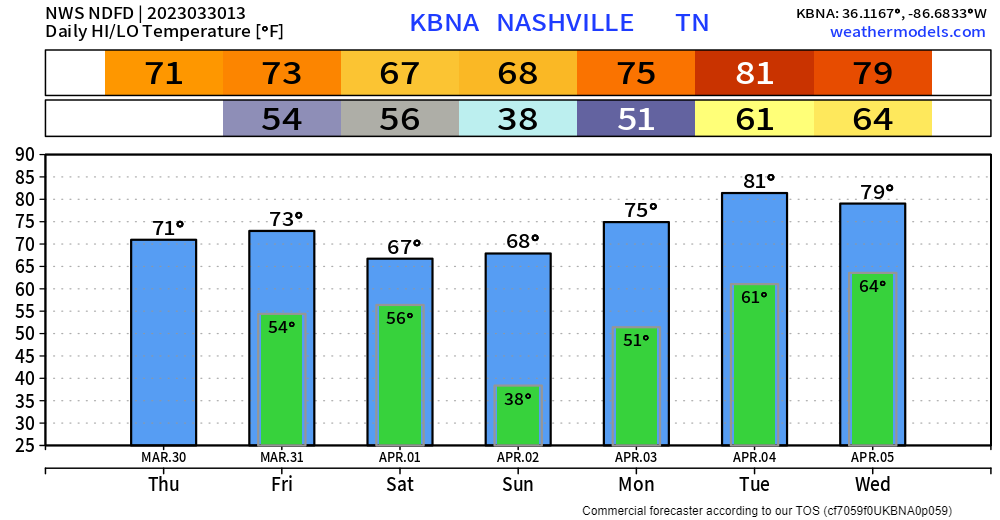 Quick References:
Weather changes constantly.
Follow @NashSevereWx on Twitter for any changes to this forecast.
We are 100% community supported. No ads. No subscription fees. Keep it free for everyone.