First things first, if you've seen new graphics, like the one above and see the new colors and think "Uh oh, are we more concerned now?" The short answer is no. Our messaging is still the same and hasn't changed – we are still looking at a chance of severe weather overnight Friday with the main concern being damaging straight-line winds. Let's take a deeper dive.
Today will be borderline hot as high temps soar up to around 80°. Record high for today is 87°, not going to make it there thankfully. A few quick showers may swing by this afternoon/evening to help cool us off, but those would just be quick, shouldn't call for any rainouts.
Friday during the day we may see some rain during the afternoon before they lift north. We are not concerned with severe weather with these.
The severe risk comes later Friday as a cold front approaches.
The main concern tomorrow will be damaging straight-line winds, but large hail and an isolated tornado cannot be ruled out.
Per the Storm Prediction Center, there is a…
15% chance of damaging (58mph+) straight-line winds within 25 miles (yes, there is some 30% in the far west parts of our counties, but try not to pay too much attention to exactly where the lines are drawn)
5% chance of a tornado within 25 miles (95% there won't be a tornado within 25 miles of you!)
5% chance of large hail (1″+ in diameter) within 25 miles
Timing
The HRRR model above shows a line of storms that arrives on the doorstep of our two counties at around midnight, quickly pushing through our area. This timing will likely need some tweaking so check back for updates on that. Flash flooding concerns have gone down as it looks like rainfall totals will be around one inch or less.
During this time the HRRR model shows a high shear/low CAPE set up, along with a small temperature inversion above the ground that could hinder the severe potential. This would be good for us, but we're watching.
Again, with this being threat overnight, you'll need a way to wake up if a warning is issued for you. A weather radio and/or wake-me-up app are both great options. Know where to go if a warning is issued for you, more info on that if you click here.
Storm anxiety is a normal and real thing, click here for an article we have on that.
Saturday and the majority of Sunday should be warm and dry. Meh rain chances return Sunday night into Monday. Next week looks like a couple rounds of rain and temperatures closer to average for this time of the year.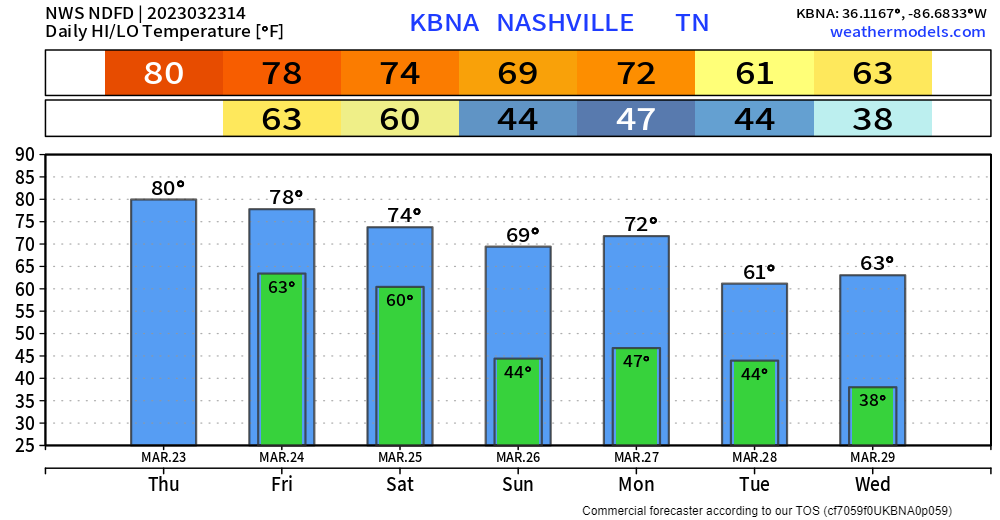 Quick References:
Weather changes constantly.
Follow @NashSevereWx on Twitter for any changes to this forecast.
We are 100% community supported. No ads. No subscription fees. Keep it free for everyone.