Before we even dive into the severe threat, we seriously need to talk about this High Wind Warning. This is NOT your typical Wind Advisory that knocks your trash can down. This wind will take your trash can and trampoline down the street. Sustained winds of 25-35mph and gusts up to 60(!!)mph will be possible OUTSIDE of the thunderstorms. It can not be raining and the winds can gust to 60mph. These winds will down trees and power lines. It is important to keep your phone charge and make sure new batteries are in your weather radio so you can receive warnings if any are issued later today. Again, these winds will be OUTSIDE of the thunderstorms and it will be this windy before AND after the main line has passed.
Now to the Tornado Watch/severe weather.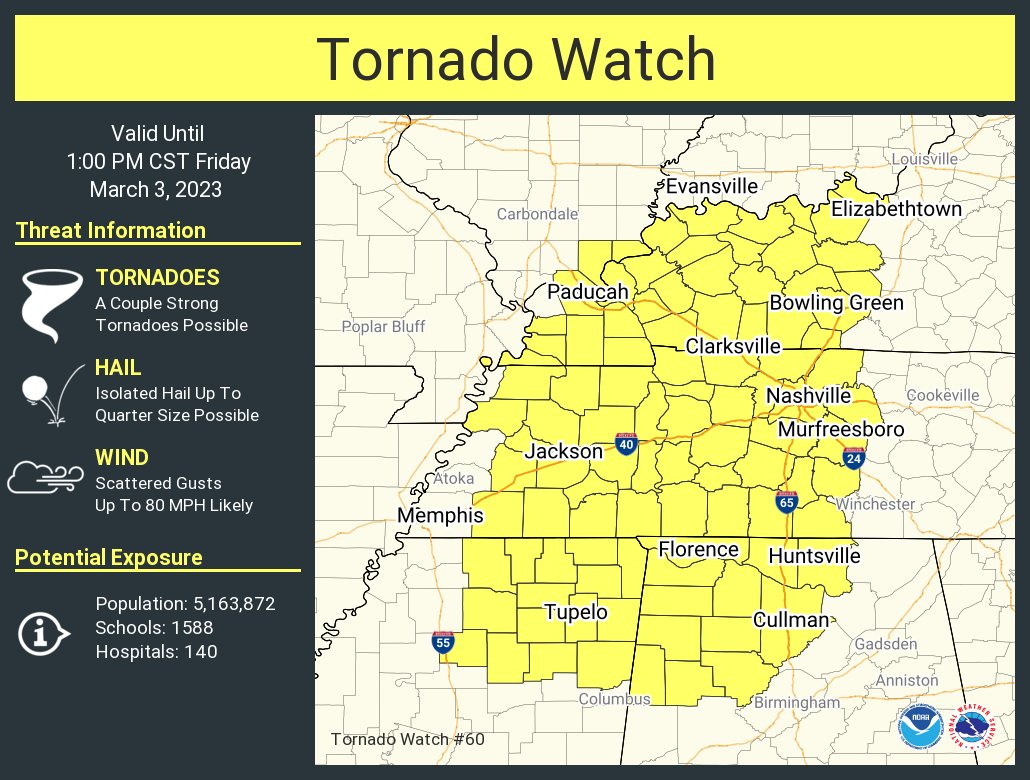 Both counties are included in a Tornado Watch until 1pm. A Watch means ingredients are favorable, or will soon be favorable for a tornado to form. You need to have your safety plan in place for if a Warning is issued for you. Warning means take that safety plan into action. For more info, click on this link: https://nashvillesevereweather.com/what-to-do/
Above are our new probabilities set out by the Storm Prediction Center. I could also go and say there is a 90% chance there will NOT be a tornado within 25 miles of you. Glass half full!
Timing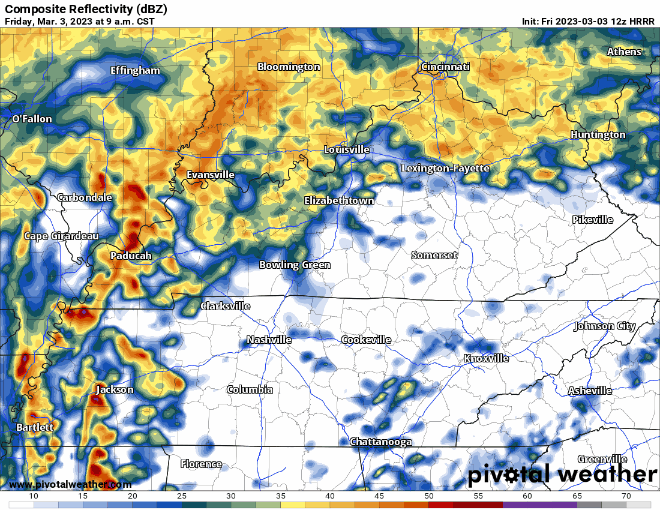 ETA for the line of potentially severe storms looks to be from 11am-noon, maybe a little before 11. I would not want to be on the road during this thing, so plan accordingly. Have multiple ways to receive warnings. At the latest it'll be out of here by 1pm and you have the rest of your day to enjoy.
Storm anxiety is a very real thing. But it's important to remember, take a deep breath. While we are waiting for this, take the time to go clear out your safe place. Lowest, most interior place without windows. Maybe throw some blankets, pillows, shoes, helmets in there. Will you need it? Probably not, but you'll feel at least a little better being prepared. If you live in a mobile or manufactured home, call a friend or coworker who has a permanent structure and ask to hang out with them, or head to the mall or some other sturdy building. Mobile homes are not safe during these kind of events.
We'll go live on YouTube if a warning is issued for either part of our two counties. Here's a link to it: https://www.youtube.com/@NashSevereWx We'll all get through this together and then go enjoy our nice weekend. Click here for an article we have on storm anxiety.
After this, we'll dry out this weekend. It'll be a nice weekend and we deserve it. Next rain chance won't be until Tuesday or Wednesday.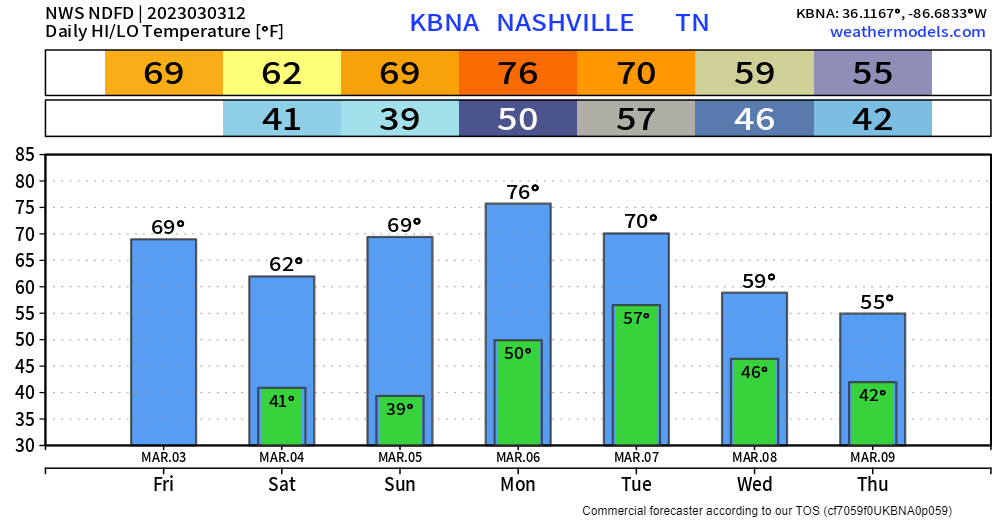 Quick References:
Weather changes constantly.
Follow @NashSevereWx on Twitter for any changes to this forecast.
We are 100% community supported. No ads. No subscription fees. Keep it free for everyone.