During the day today, it will be quite lovely. High temps will try to hit the 80° mark, attempting to get to the daily record high of 81°. Then the end of the nice weather will begin with round one tonight.
Round One: Tonight, 7pm-11pm
A front tonight will bring some severe weather chances to our area.
The higher chances of severe weather are generally southwest of us. Our probabilities of severe weather are:
15% for WillCo., 5% for Davidson for damaging straight-line winds within 25 miles
5% of severe hail (1″+) within 25 miles for both counties
5% for WillCo., 2% for Davidson for a tornado within 25 miles (AKA a 95%/98% chance that a tornado WON'T come within 25 miles of you!)
Both counties are under a 15% chance of flash flooding within 25 miles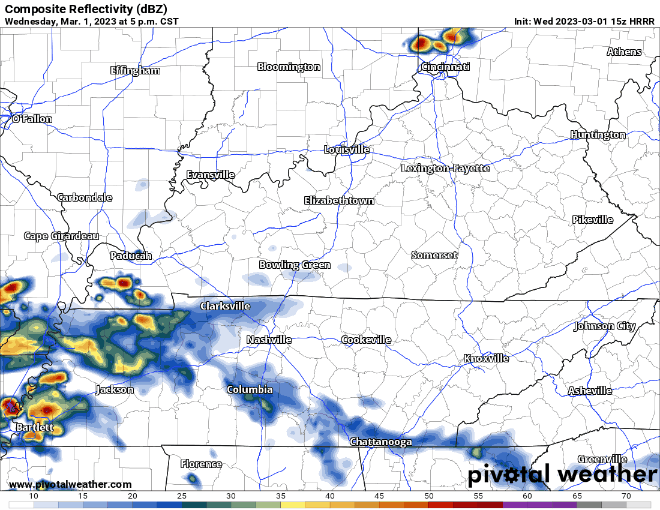 Timing wise, the HRRR model (above) thinks rain could start as soon as 5 or 6pm, with the best chance of severe weather being between 7-10pm. If you plan on going to bed before the all-clear, it's a great idea to have a way to wake up in case a warning is issued for you, whether that be a weather radio or a wake-me-up app. The more the merrier. The main concern with this round is damaging straight-line winds and flash flooding.
A few places could pick up a quick 1-2″ of rain with this system. Flash flood prone areas should make sure they have a way to receive Flash Flood Warnings if one is issued, but the highest risk of flash flooding looks to be to our south.
"Round Two" Thursday PM
I put it in quotations for a reason, it just doesn't look like much. A warm front will lift north and cross our area, but models are in pretty good agreement that there just won't be much, if any, ingredients in place for severe weather. At least for now, this looks just like a rain event for us really. On and off rain showers, maybeeee a rumble of thunder or two, look to start Thursday afternoon and last through the night.
This will not just be a rain event for other areas, such as the ArkLaTex region. If you know anyone down there, give them a shout and make sure they are aware of the pretty significant severe weather threat tomorrow.
Round Three: Friday AM
One final round looks to come into our area sometime Friday morning via a cold front.
The Storm Prediction Center doesn't release specific probabilities until Day 2 outlooks, so for now, we are outlooked with a 15% chance of severe weather within 25 miles.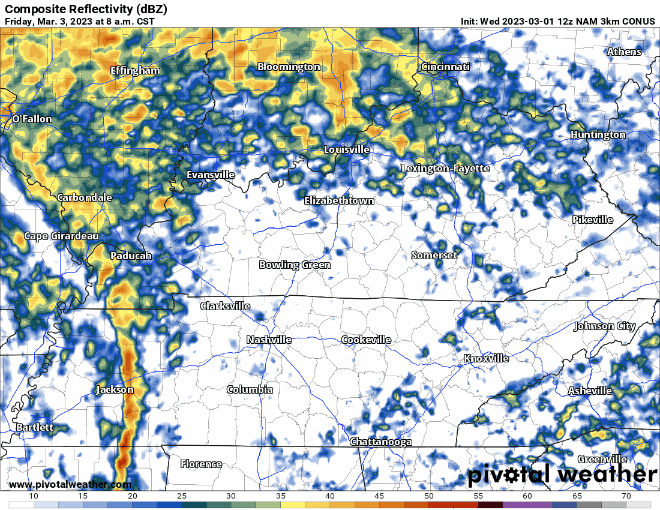 The NAM3k model (above) thinks the line of storms will move through our counties sometime mid-morning Friday. Still too early to try to pin down an exact timeframe here. All modes of severe weather will be possible with this line, with the main threat being damaging straight-line winds.
Yes, Friday is an anniversary that comes with a lot of bad memories for a lot of people, and very understandably so. This often brings up the question, "Will this be another March 3rd?" With this, you have to bring up perspective. If your house was affected by the March 3rd tornado, then unless you are affected again by a tornado, no day will be like that one. But say you were not directly affected by the March 3rd tornado, and another day a tornado happens to impact you. Then to you, that day will be worse than March 3rd. It's all about perspective.
With these events coming up, and historically a busy time for severe weather also coming up, it's important to be prepared. Know what to do if a Tornado Warning is issued for you. Know where to go, what to have. For more on that, you can click here. Storm anxiety is real and it sucks, for an article we have on that, you can click here.
After the cold front pushes through Friday, we'll dry out and cool down a bit. Non-thunderstorm winds will be gusty and a Wind Advisory will likely be needed for Friday afternoon. Dry rest of the weekend!
Quick References:
Weather changes constantly.
Follow @NashSevereWx on Twitter for any changes to this forecast.
We are 100% community supported. No ads. No subscription fees. Keep it free for everyone.