Love is in the air, but bad air quality isn't. Crap apps were showing bad air quality yesterday, when our air was and is totally okay. Nothing from Ohio is blowing down here.
Today will be warm, but windy. A Wind Advisory will be in effect from 3pm today – 3am Wednesday. Sustained winds of 20-30mph, with gusts up to 45mph possible.
A band of showers will move in later this evening.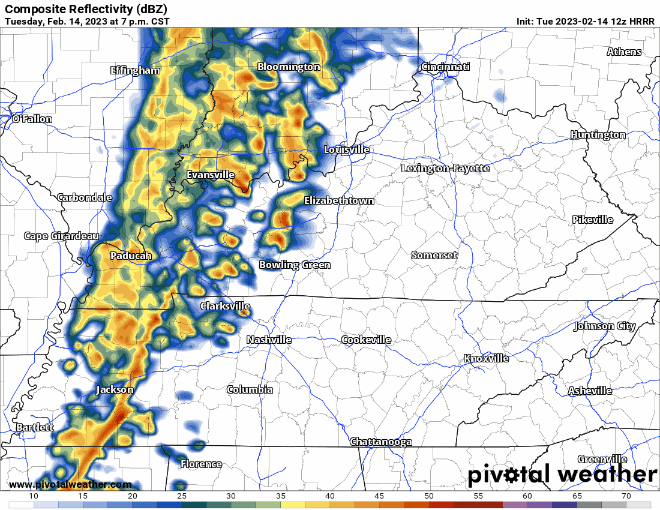 Looks like the best potential for some rain will be from 8pm – midnight. Not concerned about any severe weather with these showers, just some light rain.
Wednesday will be warm, with a forecasted high of 74°, the record for the 15th is 77° set in 2018. Probably won't make it there, but we'll be close. The majority of the day will be dry.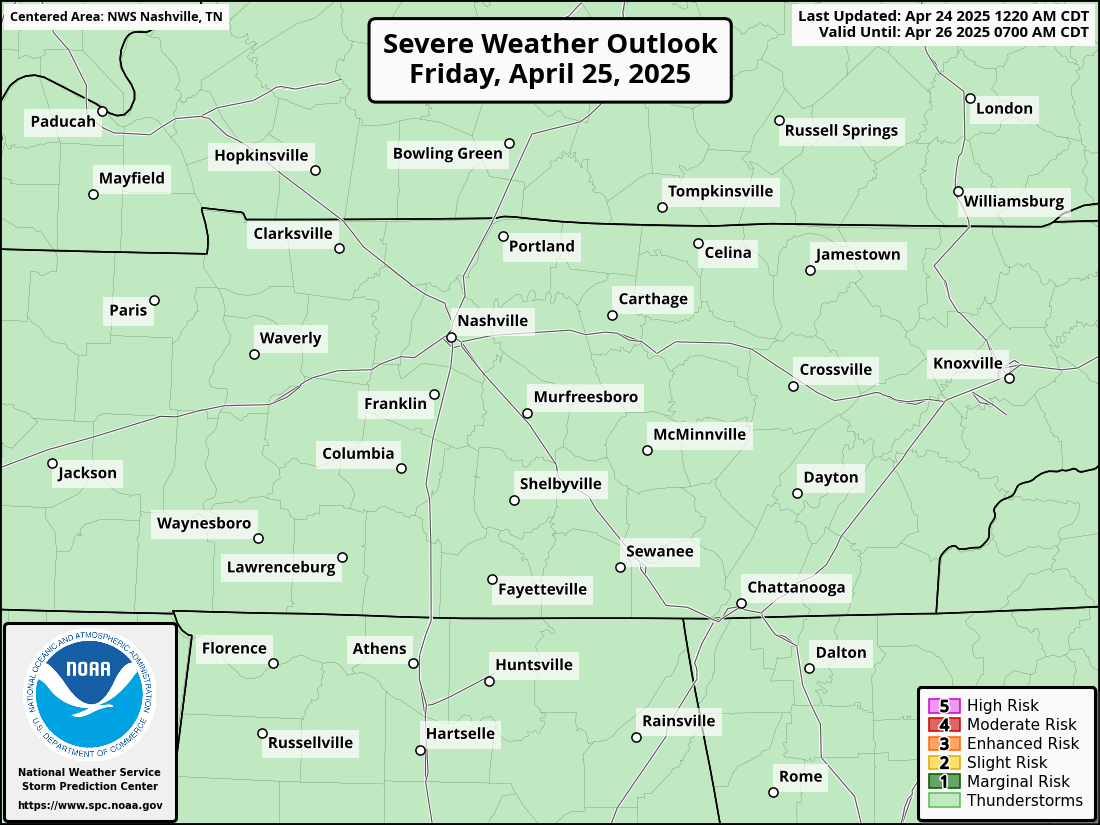 Wednesday night our counties have been outlooked with a:
5% chance of damaging winds (58mph+)
5% chance of severe hail (1″+ in diameter)
2% chance of a tornado
5% chance of flash flooding
All these chances are within 25 miles.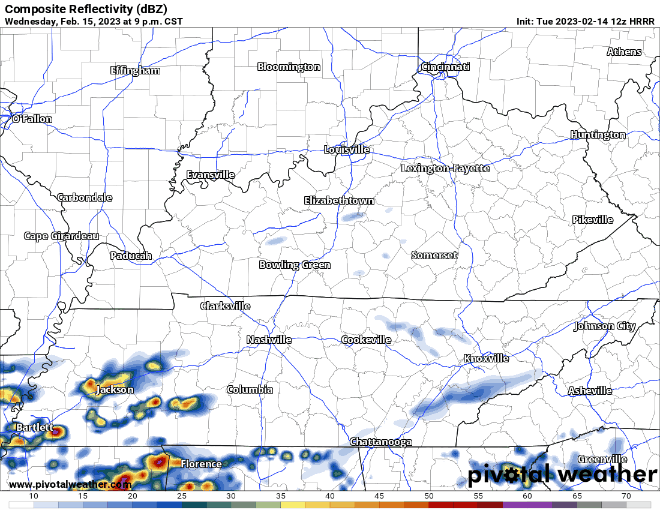 The HRRR model (above) thinks our Round One threat starts around 10 or 11pm Wednesday, lasting through Thursday morning. Damaging straight-line winds look to be the main threat here. With this threat being overnight, have a way to wake up if a warning is issued for you. Whether it be a weather radio or a wake-me-up app, it's good to have at least one way, especially with severe weather reason ramping up.
Round Two: Thursday Mid-Morning-Afternoon
We still maintain our 15% chance of severe weather within 25 miles for Thursday. We won't figure out the specific risk categories until tomorrow.
The HRRR model is just out of range of seeing round two.
For what it's worth, here is the NAM3k's thinking, for a general idea of timing, timestamp in upper left corner.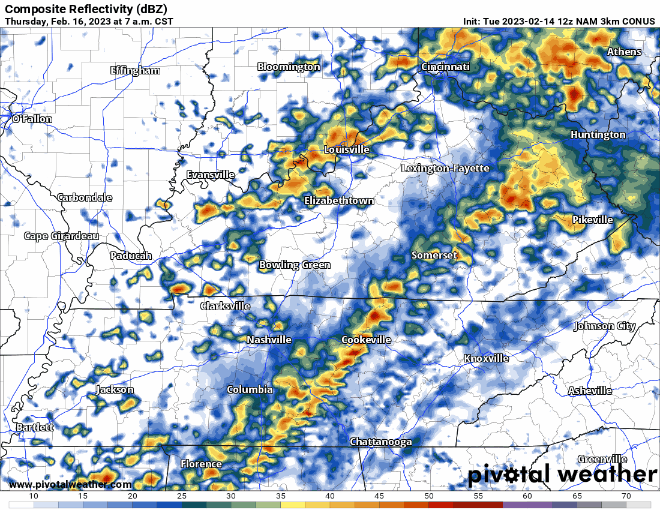 As the broken line of storms moves through, all modes of severe weather will be possible. The severity of this line will greatly depend on how long the atmosphere has to recover after Round One from the morning. A shorter break between the rounds = lesser probability of severe weather. Longer break = a "better" chance of severe weather.
None of these rounds look just overly impressive. I am not hitting the panic button, and I don't think you should either. I do think you should be prepared, it won't hurt especially with us getting closer to Spring. Know how to do if a Tornado Warning is issued for you. Have a way to wake up if a warning is issued for you. Here's a refresher on what to do if a warning is issued for you. We'll be updating on here and Twitter as needed.
---
After the rain clears out Thursday, we'll cool back down to average temperatures for this time of the year. No rain expected this weekend.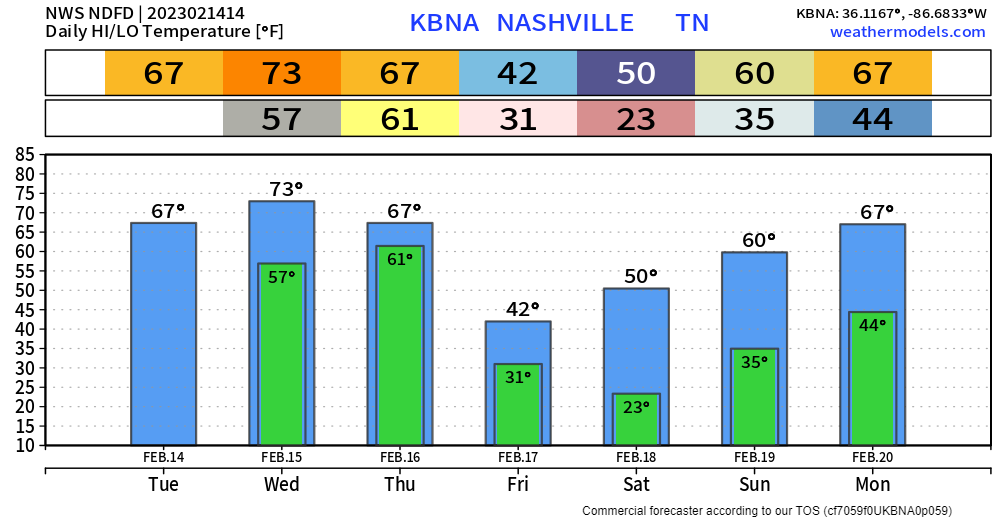 Quick References:
Weather changes constantly.
Follow @NashSevereWx on Twitter for any changes to this forecast.
We are 100% community supported. No ads. No subscription fees. Keep it free for everyone.